The Artist as Philanthropist: Strengthening the Next Generation of Artist-Endowed Foundations
Study Report Supplement 2013
2013, 211 pages, The Aspen Institute, One Dupont Circle NW, Ste 700, Washington, DC, 20036, 202-736-5800   www.aspeninstitute.org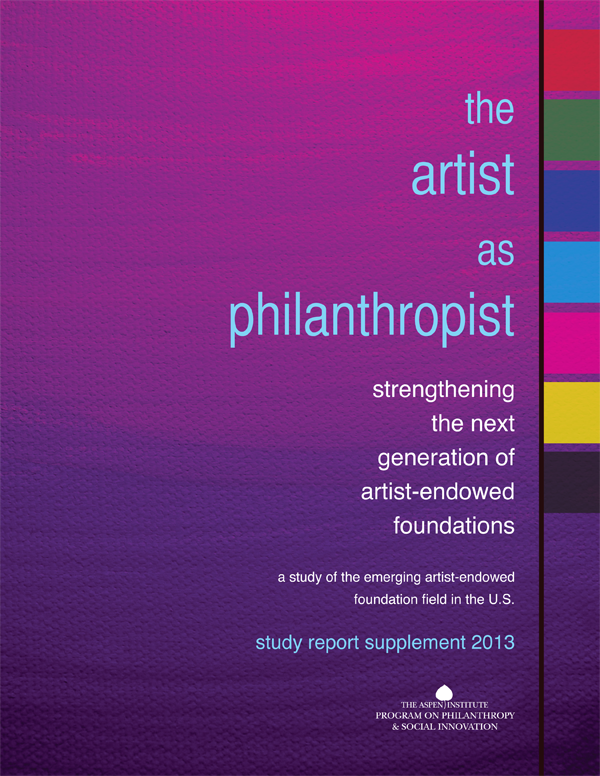 Download:

   Artist as Philanthropist: Supplement 2013 (2.2Mb)

Artist-endowed foundations continue to represent a very small segment of the universe of 76,000 private foundations in the US. Likewise, their aggregate charitable contributions still pale compared to the $2.3 billion committed to the arts in total by this country's private foundations. But such measures belie the field's potential influence. Despite their seemingly modest position, these distinctively endowed charities are increasing in number, and the focus of their activities holds particular relevance to the visual arts. Together they steward a growing cultural patrimony of modern and contemporary art, and they actively engage the visual arts field through their giving and by direct programs in ways that set them apart from most other private foundations. The updated findings presented here depict a field poised for substantial growth in its charitable resources and philanthropic impact.
The Aspen Institute's National Study of Artist-Endowed Foundations, the first research effort focused on the emerging field of private foundations created in the US by visual artists, released its findings in November 2010.
Volume 1 of this publication provides an overview of the emerging field, its origins, current status, trends, and prospects. It forecasts continued momentum in foundation creation, by artists themselves as well as by artists' surviving spouses and other heirs and beneficiaries.
Volume 2 of the Study Report, a handbook on practice, offers artist-donors, their advisors, and foundation leaders a summary of considerations in forming, sustaining, and terminating these philanthropies, as well as planning and conducting their charitable programs. Briefing papers by scholars in the arts, philanthropy, and law address key issues in foundation practice; an annotated bibliography cites references in foundation formation, administration, and program management; and recommendations on practice and policy highlight opportunities to advance the young field.
A Reading Guide to the Study Report for Artists and Their Family Members was published in January 2014 and is organized around questions often asked by artists about whether to create an artist-endowed foundation and provides references to the sections of the Study Report and its related materials (including this Study Report Supplement) that pertain to these questions.