The Artist as Philanthropist: Strengthening the Next Generation of Artist-Endowed Foundations
Volume 2 Considerations in Foundation Practice
2010, 547 pages, The Aspen Institute, One Dupont Circle NW, Ste 700, Washington, DC, 20036, 202-736-5800   www.aspeninstitute.org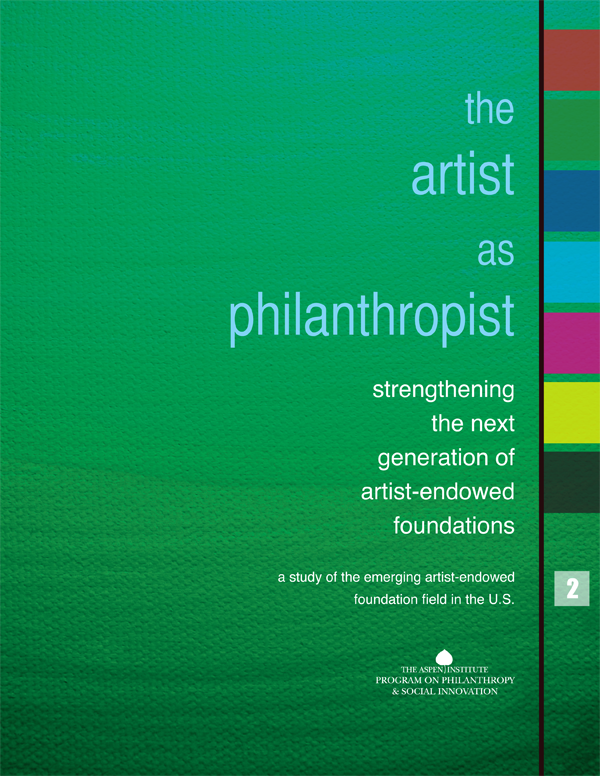 Download:

   Artist as Philanthropist V2 (2.83Mb)

This Aspen Institute's Program on Philanthropy and Social Innovation (PSI) report is on the emerging field of private foundations endowed by visual artists in the U.S. Drawing on findings of the Aspen Institute's National Study of Artist-Endowed Foundations, it is the first research effort to focus on this distinctive charitable form. Initiated in 2007, the Study identified 300 artist-endowed foundations holding $2.5 billion in assets, including more than $1 billion in art assets. Between 1990 and 2005, the number of these foundations nearly doubled, while charitable purpose disbursements for the period totaled $954 million—$639 million in grants and $315 million in charitable administrative costs, including for direct operation of activities such as exhibition programs, study centers, and artists' residencies.
Though only a small portion of all private foundations in the US, artist-endowed foundations are poised to be a force shaping cultural philanthropy and stewarding the country's contemporary art patrimony. The two-volume publication provides leaders in philanthropy, the arts, education, and journalism with an overview of the emerging artist-endowed foundation field, its origins, current status, trends, and prospects. Snapshot profiles outline data for more than 130 foundations reporting assets of at least $1 million. In addition, the publication offers artist-donors, their advisors, and foundation leaders a summary of considerations in forming, sustaining, and terminating artist-endowed foundations as well as planning and conducting foundations' charitable programs. Briefing papers by scholars in the arts and philanthropy address key issues in foundation practice and an annotated bibliography cites references on formation and administration of artist-endowed foundations and their programs.
Volume 1 of this publication provides an overview of the emerging field, its origins, current status, trends, and prospects. It forecasts continued momentum in foundation creation, by artists themselves as well as by artists' surviving spouses and other heirs and beneficiaries.
Study Report Supplement 2013 presents updated findings of the Aspen Institute National Study of Artist-Endowed Foundations, reflecting the field's continued growth since release of the Study's initial findings based on 2005 data. Drawing on new data through 2010, Study Report Supplement 2013 details this growth, analyzes factors shaping it, and explores ramifications for foundation practice. Appendices list identified foundations and present data profiles of those reporting assets of at least $1 million. New briefing papers address rising topics that will influence the field's development and a descriptive survey summarizes estate planning literature as it pertains to visual artists.
A Reading Guide to the Study Report for Artists and Their Family Members was published in January 2014 and is organized around questions often asked by artists about whether to create an artist-endowed foundation and provides references to the sections of the Study Report and its related materials (including the Study Report Supplement 2013) that pertain to these questions.