How to Talk to Your Neighbor About Gun Violence
Invite Them to an Art Opening
Introduction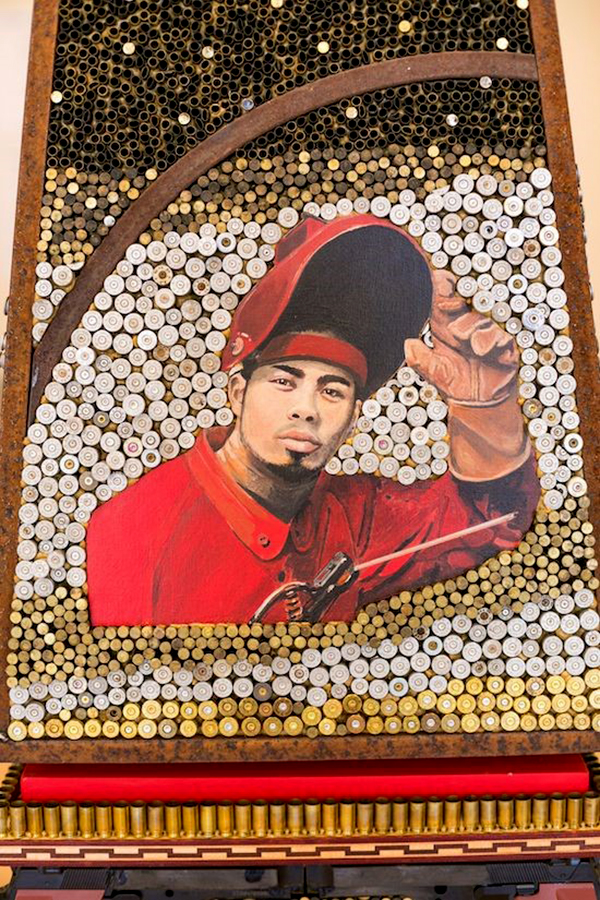 According to the Gun Violence Archive, incidents involving firearms have been steadily increasing since 2014.1 Widely covered in the mainstream press, mass shootings like the one that took place at Marjory Stoneman Douglas High School in Parkland, Florida, and murders of people of color, including Trayvon Martin, have motivated culture-shifting movements like Black Lives Matter and the National School Walkout, calling for anti-gun policy and systems change. These movements have revealed wide public support for gun control2 by elevating the conversation in the public sphere, but we have yet to realize significant progress in developing legislation to make obtaining firearms in the United States more difficult. Moreover, even when legislation finally passes (and it will), regulations only address one part of a much larger epidemic of violence and injustice — one that demands healing, creating new pathways of opportunity, and building equity in the communities that have been most impacted by gun violence.
Meeting the challenges of the gun violence epidemic requires manifold solutions, addressing root causes as well as symptoms at both the community and policy levels. This starts with changing the way people talk about gun violence, heal from it, and build equity in their communities, rather than fixating on intractable discussions about Second Amendment rights and the tragedy of death tolls.3 The Robby Poblete Foundation (RPF) is betting on one increasingly effective, and perhaps surprising, strategy to get there: art.
Why Art?
On September 21, 2014, Robby Poblete, son of memoirist and journalist Pati Navalta Poblete, was killed by gun violence in broad daylight at a busy intersection in Vallejo, California. He was twenty-three years old at the time, and had just begun working in the welding shop of a biotech company, where he was learning the trade and on track to becoming a full-time employee. The firearm used to end his life was obtained illegally, and then resold on the streets.
The City of Vallejo, where two generations of Poblete's family have lived, has seen a steady rise in crime- and gun-related violence since 1993, when the US Department of Defense recommended the closure of Mare Island; prior to this, the naval shipyard was the economic epicenter of the city. At its peak in the mid-1980s, the shipyard employed approximately ten thousand people and contributed $500 million to Vallejo's annual economy. Faced with the news of a sudden loss of jobs and opportunities, the city's homicide rate tripled to a record thirty in 1994. At the time, Vallejo's population was 113,129. The only other city of comparable population with a higher homicide rate was Inglewood, adjacent to South Central Los Angeles, with forty-nine slayings. In the wake of the closure, Vallejo continued to struggle, and in 2008 became the largest city in America to declare bankruptcy. This meant cuts — most notably in the Vallejo Police Department, leading to more crime and a lack of resources and manpower to handle it. The city eventually slashed 33% of its police force. In 2013, there were twenty-four homicides in Vallejo, marking the highest number of homicides the city had seen since that record year in 1994. In 2014, there were eighteen homicides. Robby Poblete was number fourteen.
Pati Navalta Poblete recounted the journey of her grief over the loss of her son in a memoir titled A Better Place, published in 2018. As an artist herself — of the written word — Poblete understood that the act of writing held the potential to transform her unthinkable pain into something else. So when she began writing her story in 2016, she hoped it might be helpful to others grieving and healing from the impact of gun violence in their lives. It was around this idea of transformation of grief, of guns, of individual lives, and of whole communities — with art as the catalyst — that the Robby Poblete Foundation (RPF) was born.
Founded in 2017 by Pati Poblete, RPF's three integrated programs — Gun Buybacks, the Art of Peace, and Works In Progress — aim to create safer communities by getting unwanted guns off the streets and transforming them into weapons of hope and opportunity. Beginning with a buyback, RPF pays community members for their unwanted weapons, then provides stipends to artists, trade professionals, second-chancers, and youth with limited opportunities in order to transform the decommissioned gun parts into artworks. The works of art are then publicly exhibited in large-scale community events, and sold to support future buybacks. While there are many community-based and place-based organizations that do buybacks, and others that transform decommissioned guns, and still others that create pathways to employment, RPF is unique in doing all three. "To be able to see people's lives change because of what we are doing," Poblete says, "is bittersweet because none of this would happen if my son was still here, and yet we do it in his name and that is the most hopeful thing for me."
In less than three years since its founding, RPF's programs have tracked significant success, collecting nearly nine hundred guns, supporting the creation of more than thirty-five works of art exhibited in five cities, hosting ten career fairs and workshops, and providing $20,000 in scholarships for apprenticeship programs. But it's the Art of Peace exhibitions that have garnered the most attention in neighboring communities, the local press, and cities across the country. While the Foundation was initially focused on executing its programs in the City of Vallejo in Solano County, requests to replicate the Art of Peace program have come from many other Bay Area counties, including Napa, San Francisco, Marin, and Alameda, as well as cities across the country, including Santa Rosa, California, El Paso, Texas, and Atlanta and Augusta, Georgia.
The following sections describe each of RPF's three programs, examine how they work together, and note the specific strategies that enable their success.
Gun Buybacks
RPF's core mission is to get unwanted guns out of circulation through annual gun buyback programs. The primary objective of the buyback program is to reduce gun violence in the community by both promoting gun owner safety and preventing unwanted guns from falling into the wrong hands. The first step to hosting a gun buyback is to build relationships with law enforcement agencies, to both learn about the local regulations around collecting and decommissioning weapons and to ensure day-of law enforcement participation. Each buyback event requires monthly meetings with stakeholders to coordinate day-of logistics, acquire permits, purchase gift cards (which are distributed in exchange for surrendered firearms) and promote the event, which at its core must be a "no questions asked" weapons return. RPF also distributes free gun locks to owners during these events.
While the buybacks are always focused on a specific community, some individuals will travel from other municipalities to return their weapons as part of the local buyback, in the absence of a buyback opportunity in their region. Advertisement for every buyback should be focused locally, with press releases issued both before and after the event in partnership with the local Police Department to help raise awareness about the buyback, as well as offer information on gun safety to the locality.
However, it is not easy to host a buyback. Some municipalities do not allow them, and there can be negative backlash from pro-gun individuals and organizations. For RPF, this is where focusing on the Art of Peace can begin to mitigate some of that backlash, by inviting greater participation in buyback events from individuals who may be squeamish about relinquishing weapons to law enforcement agencies, but who are intrigued by the concept of transforming unwanted weapons into art. Beginning with the buybacks, Art of Peace operates as a pathway for gun owners and pro-gun individuals to be engaged in the larger conversation around gun safety and gun violence.
Because of the success of RPF's gun buybacks, in 2018, Poblete was invited to speak at the King Center's fiftieth anniversary of the assassination of Martin Luther King, Jr. The King Center invited a group of young men, ranging from 11–14 years old and primarily African American, to plant fifty trees throughout Atlanta to honor Dr. King — as part of the celebration, RPF coordinated with the Oakland-based organization Lead to Life to transform guns collected at a San Francisco buyback into fifty shovels to be used at the event. Each young man was asked about their experience with gun violence, and every single one shared a story of having watched someone get shot right in front of them. The event garnered significant attention in Georgia, which resulted in RPF receiving a request of support from the City of Augusta to host a buyback. Since Georgia is a conservative state, Augusta had not previously been able to gain community support for a buyback, but with RPF's partnership — which included the guarantee of an Augusta-based Art of Peace exhibit displaying the transformed weapons — they received the green light to launch the buyback.
Art of Peace
While Poblete knew art would play a role in the programs, she never imagined it would be the glue that held the entire endeavor together. "When I designed the Foundation, I underestimated that program the most," Poblete says of Art of Peace. "But what it has done is enable conversations about gun violence in a non-political way. Any time I have tried to bring up gun violence without art, it is purely a political issue. Art of Peace touches people emotionally, which enables them to have an intellectual conversation about it."
RPF's Art of Peace program uses the decommissioned gun parts collected at the buybacks as material for artists to create works that raise awareness about gun violence. Two of the most surprising things learned in the process of organizing the first Art of Peace exhibit in Vallejo were that the scourge of gun violence directly touches more people than one might imagine, and that there are warehouses of decommissioned weapons collected by law enforcement agencies in many cities simply waiting to be destroyed. In addition to the materials gathered at buybacks, RPF obtains these additional confiscated firearms to present to artists.
Partnering with art organizations, artist communities, and schools, RPF forms a local Art of Peace committee to request a call for proposals, review and select artists, identify a location for the public exhibit, and launch the Art of Peace event. Every Art of Peace exhibition is open to the broader community, and provides an opportunity for the artists to meet with the public and share their art and their stories around creating the pieces, which works to deepen awareness of the impact of gun violence. Every artist engaged to date — who together have created more than thirty-five pieces displayed in five exhibits — has been personally impacted by gun violence.
The Art of Peace exhibition which took place at San Francisco's Yerba Buena Center for the Arts (YBCA) in July 2019 was the largest yet, and its opening was attended by more than five hundred guests. The exhibit was the result of a partnership between RPF and United Playaz, a longtime community-based anti-violence organization based in San Francisco. The two groups held a gun buyback in San Francisco and partnered with the beloved YBCA community to develop the exhibit, which will have a second opening at the State Building in San Francisco. The exhibit garnered so much attention that cities recently affected by mass shootings — specifically El Paso, Texas and Santa Rosa, California — have requested that RPF partner with them to host gun buybacks and Art of Peace exhibits to help bring the community together to heal from these tragedies, and begin to find solutions to the challenges gun violence presents.
Participating artists receive a stipend along with the materials to create their artworks, and then donate the works back to the Foundation for sale. Revenue from the sale of the art fuels future buybacks. All the art from the inaugural Art of Peace exhibit in Vallejo has been sold, as well as all the art from the Augusta, Georgia exhibit. Once the San Francisco Art of Peace completes its exhibition at the State Building, it will go to auction; two of the pieces already have $20,000 minimum bid offers. "Our events are the only ones that bring together labor unions and artists, law enforcement and community organizations, and so many other groups that don't usually have cause to interact," says Poblete. "This was intentional and is very unique to RPF. We can't have Art of Peace without the buyback. We can't have the buyback unless we sell the art to hold the next buyback. It is designed to support itself."
Part of that original design also includes Works in Progress, which was developed primarily because of Poblete's son, Robby, who had just begun working in a welding shop and was on track to becoming a full-time employee when he died. In the first 18 months of the Foundation, however, the Works In Progress program still felt like an outlier to Poblete. It was clearly related to the other two programs, given that the tools and materials the artists worked with were metal and wood, requiring welding, carpentry, and other trade skills. However, it wasn't yet seamlessly integrated, a fact that bothered Poblete — until she saw a call for grant proposals from the California Arts Council to support re-entry programs through art.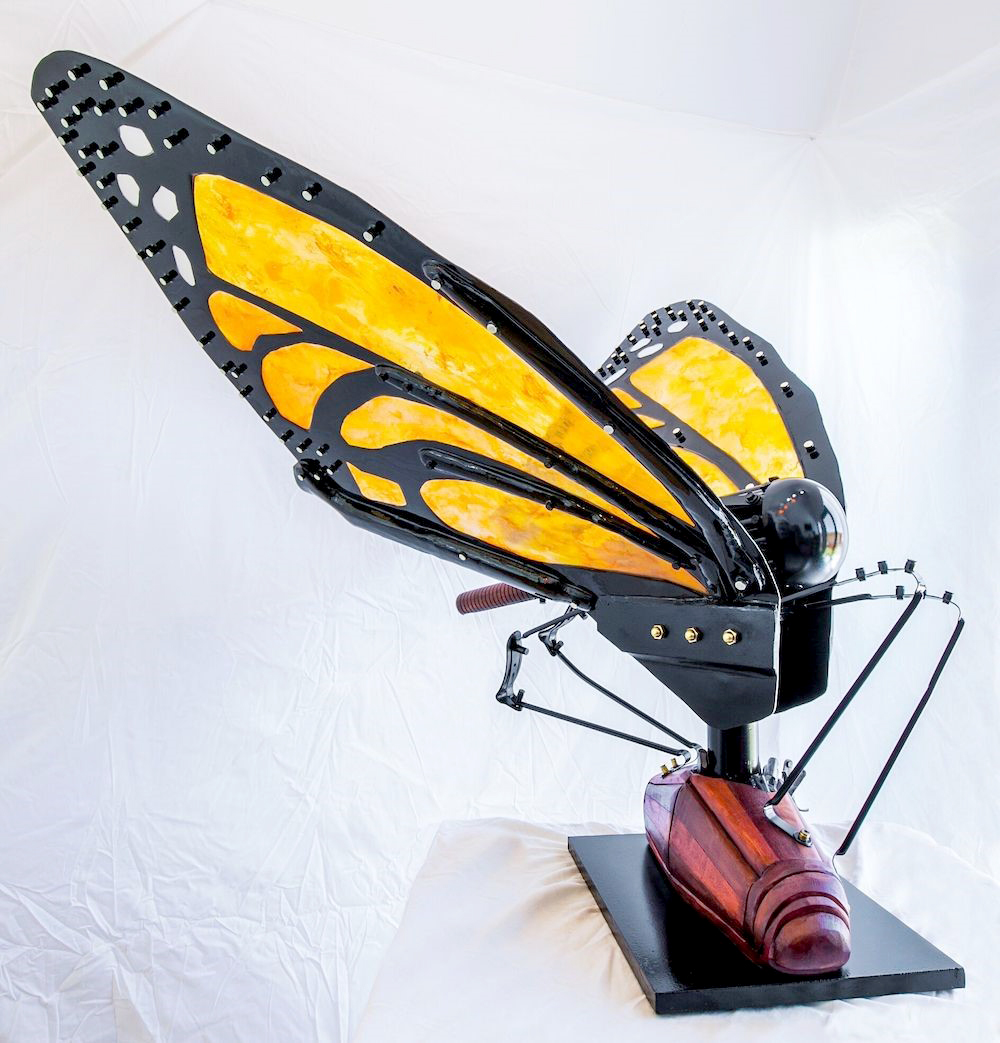 Works In Progress
Working with local unions, workforce development agencies, and county offices of education, RPF helps raise awareness among high school students, young adults, and those in need of a second chance about opportunities in skilled trades. Trades education and skill building is becoming scarce in high school curricula, and many young adults are uninformed about the opportunities in their communities. To bridge that gap, RPF attends job fairs and hosts bus tours that bring those interested in these opportunities to informational meetings. RPF also provides scholarships for those who have been accepted to an apprenticeship program, but cannot cover the associated costs for work boots, tools, books, and other fees, and also supports transportation costs. Apprenticeship programs include training in commercial driving; electrical, sheet metal, and pipefitting trades; operational engineering; ironwork; carpentry, and more.
"When I looked at the four men who were charged in Robby's killing," Poblete says, "I noticed they had been in and out of the correctional system since they had been juveniles. And I started wondering if they had just been given an opportunity or had been given a sense of future...no one grows up thinking 'I want to kill someone or rob someone.' When they do turn to that life, it's mostly because they see no other options." For Poblete and RPF, while removing a weapon from a community and transforming it into art was generative and healing, it was not addressing the primary question about why a person reaches for a gun in the first place. It was clear to RPF that a lack of opportunity and specific job skills were a primary barrier for these, and so many other, young Vallejo men. Thus, a focus on young people as well as second-chancers was critical, to both reduce recidivism rates and, hopefully, present an achievable alternative early enough to provide opportunity and a non-violent pathway to adulthood. Since its inception in 2017, the Works In Progress program participants have all become a part of the RPF community, attending the Art of Peace exhibits and becoming volunteers.
The grant from the California Arts Council will finally bring all three programs together seamlessly. Instead of an open call for artist proposals, the gun parts acquired in the next buyback will be distributed to second-chancers (four have signed up to-date, some of whom have been convicted of gun-related crimes themselves). Each participant will be partnered with a trades mentor and artist to transform the materials into an artwork, while learning key skills like carpentry, welding, and more. While not all participants are artists, they all have a story to tell, and will work with the artists to turn their stories into designs. Once the works have been created and the Art of Peace exhibition is launched, any participant who expresses a desire to continue working in the trades will be given an apprenticeship scholarship to a training program on a full-time employment track. In less than three years since its founding, RPF has figured out a successful way to build community and equity, and heal from gun violence — and it all centers around art.
The Power of One Is the Power of Many
It is often said that a cause needs a champion. People have a deep understanding of the issues and challenges their communities face, but often lack the solutions and opportunities to address them. With Poblete as its founder, executive director, and champion, the success of RPF can be attributed to the broad community of people living in Vallejo and beyond who have partnered with the organization and participated in its programs.
"I believe the only reason we have been as impactful as we have been in less than three years is because of our partnerships," Poblete says. "These are partnerships not only with community leaders. Each one of our programs necessitates that we partner with different sectors within the community." Every gun buyback requires partnership and coordination with local law enforcement and city officials. Every Art of Peace launch demands partnership with local art organizations, artist communities, colleges, and high schools. For every Works In Progress activity, RPF partners with local unions, apprenticeship programs, small businesses, and workforce development groups. Relationship-building and community organizing have been the single most important strategies in ensuring the success of all three programs. The only way to build lasting relationships is by continually meeting with stakeholders, face-to-face, to gain trust through consistency.
In its inaugural year, RPF had no budget. As its founder and primary volunteer, Poblete — while also working full time — met with more than thirty stakeholders in Vallejo, including business owners, politicians, law enforcement, union leaders, service clubs including the Soroptimists and Knights of Columbus, correctional officers, school administrators, and potential program donors. With deep ties to the Filipinx community, Poblete also hosted gatherings that brought volunteers of all ages together, enabling her to tap into the energy and creativity of the youngest members of the community. When it came time to raise funds for the first gun buyback, the community she had begun to build showed up to participate in fun runs, golf tournaments, and other community-based fundraising efforts. As the number of participants at these events grew, local banks and healthcare organizations provided modest sponsorship support for additional events.
Poblete was creating not simply a volunteer-run organization, but an engaged community, prepared to show up to support any event. In its second year, RPF received a multiyear gift from the California Wellness Foundation that increased its budget to $50,000 annually, enabling RPF to hire a part-time contractor to support communications (primarily social media and website) and volunteer coordination efforts, and launch its Art of Peace and Works In Progress programs. "I will never again underestimate the power of one," Poblete says of her continued efforts. "Because I have seen firsthand what one grieving mother can do."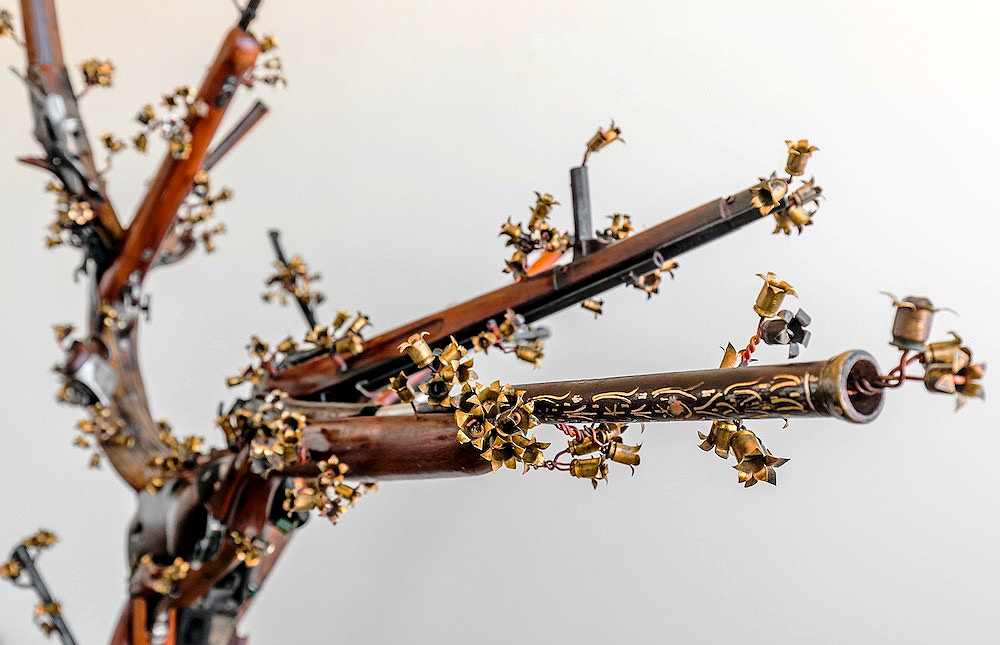 Looking Ahead
Art of Peace has undoubtedly had the greatest impact in the community, drawing people to the exhibitions and garnering national media attention. The program has also resulted in requests from municipalities around the country to host buybacks and Art of Peace exhibitions to promote community engagement, awareness around gun violence, and healing from tragedy. RPF will continue to run its three integrated programs in Vallejo and neighboring cities, and is looking for ways to meet the demands for replication popping up around the country. "What I didn't expect," says Poblete, "is that there is a desire from communities to have something like this and they just don't know how. We can give them the blueprint and kit to do it."
While each municipality is unique, there are a number of basic strategies and steps that RPF can share to shorten the community- and relationship-building ramp-up leading to an inaugural buyback and Art of Peace exhibit. To that end, RPF is developing a toolkit that contains official branded Art of Peace col- lateral alongside step-by-step information for executing the program. The goal is to create a guide that ensures that the integrity of the program — its mission, values, and original philosophy around healing and awareness — remains intact. Licensing the branded program to interested municipalities may also be a way to build sustainability into the replication and scaling effort.
"The biggest draw," Poblete says, "has been the three programs. Some people warned me that it was too much, and that donors would think that we were all over the place. But what donors are telling us is that we are addressing both the violence, and its cause: lack of opportunity. The fact that we are looking at it in totality, with the driving force of art at the center, is what makes it successful."
Melissa Fondakowski is director of Development and Grants at The Redford Center. She is a volunteer for the Robby Poblete Foundation and also writes for San Francisco Magazine.
NOTES
"Past Summary Ledgers." Gun Violence Archive, Web. https://www.gunviolencearchive.org/past-tolls
Montonara, Dominico. "Poll: Most Americans Want to See Congress Pass Gun Regulations." This American Life, National Public Radio. 10 Sept. 2019. Web. https://www.npr.org/2019/09/10/759193047/poll-most-americans-want-to-see-congress-pass-gun-restrictions
Silverstein, Jason. "There were more mass shootings than days in 2019." CBS News. 2019, Web. https://www.cbsnews.com/news/mass-shootings-2019-more-mass-shootings-than-days-so-far-this-year