Rewriting a Museum's Mission Statement to Address Mass Incarceration
Rewriting a Museum's Mission Statement to Address Mass Incarceration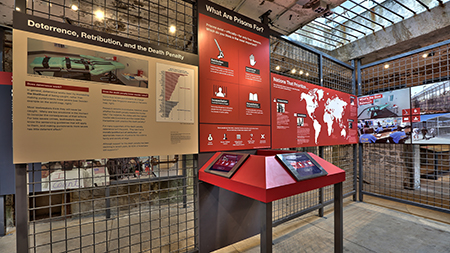 Each year, Eastern State Penitentiary, which was built as a punishing fortress in 1829 outside Philadelphia, gets hundreds of visitors to explore its grounds. At some point, tackling the site's history, as The New York Times reported, was not enough and addressing mass incarceration as a crisis in the United States was the answer.
After discussions about how the museum addressed the rising number of people incarcerated in the United States, particularly people of color, two years ago, explains The Times, Sean Kelley, senior vice president and director of interpretation, "helped rewrite the museum's mission statement, declaring that Eastern State would no longer be neutral in recognizing mass incarceration as a crisis."
Marney Penn, a tour guide for the museum, told the newspaper "that it was important to integrate discussions about modern incarceration into the museum's story since Eastern State helped make the prison system what it is today."
Art installations in the cells and family weekends are part of the site's identity and programming. And the exhibit "Prisons Today: Questions in the Age of Mass Incarceration", includes graphic panels about criminal justice reform and ways former prisoners transition back into life beyond the walls, details the newspaper.
"They are a leading organization among historic sites," Paula Marincola, executive director of the Pew Center for Arts and Heritage, told The Times. "They do very thoughtful and imaginative work in interpreting their site for their public and connecting the site and its history to contemporary issues."
Image: Eastern State Penitentiary Historic Site website