Revisiting Research: Champions of Change
The Impact of the Arts on Learning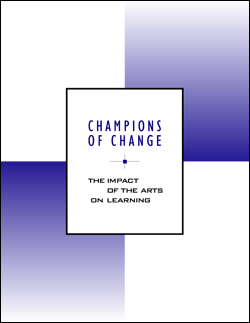 Edited by Edward B. Fiske. 1999, The Arts Education Partnership and The President's Committee on the Arts and Humanities.
This article is part of the Revisiting Research series.
Champions of Change was released in 1999 in an attempt to define the "exceptional thing" that happens when young people engage in high-quality arts experiences. It was one of the first formal publications I encountered with charts, graphs, and numbers supporting my intuition about the importance of arts learning. A compilation of seven research studies examining a variety of in- and out-of-school arts education programs across the country, Champions includes rich analyses of high-quality arts learning environments. Among its myriad findings it suggests that arts learning supports learning across other domains, creating a "constellation" of influences. It shows that the arts transform learning environments, "[breaking down] the figurative walls between classrooms and disciplines." It describes the core elements of high-caliber arts learning experiences, including authenticity, active exploration, and academic rigor.
What Champions of Change does not do is establish a firm causal link between arts education and academic achievement. When I first read the report I was disappointed that such firm data didn't exist, but I was confident it was right around the corner.
Revisiting the report in 2012, I was struck by how much of it is relevant to the present day. Champions' opening letter from Secretary of Education Richard Riley could easily have been written in 2012. Describing an American education system "in flux," Riley states our need to prepare students for increased global innovation and competition by helping them become "imaginative, flexible and tough-minded." Despite the subsequent birth and demise of the No Child Left Behind Act and seismic changes to the world economy, some aspects of our discourse concerning public education haven't changed.
Thankfully, some elements of the discussion about arts education have changed, and for the better. The components of effective arts learning experiences identified in Champions of Change have long since been accepted as best practices; we are having important and sometimes difficult conversations about quality vs. access; and, particularly in Los Angeles County, we have made strides in thinking about funding in terms of systemic reform rather than as a series of stopgap measures.
Yet I still hear statements such as, "We all know that arts education raises academic achievement," or "We all know the arts are the answer." We say these things as if the arts alone can "save" public education. The truth is that the firm causal link that was missing from Champions of Change still hasn't materialized, and I have begun to think that it doesn't need to. The impact of arts education is undeniable; but, as Champions makes clear, that impact is difficult to quantify, ever evolving, and sometimes inconsistent — as are ambitious educational efforts in math, science, and any other subject area. Arts education is a messy field. It exists within the even messier field of education, in which there is no "silver bullet" that works for all students. Arts education is not the answer. It is a vital piece of the answer to an extremely complex question.
Based on my work with Arts for All, I think more people in the school system understand this than we in the arts education world sometimes give credit. Although many school districts have suffered cuts to their arts programs, most have gone to great lengths to preserve what they can. Every year since 2008, when the economic downturn began, more school districts have joined Arts for All to develop strategic policies and plans for arts education. Our education system is stressed, but it is also filled with people who are tired of the narrowing curriculum and are working very hard to build it back out again.
One example of this effort is the Common Core State Standards (CCSS), which have been written for English/language arts and math and adopted by forty-five states (so far, Alaska, Minnesota, Nebraska, Texas, and Virginia have not adopted the standards) and three territories (Guam, the Northern Mariana Islands, and the US Virgin Islands). They represent a concrete effort by educators to move toward a more interdisciplinary approach to education and provide ample opportunities for project-based learning. The English standards, no longer simply titled "English Language Arts Content Standards," are now called "The Common Core State Standards for English Language Arts and Literacy in History/ Social Studies, Science, and Technical Subjects." If the underlying intention of that change isn't clear, one of the lead writers of the CCSS stated in March, "There is no such thing as doing the nuts and bolts of reading in Kindergarten through 5th grade without coherently developing knowledge in science, and history, and the arts. Period. It is false. It is a fiction . . . [They] are the cornerstones of literacy, which are the foundations of knowledge, that make literacy happen."
The arts deserve to be central to these conversations in schools and districts. Whether they become so depends on whether arts educators embrace their role as a piece of the broad, messy education "puzzle," pay close attention to the other puzzle pieces around them, and continually adapt so that the puzzle can fit together. This will require arts education providers to adjust quickly to CCSS and be willing to align themselves with other creative endeavors that don't necessarily have the arts as their central focus. Some work has been done in this regard: In Los Angeles County, we launched "Teaching Creativity with the Common Core Standards," a professional development series created with the LA County Office of Education. In 2011, twenty-four school districts participated, and we plan to repeat the series next year. We also recognize that more must be done.
What are the implications for the funding community in all of this?
In the short term, we need to assist grantees — particularly nonprofit arts education organizations — in aligning themselves with the Common Core State Standards. Some arts education providers spent a lot of time playing "catch-up" because they were slow to align their programs to earlier visual and performing arts standards. We have an obligation to ensure that does not happen again. We need to keep having conversations about the quality of the programs we fund and continually support grantees in deepening their practices. Not all arts education programs are as high caliber as the ones highlighted in Champions of Change. As the more recent Project Zero report Qualities of Quality: Excellence in Arts Education and How to Achieve It makes clear, quality is not a static state of being, but develops from a "healthy obsession" with continual reflection, dialogue, and questioning. While this can come into conflict with funders' desires to "move the needle" — and move it quickly — we can still support "cultures of quality" and foster learning communities among arts education providers.
In the long term, we need to examine whether the typical separation of arts education and education funding areas makes sense, and what greater integration of these funding silos would look like. If we are serious about making a positive, sustainable impact in public education, we need to work with others who want the same, even if they don't necessarily see themselves as "arts" people. At the very least, we have a lot to learn from one another.
Finally, we need to remain optimistic, embrace the challenges inherent in this work, and be open to changing how we operate. A decade from now public education will look different, and so should our funding structures.Champions of Change notes that its research points toward a "model for the arts and overall learning that has more of the appearance of a rotary with entrances and exits than of a linear one-way street." Our work is dynamic, difficult, and ever changing, but as we tell the students we serve, the biggest challenges are the most rewarding.
Talia Gibas is manager, Arts for All, Los Angeles County Arts Commission.