Beth Kanter and Allison H. Fine: The Networked Nonprofit: Connecting with Social Media to Drive Change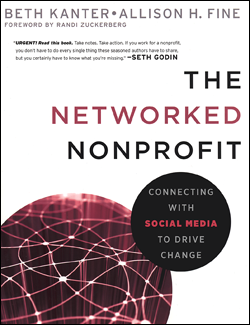 2010, 220 pages, Jossey-Bass, San Francisco
The hallmark of any effective nonprofit organization is how it uses its human-powered networks to advance its mission. Mobilizing staff, interns, board members, volunteers, donors, and constituents is the lifeblood of all organizations. Getting and keeping these sometimes disparate groups of altruistic individuals are a challenge and call for multilayered strategies of engagement. Being a successful nonprofit today requires cultivating the possibilities that are latent in new social media technologies, many of which are free to acquire but take resources to manage; we need a trusted guide to navigate this ever-changing terrain. And so it was with eager anticipation that I opened The Networked Nonprofit.
I found this book to be an illuminating read, filled with practical examples from the field and success stories that are easy to emulate. As one reviewer puts it, the authors "provide the 'Google Maps' for nonprofits to harness social media to kick butt and change the world." The book is structured as a how-to manual yet does not come across as being dictatorial. I appreciate that the authors have empathy for the nonprofit sector and understand the resource constraints that stymie many a good idea. Every manager of a nonprofit I know gets visibly anxious when asked what his or her social media strategy is. In this day and age, you can't afford not to have a strategy. And I don't mean simply having a Facebook page. The authors avoid the patronizing tone that all too often comes with a tech book. They offer astute insights from a wide range of organizations and provide clear, step-by-step examples of successful campaigns using Twitter, Facebook, YouTube videos, and crowdsourcing for maximum effect. They pay equal attention to the postcampaign assessments: What was the impact? What are the measures of success? What was the return on investment? Each chapter ends with a series of reflective questions that prod readers into thinking about how to apply the learning to their specific situations. I found myself marking up the book with notes and ideas, particularly the discussion of "doing more by doing less." I'm sure I'm not alone in that quest! One section — "Twenty Questions for Simplifying Your Workload" (pages 100–101) — I actually copied and shared with my staff. It has already proved to be very useful!
While Kanter and Fine offer some valuable strategies and tips for really benefiting from the pervasiveness of these new technologies, they emphasize some fundamental cardinal rules that have stood the test of time and are not reliant on the latest gizmos and smartphone apps: be transparent; simplify your nonprofit's organization; listen, engage, and build relationships.
These principles are as true in 2011 as they were in 1911.
Fidelma McGinn is the executive director of Artist Trust, Seattle, Washington.