GIA Deputy Director Tommer Peterson to Retire
GIA Deputy Director Tommer Peterson to Retire
Submitted by
Steve
on June 10, 2014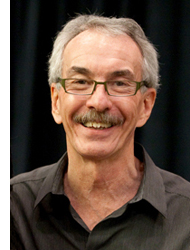 Tommer Peterson, GIA's deputy director and director of programs for Grantmakers in the Arts (GIA), has announced he will retire at the end of 2014. GIA looks forward to celebrating Tommer's contributions throughout the year and to seeking a replacement who will build on the solid foundation of service to the field that he has created at Grantmakers in the Arts.
In the hopes to have someone to fill this position before this fall, GIA will begin a national search immediately. Please circulate the information about the search process and job description that can be found here.
Tommer began his service to GIA in 2000 as director of finance and operations and became director of programs in 2004. In 2009, he was named deputy director in addition to his program responsibilities. Playwright, visual artist, scenic designer, director, editor and graphic designer are only a few of the talents Tommer shares in his role at GIA with members and staff.