Searching for Solutions: When art responds to climate change
Searching for Solutions: When art responds to climate change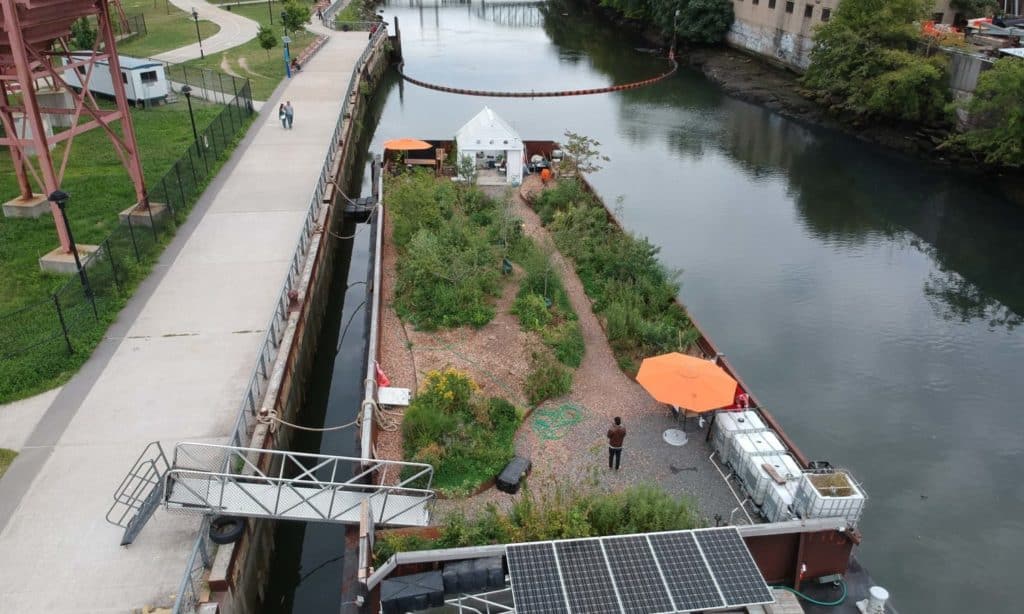 An artist's work offers design solutions for coastal cities to adapt to climate change and rising sea levels. Profiled by Food Tank, Mary Mattingly mentions, "We absolutely need more public spaces for foraging and stewardship-building, and we need larger-scale participation."
In Swale, a recent work on Governors Island, in New York City, Mattingly "created a floating food forest built atop a 5,000 square foot barge, welcoming the public to harvest herbs, fruits and vegetables for free. Swale strives to strengthen the stewardship of public waterways and land, while working to bring awareness to issues of food insecurity," according to the park.
Governors Island, says Mattingly quoted by Food Tank, "is testing all sorts of artistic ecological and technological possible futures for infrastructure in NYC. If people respond positively to projects on Governors Island, it's possible to imagine them being introduced in different ways to more local spaces in the boroughs."
Food Tank points out,
Policymakers and city planners alike could also take note, to not only make areas of New York City more equipped for climate change, but also focus on projects that make the City's most food insecure have more accessible healthy eating options. (...) In a time when changing legislation is threatening equal access to nutritious foods, art can be used to design for solutions to circumvent this, by creating alternative ways for the public to gain access to free, healthy eating options.
Read the article to learn of other projects by the artist.
Image: Governors Island website: Swale, work by Mary Mattingly