William Cleveland and Patricia Shifferd: Between Grace and Fear
The Role of the Arts in a Time of Change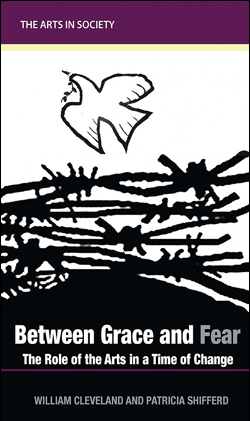 2011, 416 pages, Common Ground Publishing, Champaign, IL
Is a major shift in worldview taking place across the globe today? If so, what role can artists, arts organizations, and cultural creatives play in imagining and sustaining a future with more equitable lifeways?
These are the big questions that Cleveland and Shifferd explore in this thought-provoking and inspiring collection of essays. As creative folks themselves, Cleveland and Shifferd don't tell us what to think and do. Instead, they interviewed thirty leading artists, politicians, scientists, community leaders, theologians, and social theorists from throughout the United States and other countries to get fresh perspectives that both diverge and converge in fascinating ways. With each chapter consisting of an interview with one of the thirty interlocutors, readers become participants in the conversation, "hearing" new ideas as spoken and, like the authors, weighing new concepts against each other to develop their own thinking as they read.
At times reading the interviews is like having a conversation with old friends and catching up on their new ideas and discoveries. Many in the Grantmakers in the Arts community will be glad to hear from longtime members such as Claudine Brown, director of education at the Smithsonian museums; Jennifer Williams, now a member of the International Futures Forum; and Neil Cuthbert, vice president of program at the McKnight Foundation. Cuthbert, for example, sees a big shift in cultural energy fueled by the web that is particularly unique at this time of history. "There are all of these artists who are doing incredible things, they're making pieces for wireless PDA's, for cell phones; pieces that get laser projected on the sides of buildings," he observes. "It's a realm of art and culture and activism that is very hard for traditional baby boomers like me to completely get my head around."
The interviews show how people in the field of art and philanthropy are thinking differently, and equally important, they show how leaders outside our field are thinking about arts and culture differently and asking tough questions that we all should ponder. The Reverend Dr. Wilson Yates, professor emeritus of religion, society, and the arts, challenges people engaged in both art and religion to rethink how they undergird the status quo by what they do. Consider, he says, the idea that human beings should have dominion over the earth. This notion requires us to raise the question, "What responsibility do we have to the community as artists?"
Responsibility, choice, and agency are themes that flow throughout the interviews. One big choice facing us all, as the book's title suggests, is whether to act out of grace or out of fear. Milenko Matanovic, executive director of Pomegranate Center in Issaquah, Washington, argues that as artists, cultural workers, and citizens, we can learn how to live through grace or through fear: "Can we adjust, learning and adapting with grace, or do we wait until 4 x 4s start falling on our heads, subsequently allowing fear to spur us into action?" he asks.
Defining choices like these lead to the final chapter of the book, "The Responsibility of the Arts in a Time of Change." The issues then become: Art makes people think, but do we, as creators, funders, cultural workers, think ourselves? Do we use our own practices to make ourselves think differently (or anew)?
Cleveland and Shifferd do not answer these questions for us, but they give us tips along the way. We can take part in "slow culture," focusing on local initiatives in the arts and community development. We can seek joyful images and make our work more lighthearted and light seeking. We can help construct a community plaza. We can find those people in our communities outside the arts world with whom we share natural affinities for being guided by grace rather than by fear.
So this book will definitely make you think, and mainly in hopeful and positive ways. For one thing, the text is interspersed with beautiful linocuts by Gabisile Nkosi from the "Healing Portfolio" commemorating the two hundredth anniversary of the abolition of slavery in the United Kingdom in 2007. For another, these essays challenge us to use our own practices to make ourselves think more clearly and deeply.
Judi Jennings is executive director of the Kentucky Foundation for Women.