Revisiting Research: Art and Culture in Communities: Unpacking Participation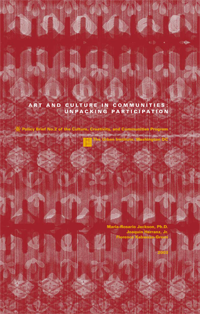 Maria Rosario Jackson, Joaquín Herranz, and Florence Kabwasa-Green. 2003. Washington, DC: Urban Institute.
This article is part of the Revisiting Research series.
How do we accurately account for the wide range of cultural participation in our communities? By now, we are well aware that counting attendance at nonprofit cultural events doesn't give the full picture of ways in which people consume and create culture. As we all seek more effective ways to communicate our impact, perhaps we can take a look back to find answers to some of our most persistent challenges. In 2003, the Urban Institute published Art and Culture in Communities: Unpacking Participation, the second of several policy briefs on this topic. In that report, Maria Rosario Jackson, Ph.D., Joaquín Herranz Jr., and Florence Kabwasa-Green sought to provide a shared framework through which we could better understand and evaluate the broad spectrum of ways people are involved with and contribute to culture. They found that extending our definition of participation beyond attendance at arts institutions would allow us to measure engagement more accurately. They reflected on the challenges of documenting and tracking such broadly defined participation and offered a forward-looking framework for doing so.
As a relatively "new" grantmaker, I am thrilled to find a framework for assessing individuals' and communities' real relationships to culture. When I was growing up, my parents made sure that I went to the museums, symphony performances, and classical ballet. While I have some vague recollections of those experiences, they didn't personally resonate with me.
In fact, the richest memories I have of cultural participation took place in our living room and in my grandmother's house in Puerto Rico. My home was filled almost weekly with painters, drummers, and dancers. I would wake up to the sounds of Mapeyé, a son or a décima, while a cuatro played in the distance. I would fall asleep after a long night of singing, dancing, eating, and reflection on various new pieces of artwork to the sound of a conga or guiro and the rhythms of bomba and plena. Entire communities would gather in our home in Holliston, Massachusetts, having made instruments, sculptures, paintings, and clothing, and thoughtfully prepared traditional meals. We came together to express and experience the arts through the rich culture that our parents and grandparents had shared with us. Incidentally, these were the same community members who joined us at Boston Pops performances, played with me and my siblings at the Boston Children's Museum, and watched independent films at festivals.
In my career in the nonprofit arts sector, I have often been faced with a rigid definition of participation that qualifies me as a member of the community, or as a participant, only when I am sitting in the seat of an institutional performance or when I am quietly roaming the halls of a vast museum. My family's participation in these forms of art was only semiannual. Yet on a weekly basis, we sang, danced, took music lessons, performed, cooked, sewed, and were deeply engaged in the arts as a way of life. Taken together, my experiences, from opera to hip-hop to house music, begin to paint a robust and compelling picture of how artistic expression, in all its greatest forms, is a vital and necessary part of my success at home and in my career.
Art and Culture in Communities validates my experience, and that of many others, by measuring all the ways in which individuals engage in cultural activities and how that participation serves to build community. Rosario-Jackson and her colleagues offer a three-dimensional way to measure engagement beyond the number of clicks on a website, tickets sold, or "forwards" to a friend. To measure participation accurately, they suggest we ask questions such as the following:
Is it ongoing or episodic?
Do people participate as individuals or in groups?
Is participation formal or informal?
Do motives for engagement change over time?
As an example of how we might begin assessing the full extent of participation, the report tells the story of Zumix, a music-focused organization in East Boston that works to build community and lower youth violence through comprehensive music education. The story highlights one of the many times Zumix opened its space to community members who wanted to produce their own cultural event. Zumix staff supported the residents in engaging neighbors, business owners, children, and families. The report unpacked details about who participated and how. Staff and neighbors volunteered by requesting donations, promoting the event, and sewing costumes. Business owners donated resources and helped underwrite some of the expenses. Several young people collaborated with community members to choreograph the performance and perform. Then there were the many friends and family members who participated as audience members. Anecdotally, this story begins to frame a picture of real and all-encompassing engagement. Capturing the value of the time and resources provided by everyone involved can further clarify that picture.
The researchers concluded that traditional dichotomies used to categorize cultural activity — high vs. low, formal vs. informal, fine vs. folk, classic vs. populist, professional vs. amateur — are fundamentally false and miss the nuances of the spectrum of ways in which people are actually engaged in culture. By counting only a certain type of participation, we continue to cripple the sector's capacity to be viewed as central to our lives and as imperative as housing, transportation, education, and access to food. This type of limited counting of participation stifles innovation and the reenvisioning of our world by the creators, tradition bearers, and artmakers in our community. The report cited other research that argues that using these narrow definitions creates a very real "undercounting of cultural participation." 1 A survey of 2,400 households in five communities found that "a broad view of cultural participation resulted in estimates 20 percent higher than a narrow definition." 2
After reading this policy brief several times, I am left with one central question: how do we integrate these findings more broadly? It is our responsibility as grantmakers to support efforts to account for full participation. I believe that if this framework were used as a standard for assessing participation and engagement, we would have a stronger and better-resourced sector. By fully counting participation we will build a sector that supports everyone's capacity to demand cultural expression as a vital part of a healthy, effective, and creative society. Full measurement advances our collective ability to communicate real and whole impact and allows us to respond to pockets of opportunity where participation may be weak. As pressure increases on grantmakers and nonprofit cultural organizations to more accurately account for the impact of our investments, Art and Culture in Communities: Unpacking Participation provides us with shared language with which to learn from and with our grantees. It also reminds us that we are all, each in his or her own way, deeply connected to and engaged with arts and culture in our everyday lives.
F. Javier Torres is senior program officer, Art and Culture, The Boston Foundation.
Notes
Moni Peters and Joni Cherbo, "The Missing Sector: The Unincorporated Arts,"

Journal of Arts Management, Law, and Society

26, no. 2 (1998): 115–28.
Chris Walker and Stephanie Scott-Melnyk,

Reggae to Rachmaninoff: How and Why People Participate in Arts and Culture

(Washington, DC: Urban Institute, 2002).