New Opportunities for Interest-Driven Arts Learning in a Digital Age
104 pages, July 2013. The Wallace Foundation, 5 Penn Plaza, 7th Floor, New York, NY, 10001, (212) 251-9700 www.wallacefoundation.org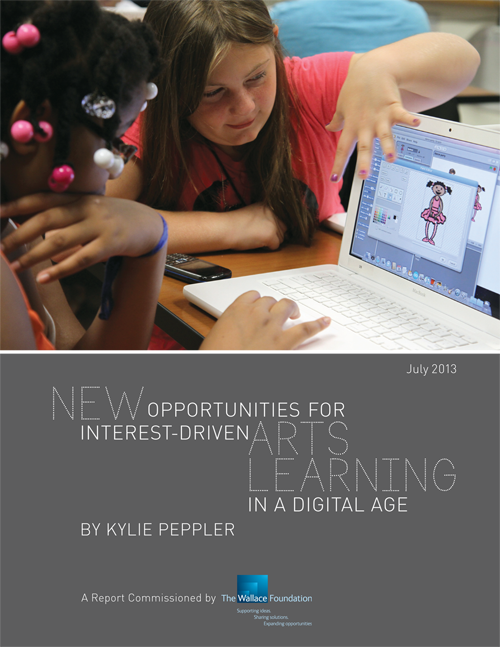 Download:

   New Opportunities for Interest-Driven Arts Learning in a Digital Age (3.6 Mb)

The main aim of this report is to review key directions in the literature on interest-driven learning and address what they might mean to the arts today. It purports that youth are spending an enormous amount of time online and in interest-driven activities with the arts at their core, and it argues for the need to capitalize on these interests and connect these experiences to more formal arts learning opportunities. At the same time, the report shows that youth have much to teach us about learning and innovative digital art practices, products, and processes that could equally inform our conversations. Building on this foundation, the report seeks to inspire new pedagogical practices, the design and study of new and existing learning environments, new tools to support the documentation of interest-driven arts learning, and further research in this area.
Conclusions of the report involve a discussion of five challenges to, and subsequent opportunities for, interest-driven arts learning in the 21st century:
conceptualizing interest-driven arts learning in new media
changing adults' perceptions of youths' interest-driven arts activities
promoting equity in interest-driven arts learning opportunities
designing interest-driven arts learning social networks
inviting, sustaining, and supporting participation in arts activities
For each of these areas, the author offers suggestions for future research, practice, and policy that build on what we know about interest-driven arts learning to enable more youth, particularly disadvantaged youth from non-dominant communities, to learn about and participate in the arts.
Stated possibilities include:
Use technology. Embrace new technologies to locate youth interested in the arts. Then connect them to helpful online resources. Among them is the Kickstarter seed-financing site, for small grants to encourage youths' art-making.
Encourage portfolio practices. Encourage youth to document what they have created, and design new portfolio systems that make it easy for youth to collect their work over the years.
Expand successful learning projects. Use organizations like the Computer Clubhouse Network and YOUmedia as models to build a national infrastructure for supporting youths' interest-driven arts participation, particularly in non-dominant, rural, and urban communities.
Make the most of social media. Use social networking to, for example, invite young people to display their work in curated exhibits online.
Invest in research. Expand the knowledge base, particularly research regarding how young people can be brought into lifelong participation in the arts, whatever their individual interest and artistic ability.