Investing in Creativity: A Study of the Support Structure for U.S. Artists
2003, 107pages, Urban Institute, 2100 M Street, N.W., Washington, DC 20037, (202) 833-7200, www.urban.org.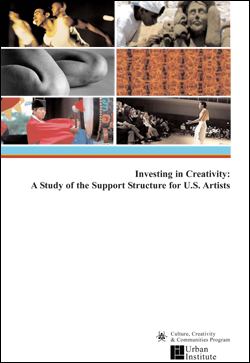 Download:

   Investing in Creativity (815Kb)

This report presents the overall findings of a national study conducted by the Urban Institute and supported by a 38-member consortium of funders. A major contribution of the study is a new and comprehensive framework for analysis and action, which views the support structure for artists in the United States as a system made up of six key dimensions of the environment in which an artist works. This approach builds on previous Urban Institute work that seeks to identify and measure the characteristics of place that make a culturally vibrant community. The study also provides information on the status of various dimensions of the artists' support structure – both nationally and in specific sites across the country.
The findings presented in this report synthesize information from a range of research components: case studies in nine cities including interviews with more than 450 people and a composite rural inquiry; creation and analysis of an of a comprehensive database – NYFA Source – that provides national and local information on awards and services for artists; a nationally representative poll of attitudes toward artists in the United States as well as site-specific polls in case study cities; numerous advisory meetings convened by the project; attendance at various conferences and professional meetings for artists; and numerous topic-specific inquiries on issues of major interest to the field. We also draw from various studies, both completed and ongoing, of the cultural sector and related fields.