Investing in Capacity Building
A Guide to High-Impact Approaches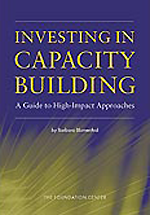 Investing in Capacity Building: A Guide to High-Impact Approaches Improving management practices—the most challenging aspect of capacity building—is essential to increasing the impact of a nonprofit's limited resources. Author Barbara Blumenthal helps grantmakers and consultants design better methods of helping nonprofits, while showing nonprofit managers how to get more effective support.
This book identifies which strategies work to help nonprofit organizations achieve efficiency, stability, and effectiveness—and which ones don't. Investing in Capacity Building is based on interviews with more than 100 grantmakers, intermediaries, and consultants; evaluations of capacity building programs; and a review of important research on the topic.
The Foundation Center, November 2003, 268 pp.
Available online from The Foundation Center.