By Heart
Poetry, Prison, and Two Lives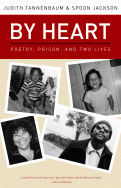 April 2010, 224 pages, ISBN 978-0-9815593-5-3. New Village Press, PO Box 3049, Oakland, CA, 94609, 510-420-1361, www.newvillagepress.net
Judith Tannenbaum and Spoon Jackson met in 1985 at San Quentin State Prison during Tannenbaum's tenure as a poetry instructor. For over two decades they have corresponded and sometimes collaborated. In By Heart, a volume that is part memoir and part essay, Tannenbaum and Jackson consider art, education, prison, and possibility.
Judith Tannenbaum is an educator, speaker, and author. Among her books are the memoir, Disguised as a Poem: My Years Teaching Poetry at San Quentin and six poetry collections. She is the training coordinator at WritersCorps in San Francisco. (See Tannenbaum's Fall 2009 Reader article, "School Reform and the Status Quo," here.)
Spoon Jackson was sentenced to Life Without Possibility of Parole when he was twenty years old. Spoon discovered himself as a writer at San Quentin and has written and published plays, poetry, novels, fairy tales, short stories, essays, and memoir during the more than thirty years he has been behind bars.