Don Adams & Arlene Goldbard: Community, Culture and Globalization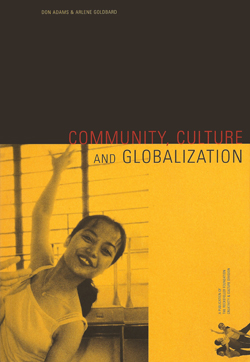 2002, 376 pages, free. New York: The Rockefeller Foundation Creativity & Culture Division.
As an economic ideal and as a social condition, globalization is hotly contested. Even as a word, "globalization" is rather hazy. You know it when you see it, but how would you define it? And would others share your definition? At a recent UNESCO conference on the creative sector, policy¬makers and academics needed to stop and define the term. Anyone working in community cultural development, however, knows exactly what the term means through seeing its effects. This anthology compiles these workers' ground-zero experiences and their efforts to counteract the attendant loss of local identity, history, and power.
Community, Culture and Globalization results from a meeting of leaders in community cultural development from around the world, sponsored by the Rockefeller Foundation at the Bellagio Study and Conference Center in May 2001. Twenty-four practitioners from fifteen countries joined facilitators Don Adams and Arlene Goldbard, who edited this anthology of essays and interviews. As writers, speakers, and consultants, Adams and Goldbard have been promoting cultural democracy through community cultural development for more than a quarter century.
Commissioned by Rockefeller's Creativity & Culture Division, Community, Culture and Globalization serves as companion to the foundation's 2001 report Creative Community: The Art of Cultural Development (also produced by Adams and Goldbard). Together, the two volumes describe the current terrain of community cultural development nationally and globally.
The newer volume is daunting, actually, in its scope and in its length, laying out in twenty chapters the promise and challenge of community cultural development in a global context. In their introduction, Adams and Goldbard define community cultural development as "the work of artist-organizers ('community artists') who collaborate with others to express identity, concerns and aspirations through the arts and communications media, while building cultural capacity and contributing to social change." (p. 8) Its validity, they explain, is "as a stimulus to pluralism, participation and equity in cultural life, and as a response to globalization's pull toward the standardization of commercial culture." (p. 8)
In a nutshell: the volume expands upon the prefatory vision expressed by Tomás Ybarra-Frausto, Creativity & Culture's associate director: "Globalization refers to the rapid and massive movement of capital, goods, people, ideas, institutions and images across the globe. Although this process has been occurring for centuries, its speed and scale have accelerated over the last 50 years." The foundation, he continues, "seeks to ensure that poor and excluded people are included in the benefits of globalization and protected from the worst of its negative consequences." (p. 5)
So we hear practitioners from Ocotepec, Mexico, to the Appalachian Mountains and Río de Janeiro tell about their attempts to explore the social margins, to facilitate empowerment, to create space for alternative voices, to reframe public discourse, and to catalyze social action. Their stories and ideas are inspiring and instructive.
The techniques are as varied as the circumstances. A third of the groups – from Sao Paulo, Brazil, to Ramallah, Palestine, and Hong Kong – use the techniques of Brazilian theater director Augusto Boal (Theatre of the Oppressed and Forum Theatre) or the Philippine Educational Theater Association's "Basic Integrated Arts Workshop." Mary Marshall Clark, director of Columbia University's Oral History Research Office, writes about oral history as an artistic practice. US-based choreographer Liz Lerman explains how community interaction strengthened her artistic practice. A significant segment deploys media – some high-tech (like Tony Stanley in Birmingham, England) and others low-tech (like Nitin Paranjape in Maharashtra, India). David Kerr in Zomba, Malawi, and Masitha Hoeane in Johannesburg, South Africa, adapt university theater in their efforts to stimulate community action.
More than a compilation of case studies, Community, Culture and Globalization offers theoretical insights into the "problem" of globalization.
Munira Sen, executive director of Madhyam, a national development communications organization based in Vasanthnagar, India, uses both mainstream media and alternative folk media as vehicles of change. Citing Madhyam's ability to use the market to its own advantage despite the danger of cooptation, Sen argues convincingly for the promise of entrepreneurship in the cause of social equity. She understands that cultural development cannot be an isolated enterprise and calls upon cultural workers to broaden their perspectives to the global level: "We need to view the world through the lens of financial markets as well as culture and politics, for the walls between finance, trade, diplomacy and foreign relations are crumbling fast." (p. 129)
Across the globe in London, England, Gary Stewart finds ways to strategically leverage the very tools of globalization for the purposes of community cultural development. Rather than turning his back on commercial media, he deploys cutting-edge technology – and market sponsorship – in music workshops as a vehicle for cultural awareness and critique for young people. The underlying purpose of the work, he explains, is youth resistance. "It's about how young people – particularly working class, black, female or whatever, those who've grown up under conditions of oppression – how they work with a dominant system of authority." (p. 171) As head of multimedia at the Institute of International Visual Arts, Stewart goes beyond the modernist view of culture as locally monolithic and in need of protection. For him, contemporary culture is fluid and dynamic, and technology can help to facilitate healthy cultural flow. As for the risk of market contamination with the sponsorship of a commercial music group, he's willing to accept the risk for the possibility of greater benefits: "There's a process of contamination, and it's a matter of degree. But I see such tremendous positives, just in terms of the workshops themselves, that I can reconcile it in my own mind." (p. 167)
Globalization is an ongoing political policy, not a Darwinian fait accompli. These two examples, among others in the book, demonstrate the need to effectively engage with the process of globalization rather than demonizing and dismissing it in a wholesale fashion – and, consequently, erasing all possibilities of intervention. The world no longer operates on the old model of Marxist "resistance" against superstructures. Since 9/11 we have had to face the fact that power is not solid but fluid and dispersed. Any disruption in the globalized power structure must adapt to these conditions in order to succeed. Here lies the danger of "anti-globalization": the either-or logic of the pre-digital, analogic world no longer applies, either economically or culturally. "In responding to globalization," write Sarah Moynihan and Norm Horton of Brisbane-based Feral Arts, "we need to be careful to remember that cultures are dynamic and evolving, not fixed or static. A significant part of cultural growth derives from sharing and exchange. Does simply opposing globalization run the risk of contributing to social and economic isolation and cultural stagnation?" (p. 200)
Community, Culture and Globalization also gestures toward the need for cultural development to work hand-in-hand with economic, political, and social development. As Adams and Goldbard eloquently explain, "these community cultural development activities are demonstrably the best available tools to teach the skills and values of true citizenship: critical thinking, interrogating one's own assumptions, exercising social imagination and creative problem solving, simultaneously holding in mind one's immediate interests and the larger interests of the community as a whole." (p. 17)
The question then arises: how does empowerment become action? Empowerment is certainly a precondition for political change and social transformation. The two are correlated, but are they causal in and of themselves? How can cultural development best achieve material benefits in a world that is relational rather than positional?
Tony Le Nguyen, founder of Vietnamese Youth Media in Victoria, Australia, has jumped directly into the dialectic between the local and the global. His work operates across the fields of youth theater, community cultural development, and professional theater, expanding beyond locally-created productions with touring shows that complicate any assumptions about cultural interaction. "How do you take that message out from your community and still keep the essence of the authenticity?" (p. 307)
That is the question. But the answer is not so clear, and never settled. Thus the vitality and shrewdness demonstrated in this volume's case studies. As David Kerr writes from Zomba, Malawi, "The constantly shifting battle lines created by a massively resourceful, fluid, global communications industry require flexible, well-informed and vigilant local cultural workers, able to adapt their practices to new strategies." (p. 256)