Solidarity Not Charity: Arts & Culture Grantmaking in the Solidarity Economy
March 2021, 121 pages. Grantmakers in the Arts, 522 Courtlandt Avenue, 1st Floor, Bronx, NY 10451.https://art.coop/.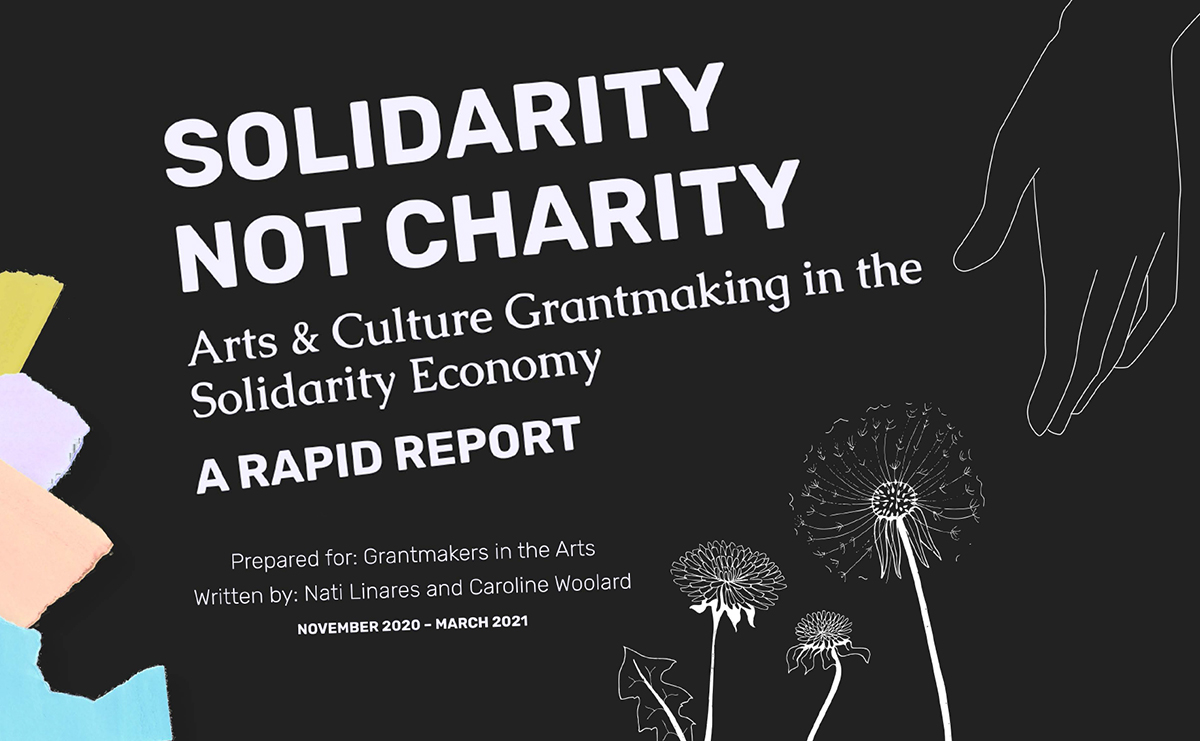 Download:


   Solidarity Not Charity: Arts & Culture Grantmaking in the Solidarity Economy (7.7Mb)

This report is about the ways that arts and culture grantmakers can engage in systems-change work that addresses root causes rather than symptoms of cultural inequity. The cultural sector is actively seeking alternatives to business-as-usual to create economic and racial justice in the sector and beyond. Grantmakers can play a role in the transformation of the sector by following the lead of BIPOC creatives who are innovating models for self-determination and community wealth. This work is part of an emergent movement in the United States that is known globally as the Solidarity Economy.
The economic system culture-bearers and artists want is not only possible—it already exists, and can be strengthened and cultivated with intention. This system includes worker co-ops, community land trusts, concessional loans, and mutual aid networks. What do these things have in common? They all center community ownership and democratic governance for political, cultural, and economic power. This emergent movement goes by many names—economic democracy, regenerative economics, community wealth, just transition, self determination, degrowth, the commons, local community economic development—but internationally, it is known as the Social and Solidarity Economy, or the Solidarity Economy.
The Solidarity Economy is a term used internationally to describe sustainable and equitable community-control of work, food, housing, and culture using a variety of organizational forms. The Solidarity Economy principles include cooperation, participatory democracy, intersectional equity, sustainability, and pluralism. Dynamic collaborations between grantmakers, government agencies, and federations of cooperatives have produced thriving Solidarity Economy ecosystems around the world with tailored tools of support, training programs, financial vehicles, and policy platforms.
There is great evidence that the Solidarity Economy provides resilience amid crisis and has lasting impact, when supported as a holistic ecosystem. For example, when grantmakers support community-controlled, permanently affordable infrastructure and space they create long-term efficiencies in their giving practices as grantees who benefit are no longer spending large portions of their organizational overhead on rent. The East Bay Permanent Real Estate Cooperative (EBPREC) centers their work in the Black Arts Community, making space affordable for generations to come. This is one of many efforts to ensure that land and infrastructure are held by communities who have been most harmed by our current systems.
Arts and culture grantmakers are poised to strengthen and grow the Solidarity Economy because:
philanthropy excels at building and supporting infrastructure and institutions,
the main barrier for many of these Solidarity Economy entities is deliberate incubation and start-up capital,
funders are seeking to learn about ways to support cooperative business structures, and
artists and culture-bearers are leading this work.
The oldest Native co-op in the country, Qualla Arts and Crafts, is led by culture-bearers. The first democratically managed investment fund in the country, the Boston Ujima Project, places BIPOC arts and cultural organizing at the heart of its work. The oldest non-extractive venture capital firm in the United States, The Working World, was started by artists. Artists in Belgium founded Smart.coop, the co-op that gives 35,000 freelancers the benefits of full-time employees (including unemployment insurance and pensions). This model — Smart.coop — is now being piloted in the United States with the US Federation of Worker Cooperatives' Guilded.
Grantmakers can shift their grantmaking to follow the principles of the Solidarity Economy and the practices of community control and community governance that their grantees are innovating. Concretely, grantmakers can:
1) Embrace Systems-Change and Conduct a Power Analysis.
In order to embrace a systems-change mindset to support Solidarity Economies, grantmakers must get clear about the systems that they work in and want to change. This begins by learning about, acknowledging, and repairing histories of harm enacted by arts and culture institutions, as well as the root causes of cultural inequity. From here, grantmakers can identify and shift how people in the sector show up in spaces — shifting resources as well as attitudes, language, and beliefs related to benevolence, charity, and perceived expertise. Key questions include: Who makes the decisions? Who benefits? What else will this impact?
2) Commit to Long-Term Work with Multiyear Grants, Loans, and Equity Investments for Solidarity Economy Institutions and Networks.
To work in true partnership, grantmakers must understand and respect the power of community-owned infrastructure as well as the legal and fiscal challenges that informal, emergent, solidarity, and cooperative institutions face. Grantmakers must commit to long-term funding that is not project based to achieve systems-change and support partnerships with hyperlocal intermediaries who have expertise and longstanding relationships with the people doing the work. Key questions include: How can we ensure that communities of artists, culture-bearers, and people who have been most harmed by our current systems have community ownership? How can we not just put out the fires of the world, but build solutions that can replace the destructive systems, to create community wealth?
3) Support Collaboration, Leadership Development, and Study Groups.
To create economies of justice and solidarity, a cultural shift — unlearning hierarchy and building the capacity to collectively govern — must occur for grantmakers, intermediaries, and grantees. Shared governance requires skill sets of embodiment, listening, facilitation, collaboration, conflict transformation, and ongoing, emergent education and training. Histories of cooperation and economies rooted in cultural traditions must be retaught and relearned. Key questions include: What would our schools, workplaces, and online platforms look like if those who did the work made the decisions?
4) Advocate for Policies that Support Solidarity Economy Infrastructure.
Systems-change requires policy change that will impact generations of artists and culture-bearers. Policies that create enabling environments for Solidarity Economy infrastructure and institutes include the Cultural New Deal, increases in minimum payout rates at foundations, Cultural Community Benefits Agreements, procurement for Solidarity Economy entities, and signing on to the policy platforms of existing SE groups that are advocating for cooperatives, land trusts, time banks, and all SE entities.
Grantmakers can support Solidarity Economy initiatives directly and also resource partners with hyperlocal expertise to include arts and culture in their work. Funders can work with culturally-grounded intermediaries and partners to facilitate resource-distribution without becoming gatekeepers or power-brokers. The Solidago Foundation believes that "the most effective philanthropy works in close partnership with groups that center people most directly impacted by structural inequities" and supports the Boston Ujima Project as both a partner and a grantee. The Surdna Foundation invests in Alternate Roots and NDN Collective as both partners and beneficiaries. The NDN Fund in turn serves as an intermediary, providing millions of dollars in flexible and patient capital directly to Native Nations, businesses, and organizations.
Grantmakers can offer both grant and loan capital to Solidarity Economy entities, and can become early investors and funders of community-chosen technical assistance providers for community-owned entities. For example, The General Service Foundation supports generative somatics, which builds collective capacities for embodied and trauma-informed leadership. The Chorus Foundation funds the US Federation of Worker Cooperatives, the national grassroots membership organization for worker cooperatives that provides coaching, training, and technical assistance for cooperatives. Several members of Grantmakers in the Arts have come together to support the Center for Cultural Innovation's AmbitioUS program as an intermediary that is able to open up funding beyond-501c3s and provide grants, loans, loan guarantees, investments, and recoverable grants to Solidarity Economy initiatives that intersect with arts and culture.
The Solidarity Economy is not a buzzword and must be cultivated with long-term accountability to the communities that have been most harmed by our current systems of neoliberal governance, extraction, and narratives of racial difference. Grantmakers can shift their position from experts and curators to supporters and co-learners who are following the lead of Black, Indigenous, People of Color, disabled, queer, trans, and working class creative people who are building economic democracy in their communities now.
To continue the research contained in this Rapid Report, grantmakers can support further research, including (1) peer-learning for grantmakers who commit to practice solidarity in grantmaking by following the lead of those most impacted, (2) support for Solidarity Economy community-study that is already underway from Boston to St. Louis, Louisville to Oakland, and that is coordinated regionally in the South and in Indian Country, and (3) support financial and peer-governance innovations that connect hyperlocal groups such as those modeled by SeedCommons, NDN Collective, and the First People's Fund.