A Question of (dis)Trust
Lessons When Your Institution Gets Taken Down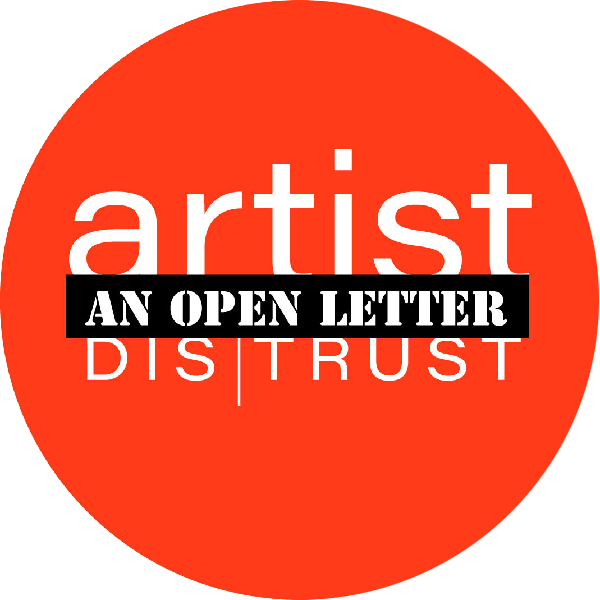 When Seattle-based arts funder Artist Trust invited us, two artists, to serve as jurors for its prestigious Artist Innovator Award (AIA), we accepted the responsibility with various desires — from feeling a sense of honorable duty to be asked as a juror to a want to uplift underrepresented artists. With a commitment to bringing a racial equity lens to the administration of two major $25,000 prizes, both of us, along with three other jurors, immersed ourselves in reviewing more than 125 applications submitted from artists around the State of Washington.
As designed so often in these grantmaking processes, after reading and notating each application, the jurors gathered together for a series of in-person, facilitated meetings, all which took place before the Covid-19 lockdowns. The jury convened to narrow down applications, interview eight finalists, and discuss final recommendations. Throughout the proceedings, passionate arguments were made for and against each applicant. At times, facilitation of the panel became overt and strategic on the part of the program director overseeing the process, who exhibited a bias towards specific artists. Throughout the process, the jury overwhelming agreed that operating agreements were violated during the review process and gathered to create a new agreement that would allow for the disruption of conversation by any jury member if the facilitator should fail to intervene.
Ultimately, the panel submitted its decision to Artist Trust staff to award the prizes to two accomplished artists with long histories of producing innovative, creative work in Seattle, nationally, and internationally. The selected winners also happen to be women of color, specifically persons of Asian descent. Each of the eight finalists represented a diverse group of Washington state artists, from a range of artistic disciplines and ethnic and gender identities.
When we did not receive an update about the awards in subsequent weeks, we were surprised as the lack of communication from Artist Trust was atypical. But, like our fellow jurors, we all trusted the process. In early March, each of the jurors received personal phone calls and an email from Artist Trust board members informing them that the integrity of the panel had been compromised. As a result, their recommendations would be replaced by the deliberations of a new jury, and all artist applicants would be subjected to going through the review process again.
From the close of the jury panel process through early March, there was an unusual silence from Artist Trust. What transpired was truly unexpected and ultimately resulted in the dismissal of the panel's recommendations and notice that all artist-applicants would be subjected to going through the review process again. Much of this process entailed statements from the Board of Directors, resignations of the CEO and Program Director, and an organizing campaign looking for acknowledgment and structural change of racist and sexist practices within arts grantmaking.
The community campaign, playfully referred to as Artist (dis)Trust, was established in partnership with Satpreet Kahlon, an artist and curator recognized for her racial equity work, who also publicly voiced concern over the abrupt cancellation of another Artist Trust fellowship award, to which she was an applicant.1 Our group seized upon the moment to organize action toward transparency and greater justice. The Artist (dis)Trust campaign asked for an internal investigation of Artist Trust and took its inspiration from two prominent fights: [1] the open letter written by poets to The Poetry Foundation of Chicago; and [2] a petition by former museum staff of the New Orleans Museum of Art that demanded interrogation of inequitable institutional practices.
In the time since the panel's work, we had developed with community a highly coordinated and strategic plan that included [1] an online public letter that summarized grievances with Artist Trust gathering hundreds of signatures from artists and community leaders; [2] a letter-writing campaign by former Artist Trust staffers, community members, and former award winners that was directed towards the board and brought human resources and organizational issues to light;2 [3] a letter-writing campaign by finalists of the AIA award demanding investigation and accountability; [4] a focused media blitz that began with regional press and snowballed into national media coverage in outlets that included Chronicle of Philanthropy and The Hill; [5] a campaign by key community members who either met with former board members and former staff or who contacted individual and institutional donors of Artist Trust, like the Emily Tremaine Foundation and The Chihuly Foundation, to inform them of the controversies surrounding the organization.
Throughout the Artist (dis)Trust campaign, the co-organizers listened and strategized carefully to ensure community participation and to secure community buy-in. The open letter was written by more than 50 contributors and edited by Ali, Kahlon, and Pai to take on a unified voice. Despite many discussions back and forth, the Artist (dis)Trust letter, unlike other public letters to organizations, did not call for resignations or staff termination. Taking a more moderate approach, the public letter refrained from the language of "demands" and urged strongly for investigations and a community boycott of Artist Trust.
From our perspectives as co-organizers, the campaign was successful in creating a closer examination of institutional practices. With Kahlon, the three leaders collectively contributed more than 400 hours of uncompensated labor and community engagement for Artist Trust. Through their extensive networks, they investigated and asked important questions from the artist community, equity work that Artist Trust leadership should have led and conducted. As our last act, we invoiced Artist Trust and have since declined participating in ongoing community meetings or open calls to join the board. We have shared our critique of Artist Trust with board members and staff and we offer below lessons and reflections that funders might consider to be in better partnership with artists and to learn from the collective wisdom of the community.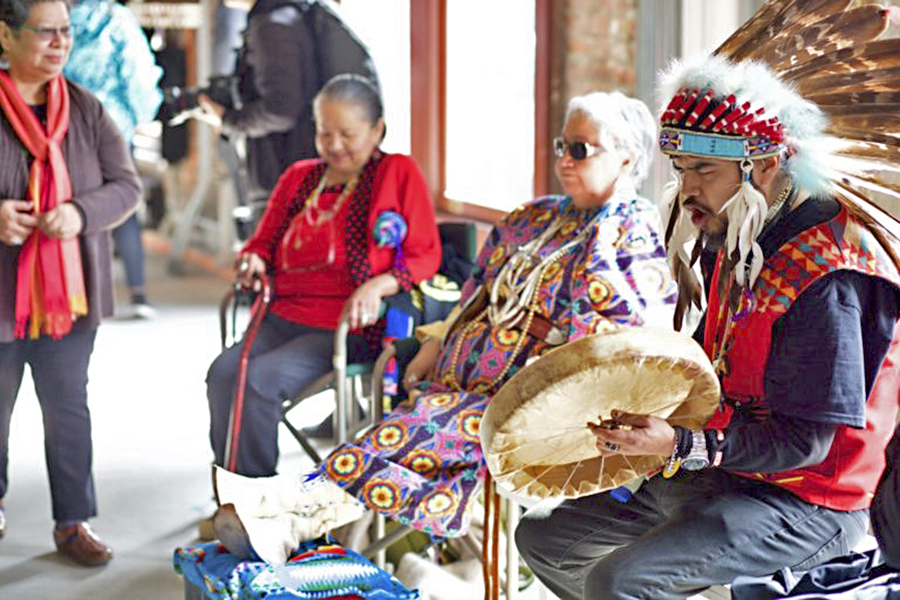 1. Clear and open communications
Organizations need to have a basic understanding that any "top-down" process with no clear communication with community constituents is and will always be problematic. A board coming into an award process in which four out of the five jurors are people of color, offering no evidence nor information of wrongdoing will be severely questioned. It is a power play that is antithetical to equity work and diversity initiatives. There should have been enough of a foundation of respect that open conversations with the jurors, individually or collectively, could be had and commitments made to include the jurors themselves in any perceived problems or "unethical" claims.
2. Jury composition, recruitment, and vetting
Organizations need to strengthen their recruiting and vetting of skilled jurors to better represent artistic and geographic diversity. The 2020 AIA jury was composed of four POC professionals from the greater Seattle-Tacoma region and one White representative from Spokane. Two of the POC jurors were established mid-career artists, one POC juror was late career, and the final POC juror was a grantmaker at a peer organization. Four of the five panelists had previously served on juries for significant funding amounts. The juror representing Spokane had lived in Washington State for less than a year at the time of her service on the jury. Her professional experience prior to her arts-based role in Spokane focused on roles in social service in another state. Given this, the juror lacked awareness or knowledge of the full landscape of Washington State artists and the ability to argue persuasively in favor of specific artists. Uncovered through the community investigation, artists in Spokane reported meeting with Artist Trust staff and making recommendations of potential jurors from the local community. But these recommendations were not represented in the AIA jury.
3. Ensure disciplinary representation
Artist Trust could consider rotating funding disciplines from year to year, so that a wider breadth of creative disciplines could be recognized for these prizes. Similar to 4Culture's Arc Award, which rotates funding priorities each year, this leveling of the field would allow for greater disciplinary equity.
The application pool for AIA received a number of applications from mid-career and well-established musicians. Unfortunately, there was no musician on the panel that could vet applications or advocate for music as a category of the arts. The jury lacked expertise. It was only after a passion vote resulted in advancing a musical artist that a musician was elevated to the final pool of eight. Music was also grouped into a category with dance, performing arts, and theater, instead of its own discrete discipline.
4. Establish clear definitions and criteria for funding
According to Artist Trust staff, jurors over the past iterations of the award program were left to debate the definition of "innovative" and were responsible for setting the priorities for funding from year to year.
The funders of the AIA awards were deliberate in not defining these criteria. However, this placed an unfair and difficult burden upon jurors to come to an agreement about what constitutes innovation. Further, some jurors believed that the size of a $25,000 prize seemed better suited to more established artists with a significant body of work that could recognize achievement; whereas, other jurors questioned whether the prizes would make a greater, or more meaningful impact for an emerging artist at the beginning of their career. No guidance was given with respect to funding priorities.
5. Limit outside observers
Throughout the jury's three days of in-person meetings, their deliberations were observed by staff, interns, and a member of the Seattle community. As a result, some jurors felt unsafe at times in openly expressing disagreement or dissent, for fear of judgment. During one particularly awkward moment, a staff member and juror called upon the outside community member to share his thoughts on applying for music funding. At other times, Artist Trust staff observers engaged jurors in casual and informal conversation. This created the impression that the jury was not a defined or safe space, with strangers coming in and out each day.
6. Create space to meet fellow jurors before adjudication
Meeting once before collaborative work begins allows for jurors to gain a better understanding of individual juror's strengths and expertise, as well as communication styles. Spending the time to build relationships and create shared experiences before work begins, allows for stakeholders to be more relaxed and curious with one another. This potentially lays the foundation for them to better problem-solve together, if tensions arise. A prior meeting could also initiate basic agreement conversations, laying groundwork for the rest of the deliberation process.
7. Co-create operating agreements
Artist Trust provided the AIA jurors operating agreements and asked for verbal buy-in from the group. There was limited opportunity to discuss the principles guiding the group's work, and while jurors suggested additional rules and codes of conduct, the process would have been improved by spending more time on norm setting and a discussion of how to bring these rules into play. During the in-person juror deliberations these agreements should be printed, written, and/or posted visibly as an important ever-present reference tool.
8. Adopt a safe word or gesture
When deliberations in the jury room become heated or tense, the ability to call upon a physical gesture or safe word would have allowed any juror to indicate to the facilitator that they were triggered or uncomfortable with a process. That could have then prompted the facilitator to slow down, take a break, and create space to work through disagreement or a difficult issue, allowing the group to reset and re-establish trust.
9. Appoint a jury foreperson
The communication between Artist Trust staff and board resulted in unreliable information influencing the decision the board made. Assigning a jury foreperson could allow for an agreed-upon representative from the jury to directly deliver juror recommendations to the board. This could also allow the board to stay better connected to community members and leaders involved in facilitating the work of Artist Trust and make the work more relational as opposed to transactional.
10. Activate the back-up candidate
As a jury, we were asked to identify one alternate candidate to whom we would give the award, if for some reason the award could not go to one of the finalists. Despite the jury having selected that individual, Artist Trust did not consider this option before it dismissed panel recommendations. If an alternate will never be used in even a best-case scenario, the jury should not be required to labor or spend additional time deliberating over an alternative.
11. Show up for your community and be consistent
In initial correspondence and meetings between the jury and board members, conversations were led by a male-identified president and other officers of the board who guarded carefully against admission of wrongdoing or error. In later meetings, gender representation and diversity of board members shifted very obviously to female-identifying board members and women of color, while others were markedly absent. The rationale presented to the jurors was a reluctance on the part of (mostly male) board officers to unbalance power dynamics through their obvious presence. But as a result of their decision to opt out, board members reinforced the message that they did not care about the process or about community members. Communication with community must be consistent, transparent, authentic, and go beyond the transactional.
12. Compensate community expertise
Collectively, our team — Ali, Pai, and Kahlon — contributed 400 hours of uncompensated consulting to Artist Trust in order to put the organization in direct conversation with its constituents. Throughout this process, Artist Trust engaged legal expertise, racial equity consultants trained in facilitation, and a human resources consultant to conduct internal investigations and audits. We can only expect that these professionals were paid at their standard hourly market rate. Artist Trust is currently recruiting for new volunteer board members and also organizing community conversations in which its constituents will be invited to give feedback to the organization. Instead of asking community members to volunteer their time, Artist Trust could turn to looking at models such as The King Street Station project in Seattle,3 which engages community members in long-term relationships. Organized by the City of Seattle's Office of Arts & Culture, the entity financially compensates advisory members for their service and their work in building and strengthening grantmaking systems that fund underrepresented artists. Another model to look to and learn from is the work of The Wing Luke Museum, which was an early pioneer in developing a Community Advisory Council model of involving communities in the creation and execution of its programming.4
In the end, the Artist Trust Board and Executive Director did offer a formal apology to the finalists and jurors of the 2020 Arts Innovator Award. They also reinstated the jurors' awardee decision and publicly committed to restructuring the board and continuing racial equity work. The Arts Innovator Award was given to Etsuko Ichikawa and Degenerate Art Ensemble, accomplished artists with a long history of producing innovative, creative work in Seattle, nationally, and internationally. All eight finalists have been publicly recognized and include Priscilla Dobler, Lori Goldston, Tessa Hulls, Wes Hurley, Casandra Lopez, and Barbara Earl Thomas. Artist Trust has continued to steward more grants and fellowships.
The 2021 Arts Innovator Award grant cycle is underway at Artist Trust focused on short- and long-term changes. In an interview with artist and board member Mariella Luz, Artist Trust published an extended interview about the current grant cycle and transformations in process. "The AIA workgroup was and is part of a larger conversation we're having at Artist Trust about how to work with artists. The topic came up in large part due to behind-the-scenes work the staff had been doing as well as the AIA/Artist Distrust letter. The Board and staff have really been trying to show up and do the work to make Artist Trust more equitable for artists and with this in mind, we started these sessions."5
Anida Yoeu Ali is an artist whose works span performance, installation, video, images, public encounters, and political agitation. She is a first generation Muslim Khmer woman born in Cambodia and raised in Chicago. After residing for over three decades outside of Cambodia, Ali returned to work in Phnom Penh as part of her 2011 US Fulbright Fellowship. Utilizing an interdisciplinary approach to artmaking, her installation and performance works investigate the artistic, spiritual, and political collisions of a hybrid transnational identity.
Shin Yu Pai is the author of ten books of poetry and a 2014 Stranger Genius Award nominee. Her work has appeared in publications throughout the US, Japan, China, Taiwan, UK, and Canada. Poems have been commissioned by the Dallas Museum of Art twice, and her work is also featured in the Poetry-in-Motion Program sponsored by DART. She has been a featured presenter at national and international literary festivals including the Geraldine R. Dodge Foundation Poetry Festival and the Montreal Zen Poetry Festival.
NOTES