Readying for a Safe Re-Opening: Release of a new guide for National Preparedness Month
Readying for a Safe Re-Opening: Release of a new guide for National Preparedness Month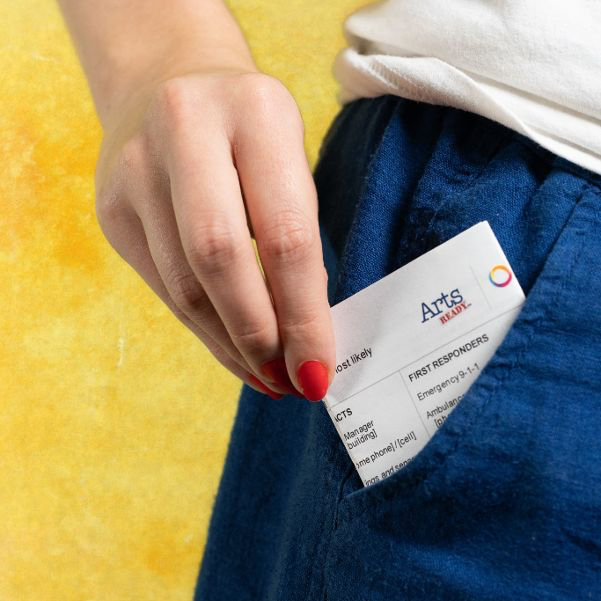 ArtsReady and the Performing Arts Readiness project have released the Pocket Response Resource ("PRR").
The PRR is a document which prompts organizations to collect critical contact information on one side, and critical action steps such as evacuation, crisis communications, situational assessment, and prioritizing assets to be protected or salvaged on the other. It neatly folds down into a credit card-sized document piece for all staff, crew, and volunteers to carry on their person – or have available to view on a device – so they have immediate access to information they'll need in the first minutes and hours of any type of emergency.
This free document is Phase I of a new, improved online readiness planning tool, dPlan/ArtsReady 2.0. As arts and cultural organizations prepare for and undertake safe re-opening steps, the PRR can be a critical element for the safety and security of visitors, artists, and crew, staff, and volunteers, as well as an organization's physical assets, during COVID-19 and beyond. With expertise contributed by arts/culture professionals across the country, the Pocket Response Resource is the first field-specific version of the PReP™ plan created by the Council of State Archivists in 2006. Its design serves organizations with performing, visual, media, and literary arts programming, and exhibits and collections. Its release coincides with the start of National Preparedness Month.
The Performing Arts Readiness Project is supported by a grant from The Andrew W. Mellon Foundation to LYRASIS - a leading member-based non-profit organization serving libraries, archives, and museums - to implement a project with nine partner organizations that strengthens emergency preparedness within performing arts organizations. Robert Miller, CEO of LYRASIS, says of the Pocket Response Resource, "As a nonprofit that is committed to helping cultural heritage organizations maintain vital programs for their communities, I'm proud that we were able to help create the PRR and strengthen its impact on the performing arts community. This work evolved from a long history of community building and disaster preparedness expertise within LYRASIS and will enable performing arts organizations to continue their excellent work, even in a challenging environment."
Learn more and download the PRR and Instructions here.