Fostering Creative Aging in Iowa Public Libraries
Fostering Creative Aging in Iowa Public Libraries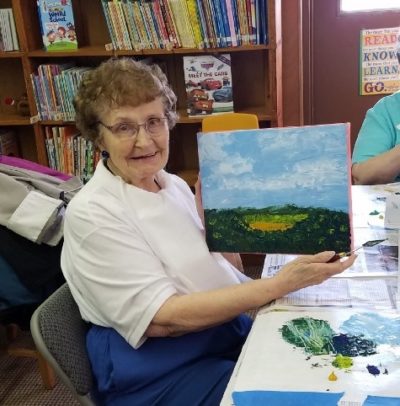 Supporting creative aging in rural areas is the driving force behind Iowa Arts Learning in Libraries, an effort of the State Library of Iowa and the Iowa Arts Council (IAC) to offer free arts classes for adults 55 and older in rural public libraries.
According to a post by the National Assembly of State Arts Agencies (NASAA), the Iowa Arts Learning in Libraries program began as a pilot in 2018 with a $25,000 grant from the Institute of Museum and Library Services (IMLS), and continues this year with additional IMLS funding as well as $25,000 from IAC.
In 2018, 19 libraries participated, and 35 are taking part this year. NASAA explains that collectively, these libraries have worked with 23 different artists and arts organizations.
In a recent strategy sampler, NASAA summarizes ways through which state arts agencies can foster creative aging:
The arts contribute to healthy aging, making them an effective tool for addressing the wellness needs of older Americans who are living longer and healthier lives than they did a generation ago. There are nearly 60 million Americans over the age of 65, and this population is only growing as 10,000 people turn 65 every day and tens of millions of Baby Boomers will reach retirement age within the next decade. For these individuals, creative aging—which is a set of practices that leverages the benefits of making, sharing or otherwise engaging in the arts to foster the mental, emotional and physical health and well-being of older adults—will become an increasingly important resource in the health care continuum, cultivating lifelong learning and societal well-being.
Image: NASAA website / Courtesy of Ramona Miller