Philanthropy's Challenge
Building Nonprofit Capacity Through Venture Grantmaking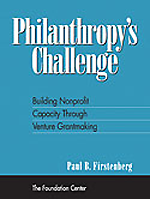 Author Paul Firstenberg challenges grantmakers to proactively assist their grantee's management in maximizing the nonprofit's social impact, showing grantseekers how potential funders increasingly emphasize organizational capacity building.
This book explores the roles of grantmaker and grantee within various models of venture grantmaking. Citing real examples of venture grantmaking, Firstenberg outlines the characteristics that qualify an organization for a venture grant, and outlines the steps a grantmaker can take to build the organizational capacity of their grantees.
The Foundation Center, February 2003, 184 pp.
Available online from The Foundation Center
Categories: