The Performing Arts in Lean Times: Opportunities for Reinvention
Salzburg Global Seminar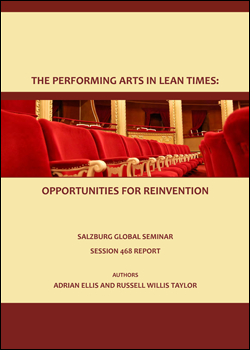 Download:

   The Performing Arts in Lean Times: Opportunities for Reinvention (832Kb)

In February 2010, the Salzburg Global Seminar convened a conference entitled "The Performing Arts in Lean Times: Opportunities for Reinvention." As an organization committed to addressing issues of global concern and to promoting dialogue among cultures for more than sixty years, the Salzburg Global Seminar took the view that this was an important moment to consider the repositioning of the performing arts within societies worldwide. To this end, and with the generous support of The Edward T. Cone Foundation, the Seminar brought fifty leaders of performing arts organizations, cultural policymakers, foundation representatives, arts association leaders, arts sector researchers, journalists, and scholars from a range of national and professional contexts into dialogue and gave them the opportunity to reflect on opportunities for reinventing the performing arts in this period of dramatic social, economic and technological change. Max Reinhardt's former residence, Schloss Leopoldskron, in Salzburg, Austria provided an especially fitting backdrop for these discussions.
The program was guided by two invited co-chairs, Adrian Ellis, the executive director of Jazz at Lincoln Center in New York, and Russell Willis Taylor, the president and CEO of National Arts Strategies in Washington, DC, who also served as panel moderators. The four-day residential program was structured around several plenary elements: opening remarks by the co-chairs and Michael Lynch, the former chief executive of South Bank Centre in London; five panel presentations followed by lengthy plenary discussion periods; and a roundtable discussion of issues confronting the performing arts in developing countries. In addition to the plenary program, five working groups met over the course of the session and provided an opportunity for sustained, specialized discussion in small groups. Both the plenary sessions and the facilitator-led working groups focused on the following five themes:
The Creative Process and Technology,
The Performing Arts and Communities,
The Creation of Value,
Understanding Our Crisis of Legitimacy, and
Sustainability and the Role of the Performing Arts in Civil Society.
This report summarizes the Seminar's discussions in the plenary sessions and in the working groups, with the goal of sharing the thinking that went on in Salzburg with the wider global performing arts community. We hope that this report will be useful to the session participants and to other readers, and that they may wish to share the questions raised, the issues discussed, and the thoughts offered with other networks and organizations interested in helping the performing arts thrive in an ever-changing world.