People, Land, Arts, Culture, and Engagement
Taking Stock of the PLACE Initiative
February 2014, pages. Tucson Pima Arts Council, The Pioneer Building, 100 N. Stone Avenue, Suite 303, Tucson, AZ 85701, (520) 624-0595, www.tucsonpimaartscouncil.org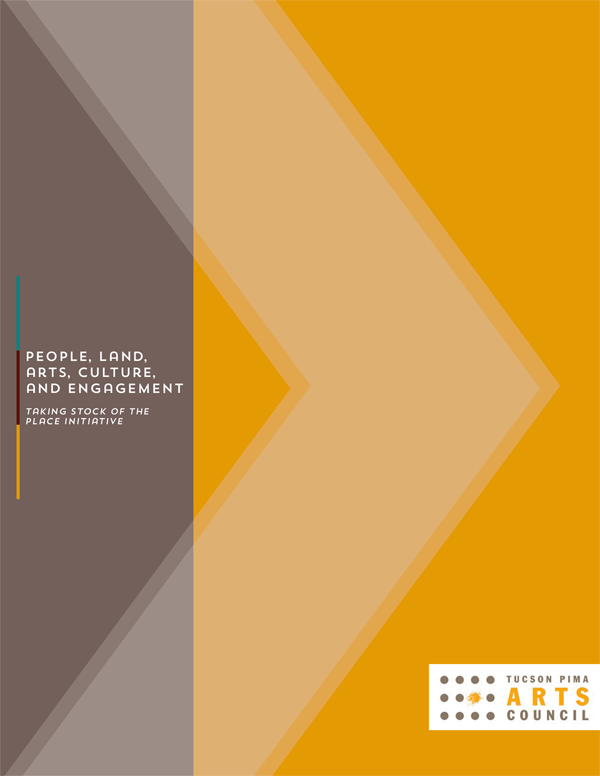 Download:

   People, Land, Arts, Culture, and Engagement (967 Kb)

This report serves as a point of entry into creative placemaking as defined and supported by the Tucson Pima Arts Council's PLACE Initiative. To assess how and to what degree the PLACE projects were helping to transform communities, TPAC was asked by the Kresge Foundation to undertake a comprehensive evaluation. This involved discussion with stakeholders about support mechanisms, professional development, investment, and impact of the PLACE Initiative in Tucson, Arizona, and the Southwest regionally and the gathering of qualitative and quantitative data to develop indicators and method for evaluating the social impact of the arts in TPAC's grantmaking.
The report documents one year of observations and research by the PLACE research team, outside researchers and reviewers, local and regional working groups, TPAC staff, and TPAC constituency. It considers data from the first four years of PLACE Initiative funding, including learning exchanges, focus groups, individual interviews, grantmaking, and all reporting.
It is also informed by evaluation and assessment that occurred in the development of the PLACE Initiative, in particular, Maribel Alvarez's Two-Way Mirror: Ethnography as a Way to Assess Civic Impact of Arts-Based Engagement in Tucson, Arizona (2009), and Mark Stern and Susan Seifert's Documenting Civic Engagement: A Plan for the Tucson Pima Arts Council (2009).
Both of these publications were supported by Animating Democracy, a program of Americans for the Arts, that promotes arts and culture as potent contributors to community, civic, and social change. Both publications describe how TPAC approaches evaluation strategies associated with social impact of the arts in Tucson and Pima County.
This report outlines the local context and historical antecedents of the PLACE Initiative in the region with an emphasis on the concept of "belonging" as a primary characteristic of PLACE projects and policy. It describes PLACE projects as well as the role of TPAC in creating and facilitating the Initiative. Based on the collective understanding of the research team, impacts of the PLACE Initiative are organized into three main realms — institutions, artists, and communities. These realms are further addressed in case studies from select grantees, whose narratives offer rich, detailed perspectives about PLACE projects in context, with all their successes, rewards, and challenges for artists, communities, and institutions.
Lastly, the report offers preliminary research findings on PLACE by TPAC in collaboration with Dr. James Roebuck, co-director of the University of Arizona's ERAD (Evaluation Research and Development) Program.