Native Artists: Livelihoods, Resources, Space, Gifts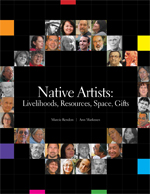 2009, 128 pages. Arts Economy Initiative, Project on Regional and Industrial Economics, Humphrey Institute of Public Affairs, and the University of Minnesota.
This report addresses the issues surrounding Native American artists in Minnesota and the discrepancy in economic return for that community's artistic product when compared to the Hopi, Navajo, and Pueblo communities from the American southwest. The report details a two-year study of the Ojibwe artists in Minnesota, focusing on artist training, access to resources and work-space, location, employment and self-employment, and other topics. Over the course of 50 interviews with artists and numerous other interviews with a variety of "gatekeepers" (those in a position to provide Native artists with access to resources and space both within and beyond the Native community), the report, by posing a set of questions to the interviewees, begins to reveal a communication gap that exists and presents a wide-ranging set of recommendations to address that gap. A key insight from the research is that Native-only or Native-focused programs, convenings, mentorships, curricula, and venues serve as a crucial stage for an Ojibwe artist's development of skills, networks, and determination to pursue artwork as a livelihood.
The report was commissioned and solely funded by the McKnight Foundation.
Download:

   Native Artists: Livelihoods, Resources, Space, Gifts (4Mb)