More Than the Sum of its Parts
Collaboration & Sustainability in Arts Education
December 2012, 91 pages. National Guild for Community Arts Education, 520 8th Avenue, Suite 302, New York, NY 10018. (212) 268-3337. www.nationalguild.org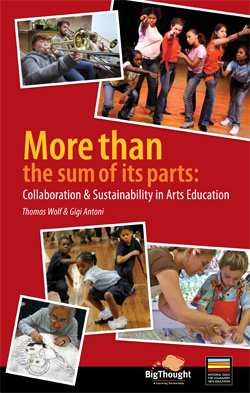 Download:

   More Than the Sum of its Parts (4.4 Mb)

In late 2009, consultants from WolfBrown conducted a year-long study focused on sustainability among community arts education organizations. Commissioned by the National Guild for Community Arts Education and funded by the Kresge Foundation, the project provided an opportunity to learn in depth about the work of these organizations, their impact and their needs. It also allowed ample time to study the issue of sustainability and, in particular, to gauge the extent to which collaborations of various kinds contribute to it. The result of the work was a theory of sustainability and community. The study offered the opportunity to test the theory in action and to begin to explore how it might be put into practice.
Meanwhile, the staff of Big Thought in Dallas was collaborating with and learning from communities around the United States in order to develop large-scale collaborative systems linking arts education organizations with other nonprofit and municipal organizations (schools, city governments, social service organizations, libraries, parks and recreation departments) and funders (both public and private). The strategy was to ensure that these partnerships would address major community concerns. Once again and from a very different frame of reference, the issues of community partnerships and sustainability in arts education were made manifest. In essence, Big Thought arrived at the same hypothesis about community, partnership and sustainability through its programs and experiences as WolfBrown did through its research.
These two strands of related work have led to the writing of this book. Its ideas, concepts and examples are intended to demonstrate how a theory becomes practice. This book is intended to be a primer on how organizations that offer arts education and creative learning programs can forge partnerships to address community needs and become more sustainable.
Chapter 1 outlines the importance of the community dimension.
Chapter 2 provides examples of partnerships from the simplest to the more complex.
Chapter 3 discusses the opportunities and challenges of mergers and acquisitions, including why and when it is appropriate for two or more organizations to become one.
Chapter 4 describes the development of larger, community-wide systems involving scores of organizations and agencies focused on addressing community goals.
Chapter 5 outlines how to get started and be successful in establishing the kinds of collaborations described in the book.
Chapter 6 addresses the necessary support including professional development, evaluation, funding, advocacy and effective administration.
An Afterword provides some additional core principles critical to long-term sustainability. Each chapter ends with a list of key questions to highlight important concepts.