Field Resource Book Volume 1
General Operating Support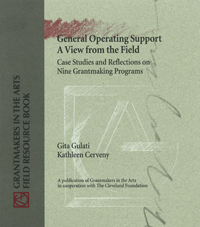 This Field Resource Book profiles nine foundations that provide general operating support to arts organizations. The featured foundations reflect geographic and institutional diversity, as well as myriad grantmaking approaches. The chapters are the result of research and interviews with senior staff at each of the nine foundations.
Each chapter includes six sections:
A snapshot of scope (funding region and priority areas) and scale (grantmaking dollars and staff size) begins each chapter, so that readers can make a fair comparison of programs.
"Context and Rationale" describes what was happening within a particular foundation or in the external environment, or both, that supported general operating support as a grantmaking strategy.
"Program Structure" describes the nuts and bolts of providing general operating support, such as the application process, eligibility criteria, grantee budget size, standards for review, and selection. The role of consultants, when used, is also explained. Other programmatic elements, which some funders combine with general operating support, are described when appropriate.
"Grant Award Levels" describes the formula or method employed to determine funding levels for general operating support recipients.
"Evaluation" describes efforts to monitor and assess progress of individual grantee organizations and the grantmaking program as a whole.
Final thoughts or advice from experienced general operating support grantmakers closes each section.
Sample forms and program materials have been excerpted, with permission, for many of the chapters. These materials serve to exemplify the key concepts behind a particular foundation's approach. They can serve as a guide to other grantmakers who are crafting a general operating support program. However, keep in mind that any program should, first and foremost, reflect the needs and nuances of a specific community's arts organizations.
80 pages, perfect bound