Experience as Research: Claudine Brown
This is part of the special section, Experience as Research.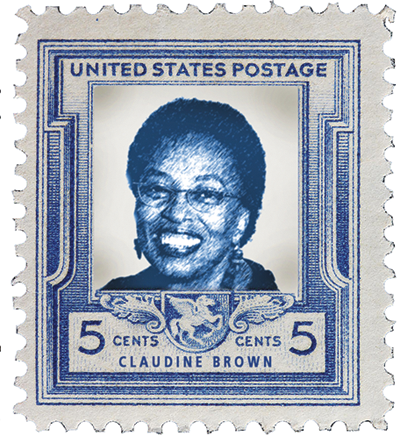 I knew that I wanted to be an artist from the time I was nine years old. My grandmother received dishes that came in cobalt blue boxes. I realized that I could put these boxes together and make a dollhouse. The time spent devoted to a singular passion let me know that with creativity you could make the world. This experience let me know that I had the ability to have a vision and make it concrete and real. I knew then that this was a wonderful thing.
Now I do fiber art, and I think there is a synergy between working in a museum and making art. Working in arts education has allowed me to be around art that I thought was significant, and it has stimulated me to make art myself.
I started working in museums when they were first beginning to look at issues of diversity and were examining which artists and communities were being left out. I was at the Brooklyn Museum when they brought Judy Chicago's The Dinner Party there for the first time. I also developed programming for exhibits by Romare Bearden, Jacob Lawrence, and other major shows featuring women and ethnically diverse artists. It was interesting to try to figure out what bilingual labels worked, or how to bring different audiences in and meet them on their own terms.
As an educator I was influenced by George Hein's approach, which says that all those who come to an experience bring their own experience with them. This means you can't assume that what you, as a museum professional, are telling them is all that they want to know. I was part of a Getty Institute focus group effort in the early 1980s. An elderly Black man in the group came to the Brooklyn Museum regularly to look at Dutch paintings. The assumption was that he had seen these works as part of his education as a kid and they had made a lasting impression. But when we asked him, he said, "I see the same light in these paintings that came into my grandmother's house when I was a boy." The lesson to me was to let your audience tell you what they see and why they are there. You learn from them as they learn from you.
A big part of my work in museums has been building community. An important realization was that people belong to many different types of communities. The idea that people are interested primarily in work created by their own ethnic community isn't an expansive enough way of thinking about this work. If we show works of art from the Vatican, Catholics from all over the world may be interested. So might others. When I worked on programming for a Jacob Lawrence special opening, I invited union workers and served beer and pretzels instead of wine and cheese. I developed the ability to look at communities in ways that are authentic and not clichéd.
As a funder at the Nathan Cummings Foundation, I worked on several big issues: helping arts organizations understand that their communities are diverse in many ways; building cultural competency and supporting cross-cultural dialogues; and helping groups understand our commonalities as well as our differences.
We always think of mentors as wise Yoda-like people who have been through it all. But my mentors have been colleagues who were doing the same or similar work in other places. I could rely on them for an empathetic ear and good ideas. Elaine Gurian at the Smithsonian is an example of a colleague who also served as a mentor. Some of my mentors are young people who are brave and resilient and have come to the table with new skills and the ability to use them in interesting ways.
As an educator, it has been important for me to always talk to people outside my field, to know what would make art museums meaningful to them. It isn't enough just to have advisory boards. When we are the ones inviting, we have veto power. I admire Ron Chew (former director of the Wing Luke Asian Museum in Seattle) and others who actually serve on community boards asking, "How can we be helpful to you?"
Performing arts are often the most powerful art forms for me, the ultimate form of collaboration. I am a really big fan of Ping Chong's work with Undesirable Elements, which gives voice to people who most of us don't usually hear from. For me, Tony Kushner's Caroline, or Change was the ultimate play about philanthropy, raising issues that people in philanthropy should be thinking about. What does it mean to give willingly or begrudgingly?
The end of apartheid in South Africa and the formal process of truth and reconciliation in that country have really influenced me. The first step is to acknowledge that harm has been done. Then, we must contemplate what it means to take responsibility. The work of the Philadelphia Mural Arts Project with prison inmates and victims of crimes is really powerful in this way.
As a manager, I always try to say yes. I try to give people the opportunity to do the work that they have a passion for. I also ask staff during evaluations what they would love to do if they could. This makes them stakeholders in the enterprise in a way they wouldn't otherwise be.
I would recommend that younger people not come into philanthropy unless they have led an organization. Philanthropy is so removed from what's happening on the ground that it is easy to lose sight of a grant officer's role — empowering other people's dreams — especially if staff haven't experienced what it is like to do the work themselves. The grantee knows the constituency and understands the tensions and assets in the community. A program director's job is to believe in a leader's vision and skill, or not. If they believe, they fund the work, and if they don't, they don't fund the work. A program director's job is not to micromanage.
I'd also suggest that young people do internships (even unpaid) and informational interviews. No two institutions are alike. Young people entering a profession should get a sense of where they can do their best work and be nurtured. Finally, no matter the field, each of us should be committed to giving service to that field. This involves joining professional organizations and presenting work to peers. Giving service helps one to understand the ecosystem, test out theories, and get feedback from others.
Claudine Brown is assistant secretary for education and access of the Smithsonian Institution.