The Creative Economy of Houston
A comprehensive study of creative-sector industries and their impact on the Houston economy
50 pages, July 2012. Houston Arts Alliance, 3201 Allen Parkway, Suite 250, Houston, TX 77019-1800, (713) 527-9330. http://www.houstonartsalliance.com.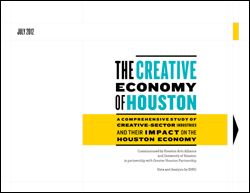 Download:

   The Creative Economy of Houston (1.4Mb)

Cities, regions and states across the country—as well as across the world—have been measuring the size, profile and impact of their creative sectors for years. Regions that once relied on industry as the primary engine for the economy, such as New England and portions of Great Britain and Northern Europe, began in earnest decades ago to measure this opportunity area—the creative sector—as a part of retooling their economies for intellectual enterprise, tourism and other 21st century economic generators.
And here in the States, younger cities and regions such as Seattle, Austin and greater Los Angeles, have adopted the "creative economy" as a vital and even critical component to a diversified regional economy.
Fortunate to have a growing and diversifying economy, Houston has not been faced with the hard work of rebuilding. The city has reaped great rewards by investing in the medical industry, energy, and the great Port of Houston. And with that has come a booming construction industry and services to support.
Less measured, but tremendously vital, the creative economy is a diverse and broad-based collection of industries—non-profit and for-profit—that employ more than 146,000 individuals in primary and support roles across the ten-county region. In 2011, creative businesses in Houston had an economic impact of more than $9.1 billion.
Houston has been on the rise for a decade. Comparison data shows that, of the six cities considered for this study, only Houston and Dallas saw creative-sector gains in the decade between 2001 and 2011. During that period, the city's industry grew by 8 percent. Projections indicate that by 2016 employment in Houston's creative economy will be 16 percent larger than it was in 2001—the largest gain of any city in the study.
For workers in the creative sector, Houston has strong earnings potential. The city ranked ahead of Dallas, Philadelphia, Miami, Chicago and Los Angeles in median earnings per creative worker. With Houston's low cost of living, these findings could be attractive to creative workers looking to relocate or creative business owners looking to move or expand their business.
Importantly, Houston is underserved by local creative businesses. While demand by city residents is $20.53 billion in sales, local companies provide only $10.77 billion worth of creative goods and services. Houstonians import almost half of the creative goods they use, revenue that is sent to other communities. By growing the local creative sector, Houston can meet more of its own demand and keep more revenue at home.
Creative economy workers overall are educated, highly compensated workers. Many American cities from Milwaukee to Albuquerque are attempting to attract them to bring their industries and families to those cities. Without much effort, Houston has created one of the country's larger and more robust creative economies. With targeted resources, Houston could evolve this sector at an even greater rate than is already predicted.