Creating Public Value Through State Arts Agencies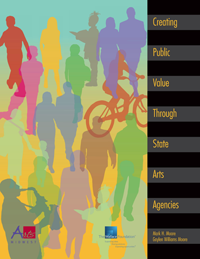 At a time when public support of the arts faces a range of challenges, state arts agencies could use a framework to help them better serve the arts community and engage more people in the arts -- thereby elevating these agencies' public value. This report by Mark Moore, a leading authority from Harvard on public management, offers state arts agency managers practical guidance on: measuring and communicating their agencies' public value; cultivating support from policymakers, the arts community and the public; and determining what goals are realistically within their reach.
128 pages
Available online in pdf format from The Wallace Foundation.