Create Dangerously: The Immigrant Artist at Work
Edwidge Danticat. 2010, 208 pages, Princeton University Press
"Create dangerously, for people who read dangerously. This is what I've always thought it meant to be a writer. Writing, knowing in part that no matter how trivial your words may seem, someday, somewhere, someone may risk his or her life to read them."
1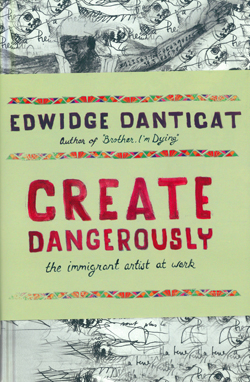 So writes author Edwidge Danticat, who spent the first twelve years of her life in Haiti under the dictatorship of both Papa and Baby Doc. In Create Dangerously: The Immigrant Artist at Work, she wrestles with the challenges and privileges of being a member of a community living lòt bò dlo (the other side of the water) and, in the telling, unravels how her country of origin continues to shape her. The title of the book comes from a talk given by Albert Camus, who said, "Art cannot be a monologue." For Danticat, writing is a conversation.
A well-known author in the United States, Danticat is often called to be a spokesperson for Haiti and Haitians, particularly at times of disaster, when, she writes ironically, she's asked to convey complexity "in 1,500 words." Grappling with whether she has the right to write about Haiti while no longer living there, she struggles, too, with having an individual voice while also daring to speak for the collective.
Upbraided by members of the Dyaspora community after her first novel, Breath, Eyes, Memory, was published (and chosen for Oprah's Book Club), for the less than idealized ways she portrayed their world to outsiders, she decided to write a letter to her book's main character, to be included as an afterword in all subsequent printings: "I write this to you now, Sophie, as I write it to myself, praying that the singularity of your experience be allowed to exist, along with your own peculiarities, inconsistencies, your own voice."
Danticat asks herself, "What is the alternative for me or anyone else you might not dare to offend? Self-censorship? Silence?"
Inherent in this work's grace and beauty is the way Danticat sees herself as part of a collective struggle, one voice among many, fueled, in part, by those who have been lost. The book opens with a description of the 1964 public execution of two young freedom fighters, Marcel Numa and Louis Drouin, which Papa Doc had staged as a spectacle that schoolchildren were forced to attend. Looking at old film footage of the event, Danticat narrates in present tense, as if to turn the reader into a witness too. (See exerpt on page 40). She surely finds courage in a quote from Toussaint L'Ouverture (c. 1743–1803), the leader of the Haitian Revolution, which she repeats several times. "In overthrowing me they have only felled the tree of Negro liberty. It will shoot up again, for it is deeply rooted and its roots many."
Danticat introduces us to the network of artists and writers, journalists and political activists present and past, with whom she feels kinship, including novelists Dany Laferrière, Marie Vieux-Chauvet, and Jan J. Dominique, artists Jean-Michel Basquiat, Hector Hippolyte, and Jamaican sculptor Michael Richards, who died in his studio in the Twin Towers on 9/11. She begins one essay on the morning one of her heroes, the well-known and courageous radio journalist Jean Dominique, was murdered, and, in doing so, creates a narrative immediacy.
Daniel Morel, a documentary photographer, who, as a thirteen-year-old, had witnessed the execution of Numa and Drouin, inspires Danticat. Like her, he has been accused of revealing painful sides of Haitian life. "I am just showing people the way things are because maybe if they see it with their own eyes, they'll do something to change the situation," he tells her. In fact, we might view the making of Create Dangerously, with its use of both on-site reporting and personal story, as a way to collapse distances.
Danticat's writing is at its most visceral when recounting watching old footage of the execution and in depicting her visits with two exceptionally strong women: first, the arduous journey on foot to see her elderly aunt still living in the rural mountain village of her forebear; she had last seen her aunt when she was eight years old. In the chapter titled "I Speak Out," she describes spending the day in New Jersey, as part of a small documentary film crew, with a survivor of torture, Alèrte Bélance, brutalized by anti-Aristide forces, who courageously speaks out about her experiences. 2
In Create Dangerously, Danticat also shows us the interconnectedness of countries and history. Most readers will know that the roots of Haiti's impoverishment can be found in the vast sums the new country was forced to pay the French, as reparations and for official recognition, effectively bankrupting their treasury. Fewer may be aware that Thomas Jefferson urged Congress to cut off trade with Haiti, and that it wasn't until sixty years later that the United States, under Abraham Lincoln, recognized Haitian independence.
Three weeks after the January 12, 2010, earthquake, Danticat flew to Port-au-Prince, to see family and to bear witness, and found herself wondering what use she was there. She decides, "I have come to embrace them, the living, and I have come to honor the dead." Consider this the spirit of her brave — and useful — book.
Create Dangerously grew out of a talk Danticat gave in 2008. The occasion was the second Toni Morrison Lecture at Princeton University, an annual series created to "celebrate the expansive literary imagination, intellectual adventurousness and political insightfulness that characterize the writing of Toni Morrison."
Danticat does not shy away from the use of graphic detail but does so judiciously, and, I believe in the manner that scholar Joseph Cady identifies as "immersive" to mean writing which thrusts the reader "into a direct imaginative confrontation." See "Immersive and Counterimmersive Writing about AIDS: The Achievement of Paul Monette's Love Alone," in Writing AIDS, edited by Timothy F. Murphy and Suzanne Poirier (New York: Columbia University Press, 1993).
Irene Borger is director of the Alpert Award in the Arts.