Counting New Beans
Intrinsic Impact and the Value of Art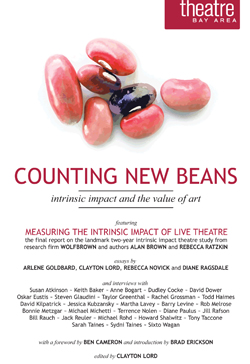 2012, Theatre Bay Area, San Francisco. Clayton Lord, editor.
From philosophical to practical, the role of the audience in the performing arts has been parsed, debated, and interrogated left, right, and center. This is the central concern editor Clayton Lord has unleashed in the sprawling database that is Theatre Bay Area's recent publication Counting New Beans, an almost-five-hundred-page compilation of essays, research, and statistics that attempts to measure the intrinsic impact of live theater.
"At a certain point, I don't actually watch the shows — I end up watching the audiences watch the show, " says Rachel Grossman with the Woolly Mammoth Theatre Company, in one of the many interviews with passionate leaders from theaters, large and small, around the country. "Documenting what we're seeing and trying to create some sort of standardized form like that is in the dream future of recording feedback."
Counting New Beans takes a few steps forward into that dream future, and with complex detail attempts to provide that standardized form of capturing feedback. It isn't surprising that the work is sprawling and often without borders of conclusion, as Clayton Lord has edited a significant amount of material from a two-year theater study by researchers Alan Brown, Rebecca Ratzkin, and the firm WolfBrown, but for those of us who have devoted our lives to creating, producing, analyzing, and enjoying live theater, it is an incredible reference.
Broken into four sections, the text asks readers to swing from right brain to left brain, and then back again, as it journeys from essays that encourage the evaluation of live theater's impact on society with measurables that aren't economic, to a detailed section, "Quantifying Artistic Impact," that uses complex graphic structures to synthesize patterns of audience feedback across eighteen theaters and fifty-eight productions. For example, "Variations in Impact: Star vs. Non-star," "Intensity of Post-Performance Conversation by Age Cohort," and "Gender Differences with Respect to Readiness and Impact" are just a few of the subject titles up for examination. Although somewhat overwhelming in its thoroughness, this is a fascinatingly different frame through which to view and measure the impact of the intangible and illusory endeavor that is live theater.
The second half of the book includes essays by patrons of the arts and a chapter by Arlene Goldbard titled "Symposium: Seven Characters in Search of an Audience (with apologies to Plato)," as well as interviews with more than twenty artistic leaders — including Oskar Eustis, Tony Taccone, Diane Paulus, Bill Rauch, Howard Shalwitz, and Martha Lavey — whose content is as varied, subjective, passionate, and engaging as the artists chosen to be interviewed.
Particularly impactful is an interview near the beginning of the book with Diane Ragsdale, a PhD candidate at the University of Rotterdam, for its thoroughness and its sense of appropriate rebellion in the face of so much material on "how things are done." "It is important to distinguish," Ragsdale says, "between the role of a nonprofit arts institution in society and the role of an artist in society: they are different. Artists and communities make up a constantly evolving and changing environment. It's the institutions that are stuck, holding onto beliefs and practices about what is or is not 'legitimate theatre' and denying the changing tastes, habits and demographics of their communities."
Intentional or not, placing this interview near the very beginning of the book encourages readers to process all the following information — and there is a lot of it — with an active eye on changing the very nature of how we do what is being so thoroughly analyzed. Ragsdale says it best at the end of her interview: "Maybe it's time to blow things up, rather than sustain the status quo."
Always easier said than done, but this collection of information is certainly useful as we consider the pace of change, and the process of building audiences and creating a nation that rallies around the performing arts.
The weight of the work behind this text feels reflective of the hours, passion, and focus not only of the editors and many individual contributors and authors involved but also of those who are most likely to find it very useful — the many who have translated and who will continue to translate their passion for theater into structures that support the connecting of theater artists with an audience.
Andrew Russell is artistic director of Intiman Theatre, Seattle.