Change Capital in Action
Lessons from Leading Arts Organizations
20 pages, 2012. Nonprofit Finance Fund, 70 West 36th Street, 11th Floor, New York, NY 10018, (212) 868-6710, www.nonprofitfinancefund.org.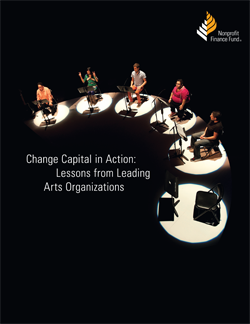 Download:

   Change Capital in Action (9 Mb)

This report shares the results of Leading for the Future (LFF), a five-year program that has invested change capital in ten leading performing arts organizations to support and sustain their business and artistic adaptation. In Change Capital in Action, we highlight features of the LFF initiative, profiles of individual change efforts, participants' financial and program outcomes, and lessons relevant for arts organizations and funders alike.
Accompanying this report is ten case studies of the change efforts undertaken by each participant in Leading for the Future. They explain, for example, how Alvin Ailey Dance Foundation invested change capital to strengthen the technology infrastructure supporting its patron engagement; or how The Wooster Group increased audiences and ticket revenue through artistic collaborations, a video blog and digitizing its archive; and how strategic capacity-building investments, alongside a robust virtual presence, have helped Jacob's Pillow Dance expand its reach and revenue reliability. These stories and more are told both visually and in narrative form.
Change Capital in Action is part of a larger effort by NFF to share the impact of Leading for the Future with the arts and culture sector. A previous report from this program is Case for Change Capital in the Arts, published in the Spring of 2011.