Call and Response
What Artists Need Most
The MCA Denver's new and multi-tentacled Octopus Initiative is based on an old and familiar concept. It is a lending library at its core, and those have been around, in one form or another, for nearly five thousand years, ever since humankind started committing cuneiform to clay.
Despite its unusual name, the program sticks to the basic structure libraries have honed ever since: a public institution holds in trust valued materials of common interest and allows borrowers to take possession of them for a set amount of time. Nothing too original in that regard.
But applying a system developed mostly for printed books to contemporary art is actually a novel idea, and creating it under the stewardship of an American contemporary art museum in the twenty-first century might even be described as a radical one. The Octopus Initiative challenges many of the core notions that guide the way these institutions are currently operated, from their relationship to their customers to the connection they have with their own building, from the methods used for curating exhibitions to the role noncollecting museums play in the local art economy.
The MCA — officially the Museum of Contemporary Art — understood those challenges as it was conceiving the program, which officially started handing out art, for free, to the citizens of Denver in March 2018. But it also saw the potential to create a win-win-win situation for the community.
With a thriving lending library on its premises, the MCA could tread uncharted museum territory and deliver on its mission of connecting people and art in unique ways. It could bring fresh clientele into the fold, welcoming folks who might not feel comfortable consuming culture in the sort of high-art temples museums are often thought to be.
Perhaps most importantly, it could enrich its connections to local artists and, in turn, their relationship to the city. Populating a library would allow it to commission a considerable amount of work from a significant number of painters, printmakers, and photographers, and they would all be compensated fairly for their efforts — with real money — and that might actually help creatives thrive. A museum can show only so many artists in a year, but a robust, fully stocked library would make it possible to bring more artists under its well-respected umbrella, an association that could enhance reputations while introducing those artists to a newly cultivated group of collectors.
"What makes a city so special and interesting and weird and cool is really, in large part, the artists working there," said Nora Burnett Abrams, the new Mark G. Falcone director. "Weird and cool" is something of a mantra for the MCA, and it borrows the kind of language and the attitude that have made the institution stand out among its peers. For the downtown Denver museum, engaging audiences has not always been about showing art on the wall.
For the record, its methods have at times been seen as very weird and questionably cool, like that one occasion when the museum invited a local butcher to carve up a bison before a paying audience in its garage. Mostly, though, it is the moderately weird things that have defined the institution: its Art Fitness Training courses that apply bootcamp sensibilities to its continuing education course. Or the Failure Lab classes for teens that encourage them to succeed (or not) at art making while developing leadership skills.
Or the MCA's signature program, the phenomenally successful Mixed Taste lecture series, which combines expert talks on two completely unrelated topics on the same night with a goal of seeing how everything can be connected. One program joined talks on crop circles and prenups, another brought together ukuleles and Afrofuturism, and yet another combined fern bars and George Orwell. The formula has been appropriated, with permission, by museums from Colorado Springs to Guadalajara.
Through all of it, the MCA has maintained, or at least made it a goal to maintain, the high standards that keep it in the top tier of the country's exhibitors of recent art, all the while benefiting its own bottom line. According to the museum, attendance has increased considerably in the past five years, from about thirty-eight thousand in 2014 to more than a hundred thousand in 2019.
Preserving that level of quality for the Octopus Initiative meant putting the emphasis on curating. The art chosen for the program goes through much the same process used to vet all museum exhibitions. MCA gatekeepers Abrams and Zoe Larkins solicit artist recommendations from a carefully culled panel of diverse community members. Then they do studio visits, conduct interviews, and drop into deep discussions about what an artist might contribute. It is not a gimmick or a giveaway — "a lot rigor and a lot of research goes into it," Abrams said.
It also meant raising significant dollars, though it turns out the idea has been an easy sell. Abrams says the museum is close to meeting the funding goal it set for its first three years of $1 million. The money came from two main sources: Ellen Bruss and Mark Falcone, a married couple who are longtime benefactors and next-door neighbors of the museum; and another donor, who chose to remain anonymous.
The museum contributed from its own resources, sacrificing its library so it could be converted into a place to show the art. In addition to viewing the MCA's rotating gallery exhibits, visitors can now pop into the wood-paneled Octopus Initiative headquarters, where wares are displayed on the sort of push-and-pull, vertical wire racks most museums keep hidden away in storage chambers. An attendant sits at a desk, explaining to visitors that, unlike all of the other art in all of the other museums they have ever visited, this work could go home with them.
The MCA set its initial library goal high: five hundred works by twenty different artists in those three years. It appears to be on track. By September, it will have acquired four hundred pieces by sixteen artists.
How Does It Work?
The Octopus Initiative works like this: Borrowers come to the museum to see what pieces are up for grabs. Next, they go to the MCA's website, where images of the art are posted. They click a little heart to "favorite" the ones they want to borrow. Every month, there is a lottery, and one winner is chosen for each work. Borrowers collect the object and keep it ten months. If they do not bring it back, their credit card is charged $500.
Each piece of art is packaged in a customized carrying case and comes with a hook, a nail, and instructions on how to install it. Winners can hang it anywhere, as long as they take good care of it.
While that latest part seems simple enough, it is actually a revolution in the way museums present art to the public. For the past century, curators have been doing everything possible to control the viewing experience, regulating everything from the height of paintings to the temperature of galleries. They manage angles, distance, lighting, even the time of day when people can see their offerings.
It is no small gesture for curators to leave all that to chance. Borrowers could hang their treasures backwards or upside down or — shudder! — next to velvet canvases of dogs playing poker. They could place things on the ceiling over their bed or just two feet off the floor, so their labradoodle can get a look — or take a bite. There are risks to letting go, which range from possible damage to precious cargo, to a natural questioning of just how much the world needs museum professionals to dictate the way art is seen.
But there are also rewards, and they come in the form of people like Lily Curley, an Octopus Initiative success story. She is thirty years old and one of the many recent transplants to Denver that the city's cultural institutions are trying to attract to their offerings.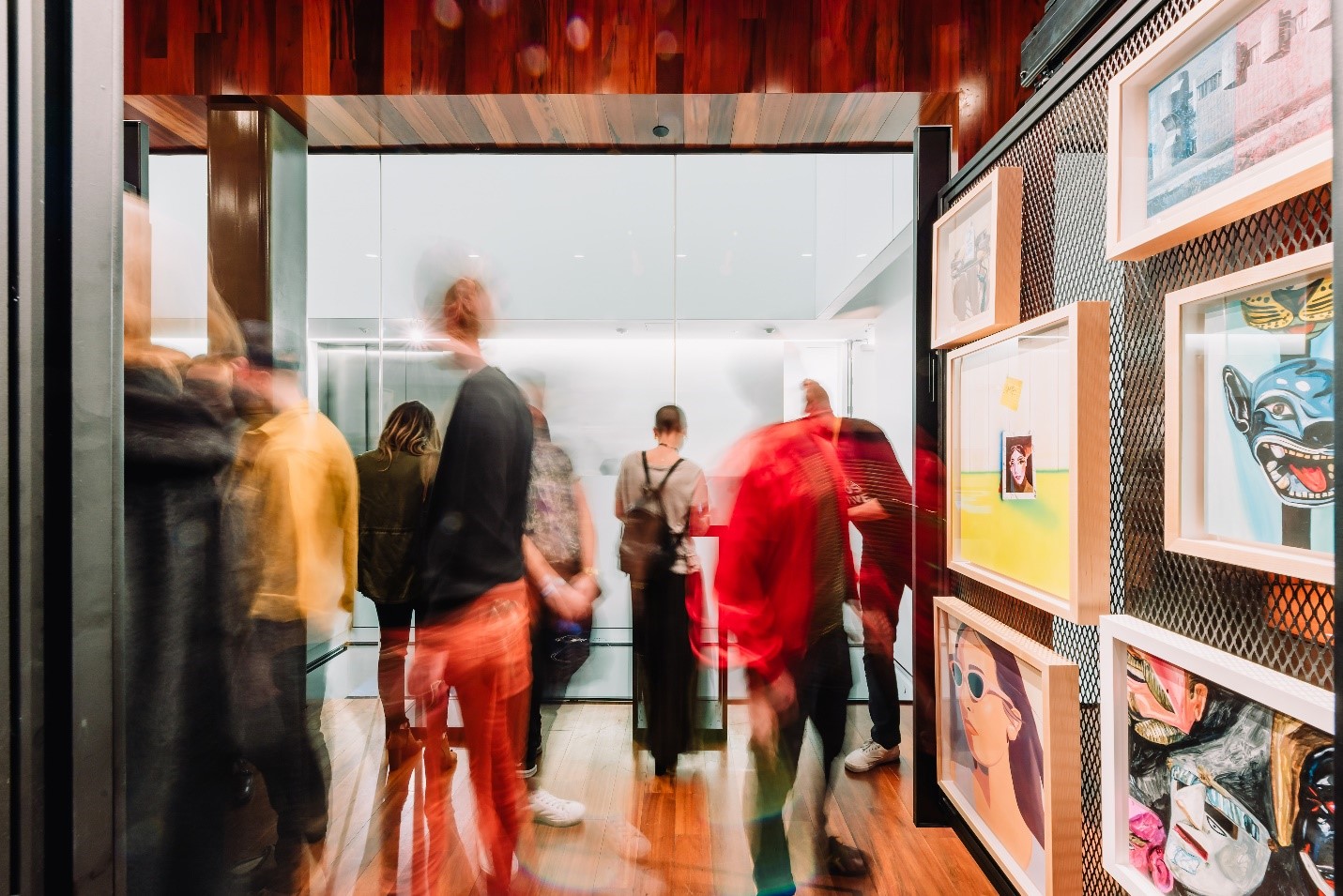 Curley relocated with her husband to Denver from Washington, D.C., in February 2018 and wandered into the MCA on one of her first days in town. She decided to take a chance on a piece of art and ended up foster parent to Trim Void 16, a collage by Derrick Velasquez, a well-known Denver artist who also had a solo show at the MCA in 2017.
Curley was so pleased with her good fortune that she posted a video on YouTube capturing the moment she got the piece home and opened the box. Trim Void 16 went up on a wall alongside other treasured — if not so carefully curated — pieces in her personal collection.
Quickly, she said, she got attached to both the collage and Velasquez, whom she researched and began following on social media. "I think I'll always have a connection to the artist and his artwork emotionally," she said.
Handing it back ten months later was not easy: "You grow connected to it. It becomes part of your home."
But it did bring her into the MCA's orbit permanently, and it connected her to the broader creative community in Denver. Participating in the Octopus Initiative made her feel "part of the whole cycle of the art world."
She is not the only one to come in from the cold. Some winners of the lottery encounter it only online and acknowledge when they show up to collect their prize that they have never set foot in the museum before.
However borrowers get on board, they have all shown themselves to be good shepherds of the work. Abrams acknowledged that museum staffers "held our breath" as they inspected the first round of returns when the program ended its first cycle. "But everyone returned it in good shape. No damage."
The Makers
For artists, the Octopus Initiative can be a game changer, or at least a gamer lifter. Everyone gets the same pay — $12,000 for twenty-five pieces, all two-dimensional works under the size of sixteen by twenty inches, plus another $8,000 to subsidize materials and studio rent.
That is not enough to buy a house, but it can help with a car, and that is how artist Tya Alisa Anthony spent some of her money after she paid off a few debts. An emerging photographer and printmaker, Anthony graduated in 2015 from the Rocky Mountain College of Art and Design full of talent but low on financial resources and hampered in her efforts to transport herself and her work to galleries and studios where others could see it.
"Everything I was doing, I was doing on foot and with public transportation," she said. "This enabled me to get to these locations and meet new people."
Anthony's work delves into identity, race, mass media, history, and current events. Using photos and found materials, she "reimagines inclusive spaces for people of color through photography, collage, and reliquary," as she puts it. For her Octopus pieces, she incorporated various bits of imagery, including archived materials from the Federal Writers' Project, a Works Progress Administration program that provided employment to writers in the 1930s. They were snapped up by borrowers.
Anthony believes her participation in the program paved the way for several good things that happened next, including securing an in-demand residency at Denver's RedLine Arts Center. "I've been able to connect to collectors and students and educational institutions and other artists that I probably never would have had the opportunity to get close to," she said.
For artist Viviane Le Courtois, the Octopus Initiative provided incentive to experiment on a major, new project. Her work is processed based and often starts with recycled or living materials, and much of the time it is realized as large-scale installations that have an inevitable shelf life. In that way, it is not easily commodified; despite being one of the most sought after artists in Denver, she does not have gallery representation or sell much of what she creates. "Most of my work is not even things people can collect."
Octopus objects have to be permanent and portable, so Le Courtois adopted a different approach, making a series of prints from plates etched using live kombucha that she cultivated herself. Because she envisioned the prints having a certain shape and feel, she had to hand form and fire custom ceramic containers for the kombucha. Then she had to wait for the natural bacteria of the kombucha to have its effect on the plates. The effort took six months of painstaking labor and finished with a two-week sprint to make her deadline. "I was printing for fourteen days straight at the end, ten hours a day." Her hands were bleeding.
In the end, her museum stipend probably paid less than the prevailing minimum hourly wage. Still, it was more than she has been paid in her entire twenty-two years of making art in Denver. She is grateful for it and for the inspiration to evolve her art making. "It actually pushed me to make new forms," she said.
And who knows? Maybe more people will see her recent body of work and become collectors, or maybe she will be able to make and sell more prints from the plates. She is optimistic about both possibilities.
The MCA encourages artists to leverage any openings the program might create for them. The museum hopes newcomers will see a Tya Alisa Anthony or a Viviane Le Courtois in a house somewhere and want to own one themselves. And it hopes borrowers will develop a taste for collecting local art in general.
That is what the program is all about, really. The Octopus Initiative advocates for a notion that the best way to support artists is not through grants or subsidies but by valuing their art enough to pay for it and encouraging others to do the same. It is not about building a collection for the museum, and it is not about creating or redefining what a library can be. Those are by-products of a greater goal: recognizing and supporting talent and helping it thrive.
"When you're working with an artist, whether it's through the Octopus Initiative or through an exhibition in the galleries, you are really making a commitment to the work they do and the ideas that they have," said Abrams. "This is just another opportunity to do that."
Ray Mark Rinaldi is an arts journalist, critic, and editor who splits his time between Denver and Mexico City. He is a former fellow with the National Arts Journalism Program at Columbia University. His writing has been published recently in the Chicago Tribune, New York Times, Denver Post, Dwell, Opera America, and Chamber Music. He also posts his writing on his website, http://www.rayrinaldi.com.
NOTE
To check out the artwork available via the Octopus Initiative and learn more about the participating artists visit https://octopus.mcadenver.org.