Art and Culture in Communities: A Framework for Measurement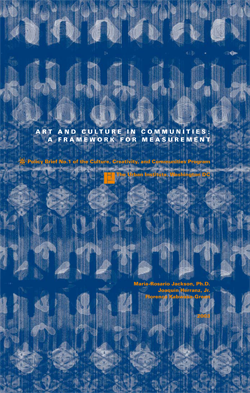 2010, 72 pages, The Urban Institute, 2100 M Street NW, Washington, D.C., 20037, (202) 833-7200 http://www.urban.org
Download:

   Art and Culture in Communities: A Framework for Measurement (1Mb)
Neighborhoods and metropolitan regions across the country are seeking innovative strategies to address the promises, problems, and uneven prosperity associated with an increasingly technological economy combined with far-reaching demographic shifts. American identity has been enriched by the maturing of diverse racial and ethnic groups and by the arrival of new immigrants. But it has been complicated by the same processes. Furthermore, federal and state responses to urban issues continue devolving to the local level at the very moment when our ability to create social capital — the bonds that enable collective action — is being called into question.
In this context, more than ever, a wide range of stakeholders including residents, community and business leaders, and policymakers working to improve the quality of life in America's neighborhoods need appropriate, consistently and reliably collected information to do their best work. Local leaders and researchers have made great strides in collecting and using data about various issues such as employment, health, housing, and land use as part of neighborhood indicator initiatives. With few exceptions, however, these efforts have ignored the presence and roles of arts, culture, and creativity — essential factors in community building processes.1
In working to help fill this gap, ACIP has had to confront basic questions about arts, culture, and creativity at the local level (see box). This brief summarizes the research and measurement framework we have developed to help answer such questions.
The field work and document review2 on which this framework is based, along with our emerging conclusions, has been shared in workshops with ACIP affiliates3 and also vetted in many professional conferences and meetings in various fields of research and policy. This process of idea development, debate, and application has helped us refine our initial thoughts about the theories, language, and methods needed to address the research and data deficiencies we have identified.