Advancing Arts Education through an Expanded School Day
Lessons from Five Schools
June 2013, 68 pages. National Center on Time & Learning, 24 School Street, 3rd floor, Boston, MA 02108, (617) 378-3940, www.timeandlearning.org.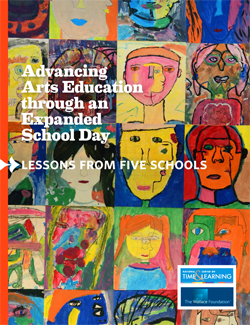 Download:

   Advancing Arts Education through an Expanded School Day (6.4 Mb)

Through a series of case studies, this report explores how schools are utilizing longer student and teacher days to prioritize time for arts education as they work to improve overall academic instruction and focus on individual student achievement.
The findings suggest that educators at the profiled schools consider arts classes to be a core feature of their comprehensive educational program and organize their school days and staffing to reflect the central role of the arts and dedicate sufficient time to their practice. These educators value how the arts leverage engagement and achievement in school. The study is produced by the National Center on Time & Learning (NCTL), an organization focused on expanding learning time to improve student achievement and enable a well-rounded education, with support from The Wallace Foundation.