Go with Your Heart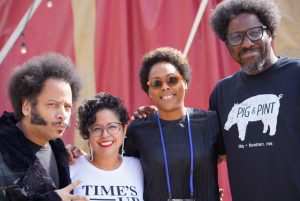 Today's post focuses primarily on young people and the arts, and artists, with a little bit of, well, everything that's inspiring me.
First, I want to take a moment to share some sage advice I received at breakfast as I was making choices about what sessions to attend. There's not always congruence between what I should attend based on the work I do, and what I may want to attend. In the end, I decide to lean into inspiration, trusting what moves me. I thank Dr. Anh Thang Dao-Shah (Senior Racial Equity and Policy Analyst, San Francisco Arts Commission) for reminding me to:
"Go with your heart. You do your job every day. The whole point of going to a conference is to expand your horizons and learn about new perspectives. So, go to sessions that you really want to, that spark your curiosity and interest even if they are not aligned with your job."
Next, shout out to this morning's Idea Lab artists! Meklit, Michael Morgan, and Sean Dorsey. They powered a morning filled with music and storytelling, centering stories of cultural migration and representation, and transgender inclusion. They remind us of the power of music as cultural activism and identity – a conduit for choreography and movement building.
I caught a couple of quotes from the many gems that were dropped, and have added a few reflections in my own words to encapsulate what was shared:
Imagination is the difference between life and death.
Intersectionality matters always, and in all ways (note: The average life span of a Black trans woman is 35 years.)
Nothing about us without us. "Fund projects that are authentically by trans artists and communities."
"White folks – do the work of dismantling White Supremacy Culture and racism." This is what I like to call, get your cousins!
"When we make space for other artists, we make space for ourselves."
• • •
Inspired by the Idea Lab, I leave the circus tent (see previous blog entry for context if you're not sure what I'm talking about), plug in my headphones, and listen to my daily dose of Democracy Now headlines, which infuriates and fuels. It's the second cup of Joe that keeps me going. That's when I stumble into my first session of the day. Any guesses as to where I've chosen to spend the morning? I'll give you a hint:
You walk in, there's soul music, laughter, and immediate engagement. Chairs are set-up in a circle.  The facilitator's create space for group introductions and mingling activities. There's an acknowledgement that there are no young people in the room, which is problematic. These are the attributes of a welcoming environment.
Congratulations! You've made it to the Creative Youth Development (CYD) session.
If you don't know much about CYD, check out the website for more information on the partnership, collective impact effort, and the national action blueprint which has three priority areas: Visibility and Impact, Field Building and Funding, and. This session, entitled Building Pathways to Equitable Funding for Creative Youth Development, focuses on the third.
Building off of best practice evaluation and outcome frameworks like the Boston Youth Evaluation Project, Mosaic Youth Theatre of Detroit, CYD programs support creative engagement and artistic development, foster connections and relationships and take place in community arts organizations, cultural institutions, schools and more. CYD programs invest in young people's leadership, and create real opportunities to shape and inform the programs that they are a part of.
In a landscape analysis of 993 programs, the CYD partnership has learned that most focus on depth, not breadth, have budgets averaging $393K annually, center holistic practices, work with small groups of students, boast high retention rates, and receive most of their money through federal grants supporting non-arts specific areas that their programs address (e.g., housing, health, juvenile justice).
The challenge has been shoring up sustainable resources. Federal dollars have been more open to the idea of using arts to drive other outcomes, like homelessness, etc. Private philanthropic resources are scarcer for CYD programs.
Darren Isom (executive director, Memphis Music Initiative) stresses the importance of providing funders an onramp to this work: Who should you be talking to? How can we share best practice examples of funders supporting this work? How do we promote authentic youth-centered stories, and support research to communities and funders?
Session participants respond with the following barriers to funding CYD work:
Awareness
Foundations do not have a strong learning agenda, which means that there's less openness to risk-taking
Public agencies requiring 501c3 status
Ashley Hare (executive director of Phonetic Spit) adds that, "young people are blurring the lines of what it means to be an artist and activist in their own communities. We are listening to them." How will funders do the same?
Let's also be better at engaging a youth-centered and intergenerational approach across all of the issues and topics within arts and culture. How are young people actually engaged in leadership and decision-making? How does CYD serve as a conduit for integrating young people and youth culture into the arts and cultural efforts that aim to advance environmental, democratic, immigration justice and equity advocacy efforts?
• • •
Last, but certainly not least, was the powerful lunch presentations by Favianna Rodriguez, Boots Riley and W. Kamau Bell. (See the dope picture at the top of this post!)
Some critical take-aways:
Cultural cachet don't necessarily pay the bills. "You might be seen or known in the world for your work, but that don't mean that you're not still struggling to make ends meet."
When we talk about supporting women and people of color in the arts, it comes to housing, supporting some basic needs.  Why not have more low-income housing for artists? There are artists who would have made it but are not being supported in those [basic] ways.
If we want to invest in arts why not "fund regular standard of living things" such as
Low income housing
Daycare with arts centers
Specific funding for people who want to connect their art to movements they care about, as an emergent strategy
We must have a critique of capitalism. "We talk about the culture of poverty and point to [Black] music as evidential of this, rather than explain it as a condition of capitalism. We blame it on the culture of the oppressed."
"We need to support the communities and their art."
"We need to expand how art can be in the world and find ways to bring in new people who are being frozen out by traditional ways of art-making. Funders can help to create space for you to learn how to disrespect your genre (e.g., people know you as a rapper, and now you're making a film, etc.) We must encourage that."