This. Is. HELLA. Oakland.
This. Is. HELLA. Oakland.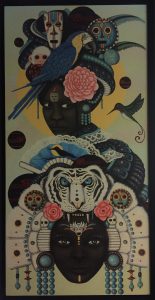 Well, I'm not actually in Oakland at the moment but am writing this blog from the International House Library on the University of California, Berkeley campus where I'm staying as a guest in the Ambassador Suite. That's right, friends. I went to the 2018 GIA Conference in Oakland and ended up reliving my college days at a school I would love to have attended.
My first visit to UC Berkley was in 2011, accompanying the Seattle Youth Speaks team to Brave New Voices, the annual youth international poetry slam competition – a monumental event filled with creative expression, arts, education, civic discourse and social justice pedagogy. During that trip, I witnessed Bobby Seale, co-founder of the Black Panther Party for Self-Defense speak on campus to an eager intergenerational crowd of students, artists and community.
I am here again today because I stand in solidarity with Bay Area Marriot hotel workers who are striking for economic-related issues.  I am here because when GIA reorganizes its conference venues to support attendees in not crossing the picket line, I am reminded of the role that arts and culture have in movements for social change.
When I walk the streets of downtown Oakland to attend various conference sessions, I think of Angela Davis who wrote about art on the frontlines, cultural organizing at the intersection of art and activism – people's art as she deemed it, as exemplified by struggles for Black liberation which have always been steeped in musical, artistic, and cultural narratives.
This year's conference theme of "Race, Space, and Place" is alive in Oakland, reflected by a city rich with roots in movement building, and the beauty and complexity of many cultures.  When john a. powell opens his keynote with, "Welcome to Wakanda!" you know what time it is. And, when he closes with an homage to Richard Pryor's skit lamenting the stolen dreams of a brother who's been incarcerated, you feel the call to action.
Oakland pride fills the air this morning.  From Joyce Lee who blesses the stage with spoken word magick, to Mayor Libby Schaaf who speaks with authenticity about the role of art in cities and Oakland's fierce pride in its diversity, and the generationally influential Roberto Bedoya, a central leader in advancing Oakland's first cultural plan in thirty years, entitled Belonging in Oakland: A Cultural Development Plan. The culture of this community's passion is palpable in its love for justice, art, and the people.
As a culture worker for the City of Seattle, I appreciate the marching orders from Oakland's municipal leader, "We, as government must take more risks, be more creative, evolve, be iterative, and not work alone."
So, all college reminiscing aside, I am grateful to be in a community of artists, funders, and cultural organizations who are thrust into this moment of inconvenience so that we can critically analyze and interrogate power in the work we do every single day in this field, and for many of us, in our daily lives. Did I mention that the morning plenaries are taking place under a big top? Seriously. An actual circus tent. It's kinda fly. And, hella Oakland.
Here are some of the essential themes that have risen to the surface for me today which lie at the intersection of storytelling grounded in personal and cultural narratives and solidarity through intercultural leadership and organizational ally-ship:
The personal is cultural and political
We must center the cultural narratives of artists of color, Indigenous and undocumented artists, our community groups and organizations
Storytelling as more than outreach, but a re-writing of what dominant narratives claim through the assertion of Black and Brown knowledge and lived histories
The acts of resistance by oppressed communities that serve as a guide towards liberation
The land and built environment hold knowledge and stories to ground and teach us
There is hope, a seasoned well of optimism that runs deep and true and is dependent on a culture of real belonging. We are all not the same.
Intersectionality – "There is no such thing as a single-issue struggle because we don't live single issue lives." (Audre Lorde)
Artists as the integrative element to address and solve issues related to the environment, immigration, democracy, and equity
Favianna Rodriguez of Culture Strike hosts a conversation with undocumented artists, activists, organizers, and culture workers that centers the stories and creative strategies of those working to advance culture and the rights of immigrant and refugee communities. This begins with a profoundly insightful and critical narrative of the immigrant rights struggle within the context of the late 20th and early 21st centuries, weaving in case studies of cultural, youth-led and intergenerational activism as models of resistance. We are in the Betti Ono Gallery – a multi-use arts space run by curator extraordinaire Anyka Barber. The juxtaposition of African/Carribean influenced art in the space that features Black female figures adorned with ancestral jewelry and markings, reminds me that the past and present collide. As do our stories.
When I inquire about the nature of cross-racial solidarity, and how it shows up in creative and cultural organizing work, panelists respond with examples of collaboration and coalition building across various communities of color impacted by U.S. anti-immigration policies.  Working alongside Undocu-Black Network and the Black Alliance for Just Immigration are just a couple of examples. It is also noted that there are problematic things within and across our (POC and undocumented) communities – that anti-LGBTQ, and anti-Blackness is real in many spaces, even as there is strong evidence of QTPOC (Queer and Trans POC, pronounced q-tee-pac) inclusion and leadership in our communities and collaborations.  We scratch the surface of this critical topic, but our stories tell us we have much further to go.
Participants also pose questions about the role of philanthropy in supporting undocumented communities:
"How is philanthropy being responsive to the dangers faced by undocumented artists everyday as they are on the front lines? Do funders have a plan to support and defend undocu-creatives monetarily and legally? How do we support Latine artists that have been deported?  What kind of less traditional partnerships exist, and how are funders supporting these more informal and impactful networks?"
I'm reminded that what we do within and across communities and through institutions is about relationships.  As Carlos Garcia (Senior Philanthropic Advisor, San Francisco Foundation) reminds us in a session entitled "Intersectionality: Building momentum and moving forward together on arts, environment, and equity" that "it's okay being uncomfortable in the room if you're comfortable with the people in the room." Trust is key. And, critical conversations are not the answer, but essential to the process.