Reflections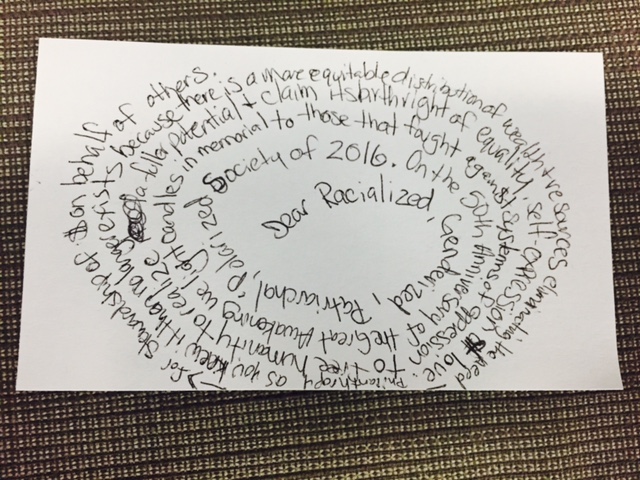 It's been a week since the GIA Conference ended, and I'm already gearing up for arts conference number three of the season. Next week, I'll be heading to Chicago for the National Guild for Community Arts Education's Annual Conference.
My barometer for what makes a conference good is informed, in part, by the conference; it has a strong focus on power and privilege at the intersection of grantmaking. There are a lot of suits, but the dialog and introspection crack the veneer of professionalism, creating space for real talk, and accountability. "A Confluence of People, Cultures, and Ideas" is apt subtitling for this year's conference.
Idea Labs
One of my favorite things about GIA's conference is the IDEA LAB during the morning plenaries, which features local artists and change-makers from the host city. Saint Paul does not disappoint with its caliber of artists who are driving change in community thru art and social justice. Three artists, in particular, have stuck with me post-conference:
Amanda Lovelee, the city artist for Public Art Saint Paul;
Oskar Ly, queer Hmong French American multi-disciplinary artist & organizer;
and Rhiana Yazzie, Navajo playwright, actor, and director.
If there's any doubt that building racial equity and social justice is a creative process, it is immediately dispelled by the presentations of these artists. They use innovative strategies, authentic indigenous practices interwoven with contemporary subject matter, whimsy and imagination to elevate culture and foster creative placemaking, community development, and civic engagement. Please look up these artists, and be inspired to action by their efforts.
"We are in it together. We create it together."
I was pretty much under the weather during the conference, so when the time came to choose an off-site excursion for the final round, I chose to remain at the hotel and check out the on-site session. And, I'm very glad that I did.
Imagining Philanthropia: Dreaming Out Loud was, hands-down, one of the best experiences I had at the GIA Conference this year. Organized by GIA board member and all around badass bruja Tatiana Hernandez, members from the collective known as the US Department of Arts and Culture led participants thru a creative and introspective journey. It was the first and only session I attended that was hands-on, where facilitators led activities including: a story circle, mapping the imaginary Philanthropia, and generating postcards from the future – some examples of which I've included below:
Greetings from the Imperial Capital…Dear future leader, fear is counter-revolutionary. [Signed,] the worst of all possible worlds.
Dear racialized, genderized, patriarchal, polarized society of 2016. On the 50th anniversary of the great Awakening, we light candles in memorial to those that fought against systems of oppression to free humanity, to realize a fuller potential & claim its birthright of equality, self-expression, and love. Philanthropy, as you knew it then, no longer exists because there is more equitable distribution of wealth & resources, eliminating the need for stewardship of $ on behalf of others.
Dear________, I feel the warmth starting to rise from the small fires burning outside.  People are pouring from structures, bandana's covering their faces to protect from tear gas as they rise-up to dismantle systems that cannot last. Bloated and teetering Philanthropia is working to atone for the past. It's science that is giving me the most hope. Knowing that charred remains can foster the growth of my cells to rebuild connections that detoxify the soil. So, the land you inhabit is a wild overgrown field that sustains us all and helps us heal.
As you may have guessed, Philanthropia is essentially the fairytale land of grantmaking. What was cool about this session was the fact that you had a room filled with funders tasked to consider the future of society and philanthropy's roll in it. It was inspiring to watch the group arrive at a place where their roles became obsolete as they imagined futures complete with a just distribution of resources for all. We then formed a closing circle, and each of us contributed a song to inspire the revolution.
President Obama once said that, "It's going to take a lot of creativity to solve the ills of our time." Imagining possibilities, is step one in getting us there.