Arts Education Preconference Reflection
Arts Education Preconference Reflection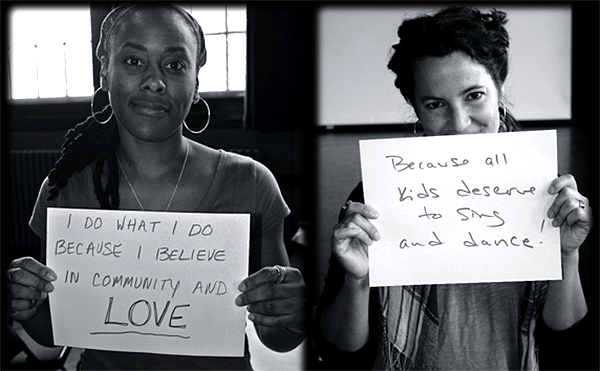 This year, I began my GIA Conference as co-facilitator for the "Access to a Lifetime of Arts Education: Every Child, Every Adult" preconference. My pal and co-conspirator in the work of racial justice, consultant and theatre teaching artist Tina LaPadula, joined me to lead a session on Social Justice Essentials for Arts Funders. We kicked off this day of learning and dialogue centered on arts education, data, and creative aging with an engaged crew of thirty plus grantmakers from across the nation, representing family foundations, government, and corporate giving.
As artists and administrators, Tina and I come from the overlapping cultures of art making, arts education, social justice and creative youth development. At each stage of our respective careers, we've intersected with funders — seeking support to realize arts learning opportunities for young people, and to deepen the practice of artists in education. Today, we connected with a diverse representation of grantmakers seeking strategies to promote racial equity in their agencies, and prioritize said criteria for organizations in which they invest. This was a first step for some, a sharpening of skills for others, and an affirmation for many.
The context for an anti-racist approach rests in the now:  putting front and center the issues of our time, connecting to what is both relevant and paramount to the lives of young people, especially as they engage in the arts. In that, we highlighted images of politics, protests, and movements — from the US presidential election and Standing Rock Sioux.
Participants focused on work that we do with teaching artists and educators by exploring culture, identity, power, privilege, and oppression. First, reflecting on an individual level, then institutionally (i.e., org policies and practices), and finally, structurally (across institutions). We shared a racial justice organizational assessment tool to assist in identifying how power is held and moved within one's organization. Because institutions, like individuals, must begin by looking in the mirror.
We heard great feedback from those who attended, which I'll share below for your reading pleasure.  I will state first, however, that my favorite comment came from GIA's own Janet Brown, aka powerhouse of the century. In acknowledging that er'body (that's my colloquialism) must do the work, "white folks in organizations would do well to seek training and support for themselves because we're not acculturated to think of this as our work." True that.
And now, a few participant reflections…
"Grantmakers are uniquely positioned to integrate [the interrogation of] power, privilege, and access. It's great for us to take time to reflect and share our personal truths and consider how they impact or should impact our work." — Arianna Paz Chávez, New York, NY
"As funders, we need an assessment tool that helps us honestly examine our own grants, programs, practices, and staffing structures with a racial equity lens." — Jessica Mele, San Francisco, CA
"We have to have these conversations regardless of where we think people or organizations are in terms of a starting place. If we don't begin to speak the invisible, we will never tackle the real issues we face." — Marinell Rousmaniere, Boston, MA
"This conversation's not only necessary for survival for the arts, but survival for humanity itself." — Rebecca Davis, St. Paul, MN