2015 GIA Conference, Day 1
2015 GIA Conference, Day 1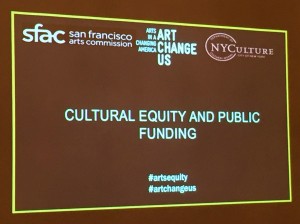 Day 1 of the main conference has been pretty spectacular. The opening plenary inspired with three local artist presentations centering cultural organizing, innovation, and love.
The sessions themselves were brilliant – a confluence of ideas and grappling with critical issues that the philanthropic community must consider, unpack and engage through action and accountability.
In particular, the session on Cultural Equity and Public Funding framed the evolving work of funding agencies amidst changing demographics in the US. These changes reflect impacts on housing, law enforcement, education, and even electoral politics – all compounded by economic gaps impacting communities of color. This is an environment, which calls the field to task, to position arts and culture as a space of creativity and possibility through problem-solving, collaboration, and community leadership.
So, what is the complex picture that goes beyond notions of multiculturalism or diversity? As stated by Roberta Una (Director, Arts in a Changing America), "Diversity is inclusiveness in a dominant structure," which is not the reform we are seeking. We are seeking authentic change, led by communities, followed by a funding field responsive to the need for dismantling oppressive systemic barriers.
New to the foundation world, community activist Anyka Berber commented on the role of the philanthropic field to address civic engagement for real change, "…so that the public can also be one of the levers – to do their job and play a really important role in moving these conversations forward."
Youth voice was a key tenet of a conversation on collective impact models for arts education. CREATE CA (Core Reforms Engaging Arts To Educate in California), a statewide coalition towards this effort, revealed their plans for engaging young people to share perspectives on the arts in schools to further inform the initiative's growing work. Tangible opportunities to partner with young people and families in shifting the landscape of public education is essential, and funders must support these efforts.
A rich dialog on workforce development lead by the LA County Arts Commission and Chicago's Department of Cultural Affairs and Special Events looked at young adults, and their access to creative occupations. Work in this area is burgeoning across many cities, while just a handful of organizations are in the midst of program development/design and early implementation. Given the disproportionality of youth of color with criminal records in a society that targets based on race and class, this opportunity for creative skill building to foster economic self-sufficiency is as much the work of arts and culture, as it is social justice. In Chicago, young people ages 18 – 25 are being given the opportunity to apprentice with industry professionals in film and music – supporting local talent and nurturing, as Tracie Hall (Chicago's Deputy Commissioner of Arts and Creative Industries) puts it, community cultural production. Anecdotal evidence is already boasting job placements in locally produced television shows – tangible, creative work for young people in their cities of origin. That's dope.