Chris Walker
Chris Walker
December 31, 2003 by admin
2003, 15 pages. The Urban Institute/Wallace Foundation, www.wallacefoundation.org or www.urban.org
Many grantmakers express a heightened interest in learning more about cultural participation. Research about who participates, what motivates people to participate and the barriers to participation provides valuable data to cultural organizations and funders seeking to broaden, deepen, and diversify audiences for these offerings.
Read More...
September 1, 2003 by admin
2003, 52 pages. Fund for Folk Culture, P.O. Box 1566, Santa Fe, NM 87504-1566, 505-984-2534, www.folkculture.org; Urban Institute, 2100 M Street, N.W., Washington DC 20037, 202-833-7200, www.urban.org.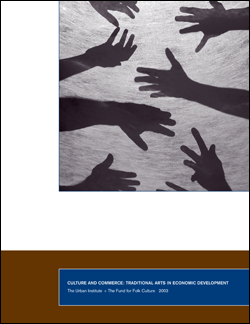 Download:
Read More...