Expanding Equity Through Collective Impact: Working Across Affinity Groups
Expanding Equity Through Collective Impact: Working Across Affinity Groups
Submitted by
Eddie
on February 24, 2018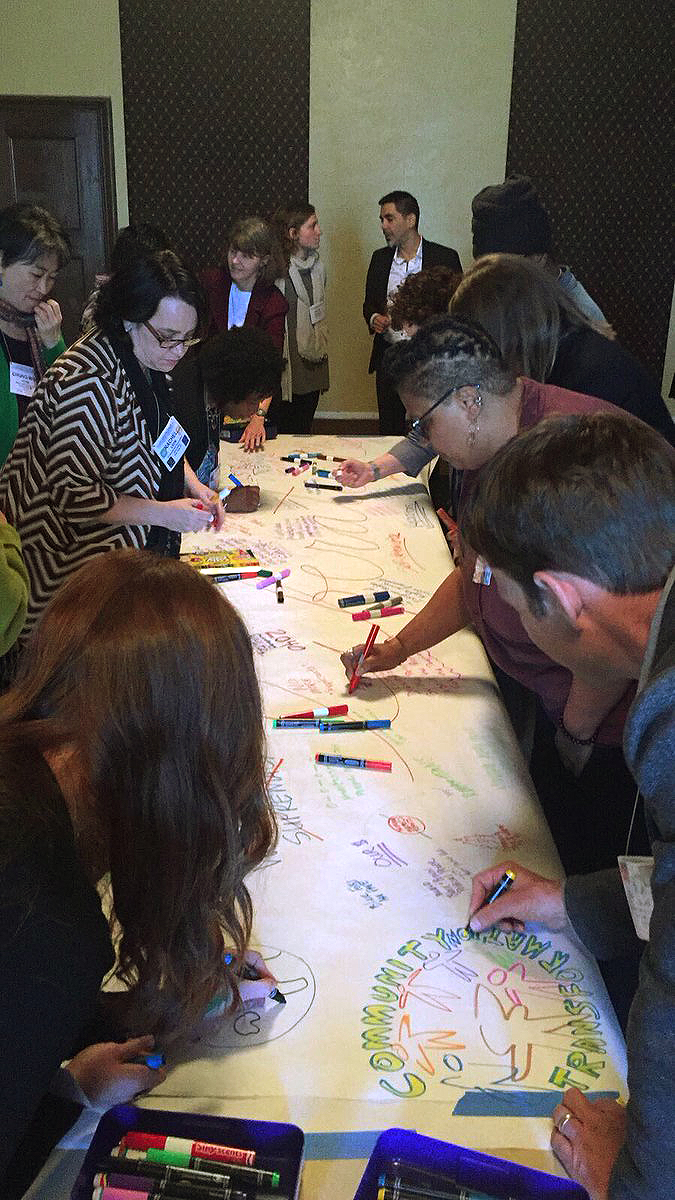 This is the first of a series of blog posts Eddie Torres, president and CEO of Grantmakers in the Arts, will be writing on arts philanthropy and principles, like racial equity, that drive GIA's mission.
Grantmakers in the Arts has just returned from the Affinity Equity Summit and the Solidarity Defense & Action Funder Briefing, a two-day summit in mid-February, in Oakland, California in which over 20 philanthropy-serving affinity organizations and their members came together across issues and disciplines to build a collaborative path forward for the philanthropic community with equity as our shared guiding value.
GIA was a Summit co-sponsor and was invited to speak to our work in support of racial equity as a core mission and primary focus. Nadia Elokdah, Deputy Director and Director of Programs and Roberto Bedoya, board member and Cultural Affairs Manager for the City of Oakland, joined me in representing GIA.
Through our time at the Summit, we made the case that any philanthropic investment in social change should also include investment in arts and culture. This engagement with our peers is a natural extension of GIA's Thought Leader Forums, which explore member supported case studies of the overlap between art and other content areas such as health, the environment, or emergency readiness. We approached the Affinity Equity Summit in a similar manner, aiming to inspire other parts of the philanthropic community to invest in arts and culture as part of their social change strategies.
We explained that GIA values equity as an investment in peoples, communities, and their cultural forms. With this position established, we discussed that the three often conflated strategies – diversity, equity, and inclusion – are in fact three separate strategies with three different points of intervention and three different outcomes. By increasing alignment of values across discipline and sector, equity, particularly racial equity, can be advanced across many facets concurrently. Therefore, investments in communities and peoples must include investments in their cultural forms and their ability to express themselves creatively. This is central to taking an asset-based approach to communities and their residents. Otherwise, we are treating people as nothing more than a collection of problems to be solved.
Throughout the Summit's plenary and breakout sessions, we found that many different fields recognized the value of the arts. The strategy of investing in communities resonated with conference participants who similarly value asset-based investments in communities as a strategy toward environmental justice, civic engagement, and LGBTQI rights, among other focus areas.
A particular point that resonated for all of us was targeted support for rural regions. So often, we classify rural cultural forms as "folk" as though they are less important than forms within the Western European cannon. This classification as "folk" – and other like terms – too often serves as a means to diminish whole groups of people, just as we find with exclusionary terminology that refers to ALAANA communities' forms and organizations as "culturally-specific."
When we fail to affirm the best of any group of people, we risk losing them – losing their perspectives, losing their insights and solutions, and too often losing them to ideologues. Across all our disparate disciplines, we recognized that losing the perspectives of peoples by failing to value them on their own terms was a loss too great to accept. We agreed that arts philanthropy plays a central role in affirming and supporting the creativity and cultural forms of different people and their communities.
We found that many of our peers in philanthropy want to include art in their strategies. But they often don't know how to work with artists and arts organizations or at what point to involve them. As part of our mission to advance racial equity through collective actions, GIA will continue to work across disciplines to show the value that the arts play in all social change efforts. We will continue to share case studies and facilitate dialogue across disciplines, sectors, and fields. And we commit to continued advocacy for the inclusion of arts and culture in the toolkit of supports utilized by the entire philanthropic community.
I am grateful that this effort was so well received by our followers on social media. GIA live-tweeted the summit and received some of our highest levels of participation, delighted with the appetite for collective action toward equity and justice among our network.
We consider it a privilege to serve as a valued colleague to our peers in the philanthropy community and, in such a role, take seriously our mission to establish the arts as an essential component of positive social change.
Co-Sponsors
Affinity groups involved in co-sponsoring this effort to-date are:
Biodiversity Funders Group
Blue Sky Funders Forum
CHANGE Philanthropy
Confluence Philanthropy
EDGE Funders Alliance
Environmental Grantmakers Association
Funders' Committee for Civic Participation
Funders Concerned About AIDS
Funders for LGBTQ Issues
Funders for Reproductive Equity
Funders' Network for Smart Growth and Livable Communities
Funders Together to End Homelessness
Grantmakers Concerned with Immigrants and Refugees
Grantmakers in Arts
Health and Environmental Funders Network
Hispanics in Philanthropy
Justice Funders: Powering Philanthropic Transformation
Human Rights Funders Network
Media Impact Funders
National Committee for Responsive Philanthropy
Neighborhood Funders Group
Northern California Grantmakers
Peace and Security Funders Group
Philanthropy for Active Civic Engagement
Smart Growth California
United Philanthropy Forum