The Role and the Challenges Arts Organizations of Color Face in Oakland
The Role and the Challenges Arts Organizations of Color Face in Oakland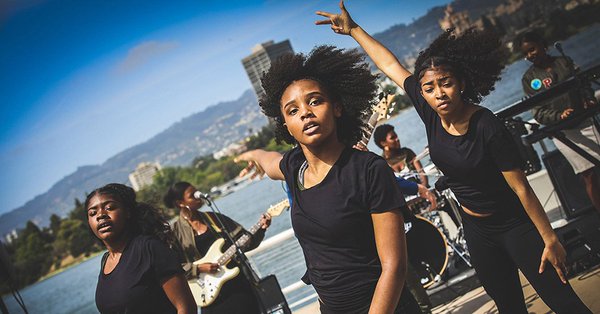 Small arts and culture organizations leverage cultural practices to lift up urgent community issues in Oakland, California, but they are facing challenges that hamper their growth, stability, and sustainability, according to a new report commissioned by Akonadi Foundation and the Kenneth Rainin Foundation.
Compiled by Creative Equity Research Partners, Mapping Small Arts and Culture Organizations of Color in Oakland finds that these organizations have deep ties within communities of color, and that besides arts and culture, they focus on issues that harm them disproportionately like displacement, oppressive policing, gun violence, food deserts, and human trafficking. "But as in other communities across the country, Oakland's small, grassroots organizations are at risk due to a lack of reliable, long-term funding—even as they grapple with rising operating costs," write Gina Acebo, vice president of Programs of the Akonadi Foundation and Shelley Trott, director of Arts Strategy & Ventures of the Kenneth Rainin Foundation.
The report's findings include:
Nearly 50% of these organizations serve a diverse constituency of people of color
Over one third of the organizations serve Black populations, mirroring the overall percentage of Black people in Oakland
Organizations are also facing rising operating costs and high risk of displacement, due to gentrification, from the communities they serve
The authors observe that "the underfunding and undercounting of grassroots arts organizations serving communities of color in Oakland are the result of historic systemic inequities in arts funding":
The absence of long-term general operating funding, the limited capacity of Oakland-based fiscal sponsors, the rising costs of operation, and the high risk of displacement pose challenges that impede the growth, stability, and sustainability of small arts and culture organizations serving communities of color in Oakland.
The report calls for private and public funders to earmark funding for small arts organizations serving communities of color; collaborate with these groups and policymakers to identify and test solutions that will strengthen Oakland's diverse arts ecosystem; and invest to create and preserve historic cultural zones, including public art installations, programs, spaces and neighborhoods.
An upcoming GIA Reader piece will delve into this report.
Image: Studio Grand "Under Oakland Skies" JAX Dancers / Jean Melesaine