New Poll States Americans Support Arts Education and Are Highly Engaged in the Arts
New Poll States Americans Support Arts Education and Are Highly Engaged in the Arts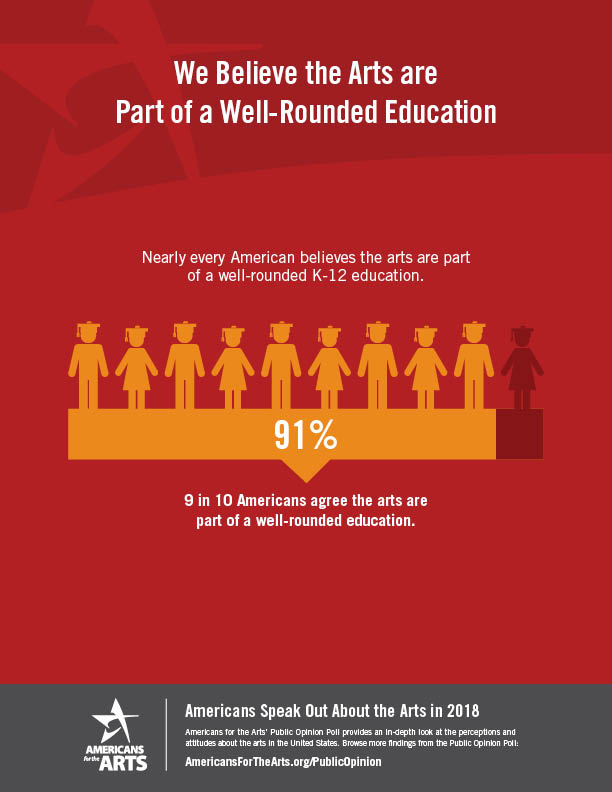 Americans continue to be highly engaged in the arts and believe the arts promote personal well-being, that they help us understand other cultures, that they are essential to a well-rounded education, and that government has an important role in funding the arts, according to Americans Speak Out About the Arts in 2018, a research Americans for the Arts recently released.
A national sample of 3,023 adults were polled online by Ipsos in May 2018 to explore their perceptions and attitudes towards the arts and arts funding, according to the press release.
Some of the poll's key findings are:
91 percent believe the arts are part of a well-rounded education for K-12 students.
73 percent agree the arts help them understand other cultures better, an 11 percent increase compared to 2015.
72 percent report attending an arts or cultural event during the previous year, such as the theater, museum, zoo, or a musical performance. Consistent with previous studies, higher attendance rates are found with higher education and income.
81 percent say the arts are a "positive experience in a troubled world."
The majority of Americans would approve of increasing federal government spending on nonprofit arts organizations from 45 cents to $1 per person (53 percent approve versus 22 percent who disapprove).
Image: Americans for the Arts