A Foundation Sheds Light on Arts as Political Activism in its Annual Report
A Foundation Sheds Light on Arts as Political Activism in its Annual Report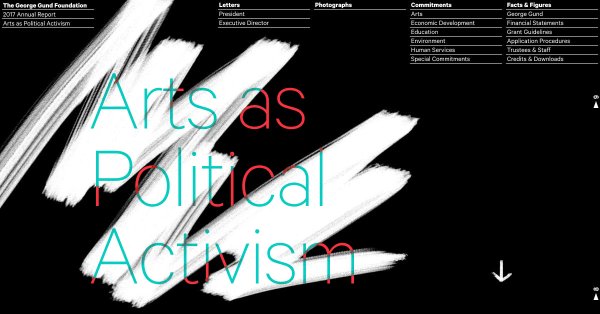 In its 2017 annual report, the George Gund Foundation focuses on "arts as political activism," making the case for how the presence of artists as activists is more prominent than ever.
The report features Accra Shepp, award-winning photographer, who captured images of 15 Cleveland organizations whose work in some way represents their commitment to political expression, explains the foundation. Also, Daniel Gray-Kontar, Cleveland poet and the founder of Twelve Literary Arts, wrote a poem inspired by Shepp's images and he reads it as the photographs scroll across the screen.
Within the political action contents and references, Geoffrey Gund, the foundation's president, focuses his letter on the need for criminal justice reform and the effort to move it forward in Ohio:
Reform is certainly needed in Ohio, which has the sixth highest rate of incarceration in the country. Annually, there are nearly 400,000 Ohioans involved with the jail and prison systems. There are 50,000 state inmates in prisons designed to hold 38,000. Ohio's prison population is 49% African-American even though African-Americans are only 12% of the state's overall population.
Among other aspects, the report includes guidelines and procedures to apply for a grant, financial statements, and a list of grants made during 2017.
Image: Report art / George Gund Foundation website