A Fellowship for Arts & Culture Leaders of Color in the Great Lakes Region
A Fellowship for Arts & Culture Leaders of Color in the Great Lakes Region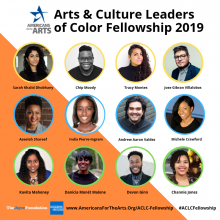 The new Arts & Culture Leaders of Color Fellowship, launched by Americans for the Arts, The Joyce Foundation, and American Express Foundation, introduced recently its first 12 fellows. The fellowship is a one-year professional development program for emerging and mid-career arts leaders of color across arts disciplines in the Great Lakes region.
The fellowship's website explains,
By coupling advanced leadership development for ACLC Fellows with targeted learning opportunities for their close professional mentors and regional arts leaders, Americans for the Arts is advancing approaches to arts and culture management towards greater racial and cultural equity around the Great Lakes. Ultimately, the program aims to be a model for systemic national arts leadership change.
Image: Americans for the Arts website