Reclaiming Our Streets with Asphalt Art
Reclaiming Our Streets with Asphalt Art
By David Andersson & Nicholas Mosquera
This post is part of the series, Future of the Field: Cross-Sector Creative Placemaking Series.
Cities everywhere have a real hunger for projects that can turn everyday infrastructure from an afterthought into a highlight of public life. Arts and culture can and does transform public spaces, as ArtPlace America has reinforced in its recent cross-sector research. And when artistic public realm projects are driven by their surrounding communities, they can generate immense local pride, identity, and respect.
Bloomberg Philanthropies' Asphalt Art Initiative responds to these growing interests by providing resources and funding for hyper-local efforts engaging municipalities, artists, and neighborhoods to improve the public realm. The program supports asphalt art projects, which are visual interventions on roadways, pedestrian spaces, and vertical infrastructure that work to improve pedestrian safety, revitalize public space, and collaborate with communities.
Projects like these couldn't be more timely or more urgent. After months stuck at home, and then another year spent bouncing between recovery and retreat, people are finding the public realm more central to their lives than ever before.
And what can be more empowering for neighborhood residents than to be able to pick up paintbrushes and take an active role in shaping their streets?
Creating a community-design gathering space in Chattanooga
One of our projects that exemplifies the creative placemaking possibilities of the Asphalt Art Initiative is the Glass Street Gateway project in Chattanooga, Tennessee. Local community nonprofit Glass House Collective partnered with the Chattanooga Department of Transportation and Chattanooga Design Studio to create a block-long asphalt mural – designed by local artist Kevin Bate – in front of a newly opened grocery store in an area that has long been a food desert. Additionally, the project reclaimed a lane of parking from cars to calm traffic and created a gathering space for people with a seating area, tables, and additional public artworks.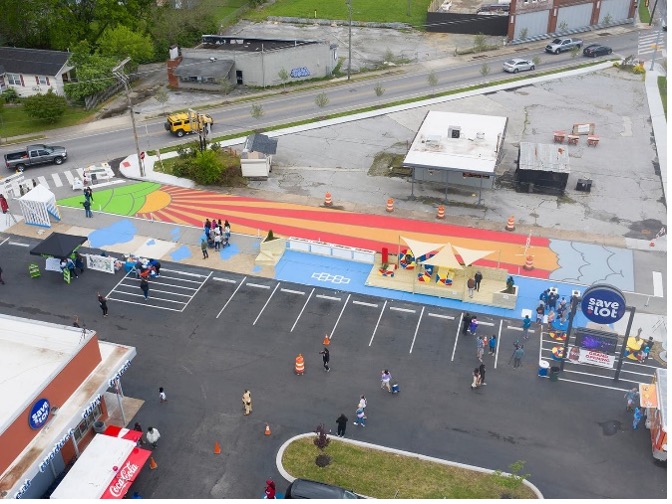 In an effort to engage the community in every aspect of the design process, Glass House Collective held "Planning-By-Doing" workshops with design professionals, artists, and community members prior to the mural installation. In these workshops, the mural artists invited residents to help shape their design options, which were ultimately put to the community for a vote, and five teams comprised of area residents, artists, design professionals, and local stakeholders were each given a $3,000 budget to implement a small-scale intervention in the run-up to the mural painting. From a neighborhood walk of fame to a safe route marked out for students walking to nearby schools, these short-term, low-budget projects were used to test ideas and gather community support for longer-term streetscape improvement.
Since the project was installed, the street has become a hub for food trucks, community lunches, and music and art events. The city is in the process of collecting traffic speeds to assess the safety impacts of the project.
Throughout the design process in Chattanooga, while a clear goal was to transform the space using art, one of the most essential elements is how each step of that transformation was done by the community. By centering neighborhood residents and supporting their ownership and agency within shaping their community spaces, the resulting impact is both physical and social.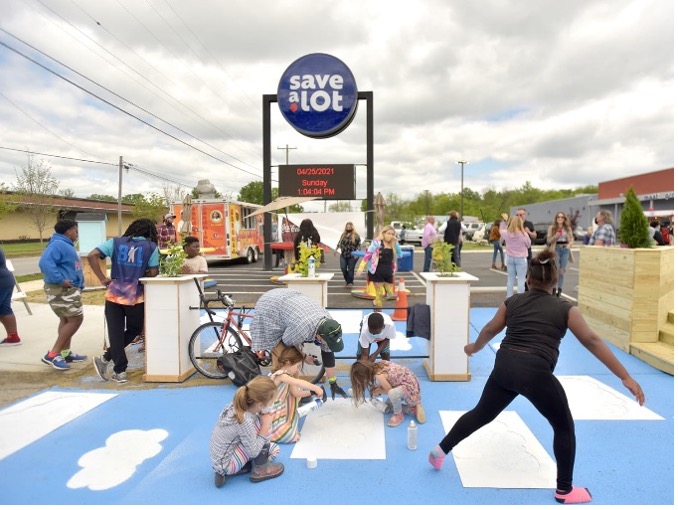 Asphalt art in many contexts
Through this initiative and beyond, we've seen many kinds of asphalt art projects that boost civic identity and neighborhood pride. Some also connect communities that have historically been divided.
In Troy, New York, for example, a raised highway cuts through the city, creating a 500-foot-long stretch of road beneath that is surrounded by vast areas of blank concrete and monumental stanchions. A remnant of urban renewal efforts from the middle of last century, these cavernous spaces have functioned as a major physical, psychological, and ultimately socioeconomic barrier dividing the thriving downtown from lower-income residential areas to the north. The City's Uniting Line project commissioned an artist to transform the underpass with colorful murals, unifying the area visually and serving as a backdrop for adjacent basketball courts and other open spaces. The art adds a new layer of welcome, making clear that people – and not just cars – are passing through.
Across the Atlantic in Amsterdam, a new project, Surround Sound, has been designed to build connections between the city's vibrant street art community and residents in the Nieuw-West district, a low-income area in the far west of the city with a diverse immigrant population. The ground murals, which are being installed with community volunteers this winter, bring bright splashes of color to benches, planters, and portions of the sidewalk near the vibrant outdoor marketplace, draw customers on market days, and enliven the neighborhood for residents year-round.
And, in Kansas City, Missouri, the reengineering of a problematic intersection with artist-designed curb extensions reduced overall vehicle speeds by 45%, cut pedestrian crossing distances in half, and increased the percentage of pedestrians who feel safe crossing the intersection from 23% to 63%.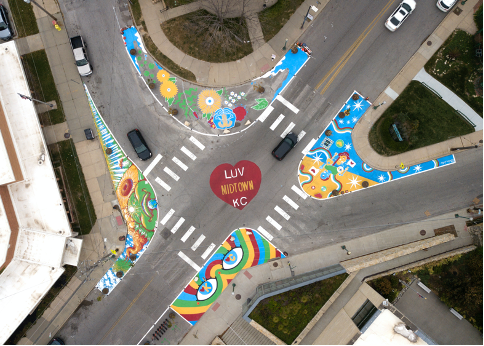 More examples of Asphalt Art Initiative projects, as well as tips and tools for cities interested in undertaking new projects, can be found in Bloomberg Associates' Asphalt Art Guide.
These projects require strong relationships between local governments and communities, but they aren't necessarily costly. Creativity and commitment are essential, but paint is typically the key piece of equipment for this kind of placemaking.
From creating new public space to designing safer streets to reconnecting residents, the Asphalt Art Initiative demonstrates that dramatic improvements to the urban canvas can be just a brushstroke away.
David Andersson is on the Arts Team and Nicholas Mosquera on the Transportation Team at Bloomberg Associates, the pro bono municipal consulting arm of Bloomberg Philanthropies.