Black Arts Funding Summit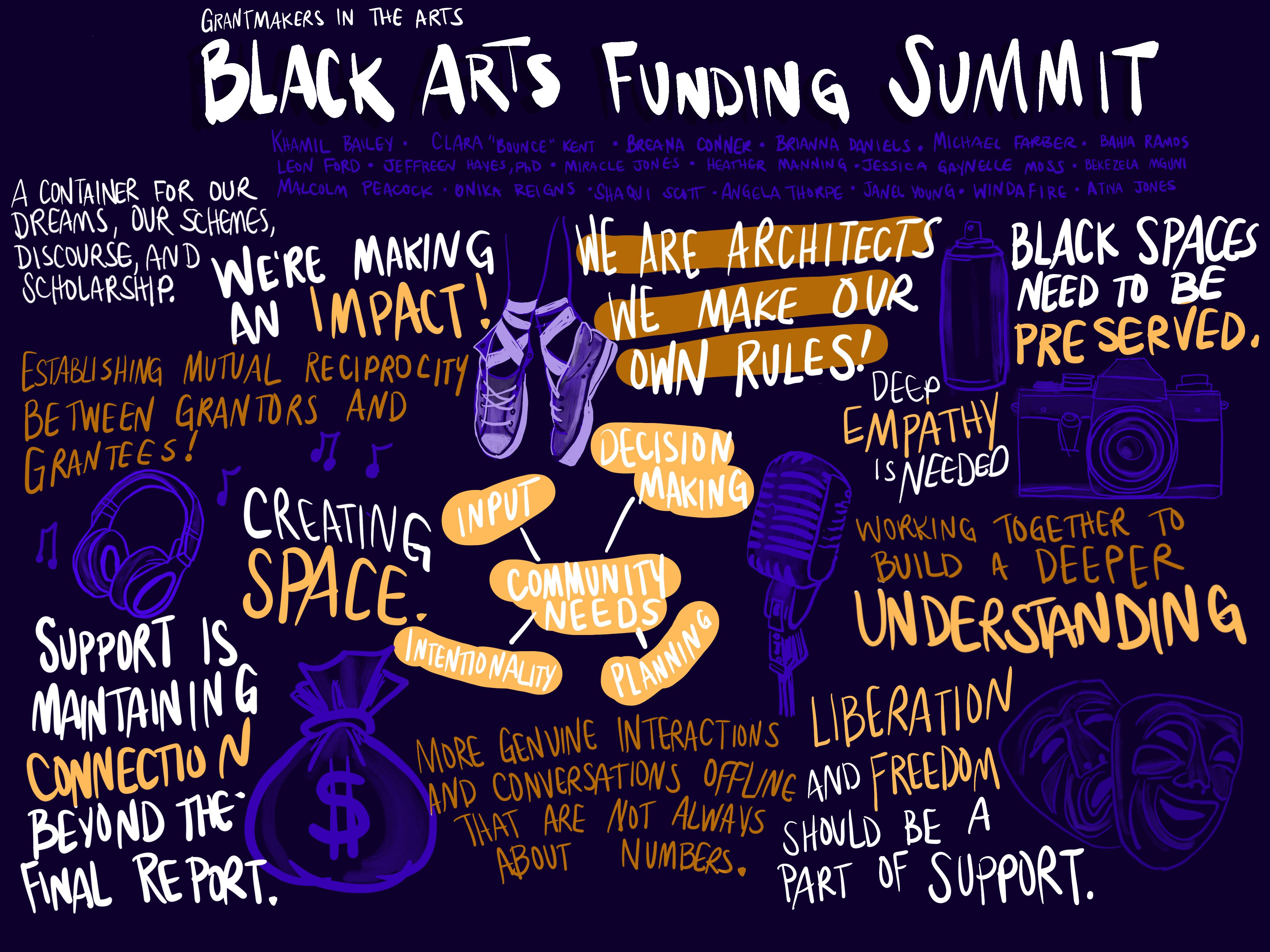 Graphic recording by Toya Beecham.
On December 15, 2022, Grantmakers in the Arts hosted its first Black Arts Funding Summit. This virtual gathering of 113 artists, arts administrators, and funders was an opportunity for attendees to acknowledge and understand the long histories of exclusion, disenfranchisement, and disendowing in the philanthropic sector. The event featured Black artists and funders who spoke to both personal and professional experiences, and also shared strategies and tips for reconciling harm.
Toya Beacham, graphic recorder and artist, created a piece to capture the highlights of the event. A recording of the event is also available here. Attendees left the event energized and ready to act. One attendee shared in follow-up, "Valuing, amplifying and intentionally creating space for community expertise as a fundamental step in designing and implementing funding strategies and policies."
We look forward to continuing these conversations, and creating this space for dialogue on funding for Black arts.
"The history of predominantly White-led institutions benefiting from the disenfranchisement of the Black artist and community is well documented. From slavery to Jim Crow, to post Civil Rights era, to today, Black artists have been continuously excluded from the canon, been wrongly categorized, and historically disregarded as obvious by the egregious lack of Black staff, leadership, and representation at cultural institutions across the nation." -North Carolina Black Artists for Liberation
Grantmaking programs like NEA Jazz Masters (1982) and Advancing Black Arts in Pittsburgh (1990) continue to thrive amidst decades of challenges both inside and outside of their respective foundations, but across most of the philanthropic field, funders and foundations fail to acknowledge and reconcile their long histories of exclusion, disenfranchisement, and disendowing. This Summit asks the question: Beyond the 'difficult conversations' and 'good intentions,' how can institutional grantmaking dollars be used to actively go about change at every level?
Artists, grantmakers, community organizers, and cultural practitioners featured during our virtual Black Arts Funding Summit have directly shaped institutional policy and established new practices that support Black liberatory futures.
Featured Speakers/Presenters
Khamil Bailey, executive director, The Greenwood Plan
Clara "Bounce" Kent, singer and CEO, Bounce House Productions LLC
Breana Conner, artist
Brianna Daniels, artist
Michael Farber, founder & CEO, Breakout and Breakout Foundation
Leon Ford, CEO, Leon Ford Speaks
Miracle Jones, community organizer and queer activist
Heather Manning, mover
Bekezela Mguni, artist, radical librarian, and educator
Malcolm Peacock, multidisciplinary artist
Bahia Ramos, director, Art Programs, Wallace Foundation
Onika Reigns, senior rest doula & creative, Black Dream Escape
Shaqui Scott, program officer, Poise Foundation
Angela Thorpe, director, NC African American Heritage Commission
Janel Young, visual artist, JY Originals
Windafire, artist and co-founder, Black Dream Escape
Toya Beacham, (Graphic recorder), multi-disciplinary artist
Jessica Gaynelle Moss (Moderator), artist, independent curator, art collector, and arts consultant
GIA Members and non-members gathered virtually on December 13, 2022, to hear and learn from experts across fields and industries shaping and supporting Black liberatory futures.