Why Contests Improve Philanthropy
Six Lessons on Designing Public Prizes for Impact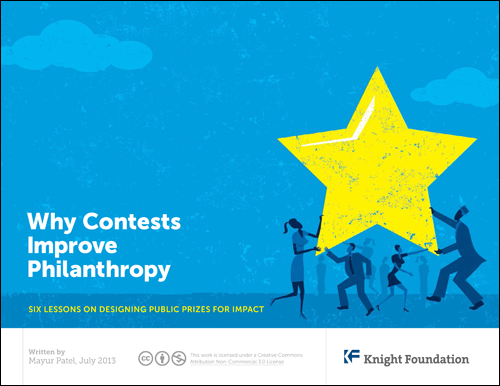 Download:

   Why Contests Improve Philanthropy (3 Mb)

In the wider world, contests are fairly common. Even Napoleon had one, a prize of 12,000 francs for a new method to preserve food for soldiers on the front, which led to canning. Today, a number of corporations and government agencies are running them—Netflix, IDEO, Google and even NASA. Many in the nonprofit world see contests as a passing fad, the philanthropic flavor of the month. We think they are here to stay. A 2009 McKinsey & Company report "And the Winner is…" suggest they are catching on. The total value of nonprofit contest-prize growth over the past decade, the report says, has been 18 percent per year compared to 2.5 percent for general charitable giving.
Some foundations are doing stellar work in the field of contests. Those include the X-Prize Foundation, Case Foundation, Bloomberg Philanthropies, McArthur Foundation, the Robert Wood Johnson Foundation and the Rockefeller Foundation, to name a few. But the vast majority of grantmaking foundations are not. Why? Is it inertia? Do they feel they don't have the bandwidth? The expertise? Do they think their particular topic or issue just won't work? Do they fear opening the flood gates?
In the end, contests, like everything else, can be as simple or as complex as you make them. Heather Bowman Cutway launched Macon's "We'll Leave the Lights On!" with just $2,150 from the community challenge. It was the contest format that made it easy for people like her to step forward with new ideas, which, Cutway says, "like light bulbs" can mean "big dividends."