Turning Differences into a Source of Creativity and Positive Change
The following is an excerpt from a longer essay, "Dynamics of Difference," inspired by several years of work with Peter Pennekamp, then head of the Humboldt Area Foundation. In a 2013 paper we co-wrote, Peter distilled principles that establish conditions for what he calls "living, breathing, on-the-street democracy." One of these principles is the "dynamics of difference," the idea that working with our differences can bring about positive outcomes.
The story takes place on the North Coast of California. In the late 1960s, after years of inadequate health services and the removal of federal assistance, members of the region's American Indian community came together to build their own health center. United Indian Health Services (UIHS) was incorporated in 1970. After twenty years of isolation and internal work by the tribes, in the late 1990s, UIHS proposed developing a new consolidated health facility to be known as Potawot Health Village. The facility would integrate Native and Western medicines while also restoring wetlands and prairie.
The forty-acre dairy farm they proposed as the site for the new facility was in a central and visible location where mountains and coastal highways converge in the liberal college town of Arcata. The land, which for centuries before white settlers arrived had been home to the Wiyot tribe, was zoned by the City of Arcata as "agriculture exclusive." To develop the land as the Potawot Health Village, it had to be rezoned as a "planned development." The hearing and permitting process stretched over eight months. A group of Arcata citizens, dedicated to saving the city's agricultural lands, were ready to fight.
Between December 1996 and July 1997, the Potawot Health Village proposal was discussed at ten separate planning commission and city council meetings. During the permitting process, UIHS launched a major communications and community involvement campaign as a central strategy. The tribes created a brochure featuring the health village concept and information about UIHS. UIHS representatives gave presentations to city council members, service clubs, groups affiliated with Mad River Hospital, and the nearby elementary school. Their goal was to help the broader community understand UIHS and the dream for the Potawot Health Village. UIHS made certain that its supporters always filled the planning commission and city council meeting chambers, each wearing a sticker proclaiming support for the health village.
Paula "Pimm" Allen (Karuk-Yurok) said,
When the day came, we filled Arcata City Hall with Indians. I don't know if that had ever happened before. We had to tell them that sometimes there is an exception to the zoning rules. It wasn't like there hadn't been a price paid for that ag land. This is an indigenous community coming back to reclaim the land.
Through patience, organizing, and constantly showing up, the tribes got their story out. Peter elaborated:
Not having had the preparation that the tribes did, the white community had to respond quickly. But, as they heard the story from a Native perspective, they gradually came to understand what the land and its history meant to the Indian people. They began to realize how bigoted their initial responses were. And many were ashamed.
By the end of the hearings, both Arcata City Council and its planning commission unanimously approved the Potawot Health Village and the associated zoning. Through the long process of meetings and hearings, Laura Kadlecik, the Potawot project manager, reported, "A large percentage of the local community came to know, trust, and appreciate UIHS and their proposed project." The tribes had come out of their isolation. Amos Tripp, a Karuk leader, pointed out that the tribes were no longer willing to remain invisible:
For such a long time I think we lived our lives separate from the larger community in many ways. And I think this Potawot represents turning the corner — because it shows that we can successfully work with the larger community in these efforts. . . . So, it's not the end, it's just the beginning.
• • •
The best outcomes arise, I learned through my work with Peter, when we don't ignore or eliminate our differences but when we work with them. Working with the "dynamics of difference" often means sitting uncomfortably with people who hold very different beliefs. "Tension," Peter wrote, "between individuals and groups with different experiences, cultures, beliefs, or backgrounds can either be the foe of democracy, keeping hostility high and blocking the path to common ground, or it can be transformed into a powerful source of creativity and innovation and a motivator for action and community improvement."
To work productively across our differences, we cannot start with the assumption that everything will be rosy if we just sit down and listen to each other, any more than we can start by shoring up our defenses and preparing for battle. We have to identify and clarify our differences, embrace the conflict inherent in them, accept the discomfort they cause, and allow productive growth to emerge from there.
It is important to know that when Peter wrote that the "dynamics of difference" could be a transformative force for democracy, he meant "community democracy," that is, "grassroots engagement where people uncover, activate, and energize their community's own assets, take responsibility for their formal and informal decision-making processes, and further their ability to work constructively with conflict and difference."
This democracy is not limited to casting a ballot and cannot be illustrated simply by an image of raised hands. To be effective, it must also be active and engaged.
• • •
As inspiring and hard won as the Potawot decision was, this is not the whole story. It doesn't tell of all the ways the differences began to be identified, preparing the ground for the decision beforehand, and it doesn't tell of all the ways the differences continued to play out and the reverberations continued to echo in subsequent years.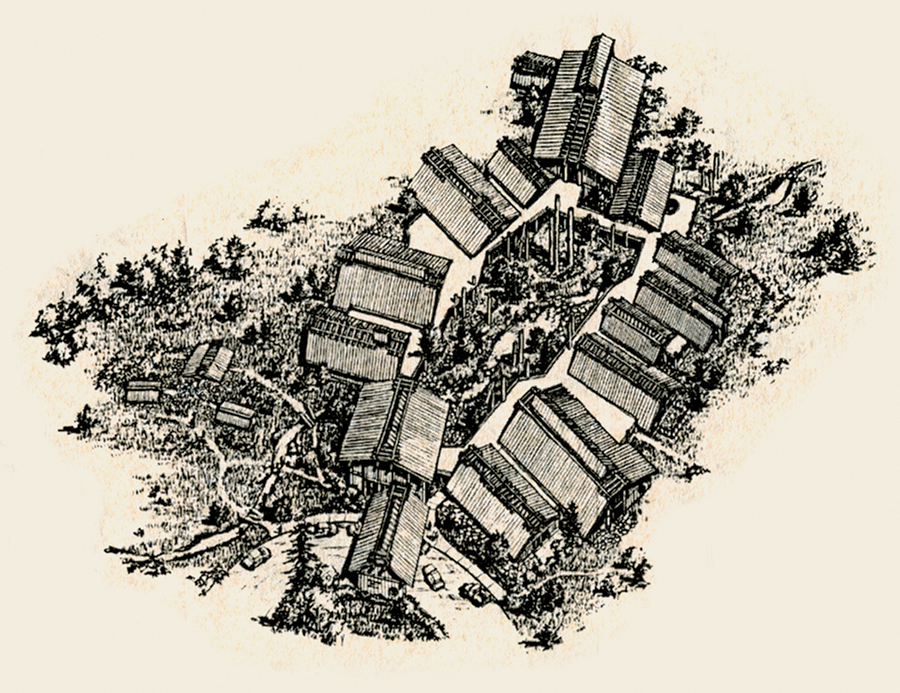 Many small steps toward understanding were taken over a long period of time before the Potawot hearings. By the time the conflict over the use of the dairy farmland had heated up, Indian and white "bridge builders" had already been quietly opening doors and lowering barriers. Earlier work done in the region by local American Indians to revitalize their culture gave them a foundation for their activism. An Indian community member (Yurok-Pit River-Maidu) was quoted saying:
I know that in other communities the racism and fear are deeply entrenched, whereas here we've been fortunate that there have been a couple of generations now of Indian culture bearers, linguists, academics, traditional singers and dancers who have continually shared their perspective in many different venues. So [in the Potawot hearings] the fear and racism that were exhibited by a few was overwhelmed by the acceptance and encouragement of many more non-Native people.
Long before the Potawot hearings, these culture bearers were not only strengthening their culture internally but also sharing their perspective with allies in non-Indian, white communities. One of their first allies was Libby Maynard, who in 1979 cofounded the Ink People Center for the Arts, a community-based arts organization in the area. Peter said, "[Libby] created a place where Indians from multiple tribal cultures could come together under their own leadership and, at their discretion and when it made sense to them, collaborate with white people." Ink People's engagement with American Indians continues today. This past November, Ink People hosted From the Source, a recurring exhibition of both traditional and contemporary art by Indian artists that began in 1990 as a collaborative project with UIHS.
When he started at the Humboldt Area Foundation in 1993, Peter observed that the foundation did not fund Native people, reasoning that the tribes received lots of support from the federal government. When the foundation board and staff learned how much this thinking misrepresented the truth of Indian lives, he said, "They could see their own prejudice and were embarrassed. We began to bring American Indians into the foundation, and it became a place where white people and Indians could work together and learn of each other's [knowledge]."
These smaller, in-person connections illustrate another principle in the community democracy lexicon: "time and convergence." Different cultures and segments of a community have different clocks, Peter says. "Widespread, sustainable cultural change happens only when different timeframes come close to alignment and, at critical junctures, converge." The low-key, quiet efforts of the Indian culture bearers, Ink People, the Humboldt Area Foundation, and others played an important role in bringing the multiple cultural "clocks" of white and American Indian communities closer in line with each other and helped foster trust.
The Potawot Health Village was completed in 2001. While the work continues and remains unfinished, fundamentally it tells a story of healing that gives me hope and a sense of possibility.
Anne Focke is an independent writer and organizer and was the first executive director of Grantmakers in the Arts (1999–2008) and coeditor of the GIA Reader (1991–2009). She posts much of her recent writing on her website, "Carrying On," annefocke.net.
NOTES
This essay includes terminology used by the Native people in this region. They refer to themselves as Indians or American Indians and to their cultural groups as tribes. Originally, the health center served nine tribes and more than thirteen thousand American Indians, primarily Yurok, Wiyot, and Tolowa tribal members. It serves many more now. With a few exceptions, UIHS now serves Native communities in all of Del Norte and Humboldt Counties.
My original essay, "Dynamics of Difference," is available here: http://www.annefocke.net/?p=3398. The longer version tells a story that begins in 1850 with the arrival of white settlers and a massacre of the Wiyot tribe, progresses through the inspiration and confidence the region's Native people gained from the African American-led civil rights movement in the 1960s, and concludes today in a dramatic and peaceful, if not widely known, return of sacred land to the Wiyot Tribe on an island in Humboldt Bay.
The paper Peter Pennekamp and I wrote in 2010, "Philanthropy and the Regeneration of Community Democracy," is available through the Kettering Foundation: https://www.kettering.org/catalog/product/philanthropy-and-regeneration-community-democracy. Peter was on the board of Grantmakers in the Arts from 1994 to 2000 and was its president when the board decided to add staff.