Still Kicking: Aging Performing Artists in NYC and LA Metro Areas
Information on Artists IV
2011, 138 pages, © Trustees of Teachers College Columbia University / Research Center for Arts and Culture, 525 West 120th Street, Box 78 · New York NY 10027 · 212.678.8184 · rcac@columbia.edu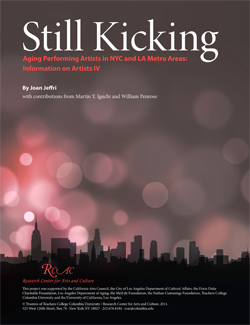 Download:

   Still Kicking: Aging Performing Artists in NYC and LA Metro Areas (2.3Mb)

This study of aging performing artists 62+ in the metro areas of LA and NYC complements our earlier study of aging visual artists. In NYC 219 and in LA 51 professional actors, dancers, choreographers, musicians and singers were studied, with results showing their resilience, tenacity and lifelong engagement with their art and the public.
This study, by the Research Center for Arts and Culture at Columbia University's Teachers College (RCAC) continues the work in its previous study, Information on Artists III: Special Focus: New York City Aging Artists. Its purpose, like IOA III's, was to understand how artists—who often reach artistic maturity and artistic satisfaction as they age—are supported and integrated within their communities, and how their network structures change over time and to understand how performing artists mature into old age–artistically, emotionally, financially and chronologically.
Findings are explained under the categories of :
Isolation
Work and Retirement
Identity and Professionalism
Discrimination and Ageism
Legacy
Career Satisfaction
Educational Attainment
Health Insurance
Income and Earnings
Resilience
A 35-page executive summary is available here.
Still Kicking from Research Center for Arts & Culture.
Aging performing artists, whose diverse work includes acting, directing, choreography, and music performance and spans over seven decades, share with us how they are "Still Kicking."